Scrambled eggs seem super simple – but it can be tough to get them fluffy! I've found the easiest way is just to bake them and I'm going to show you how!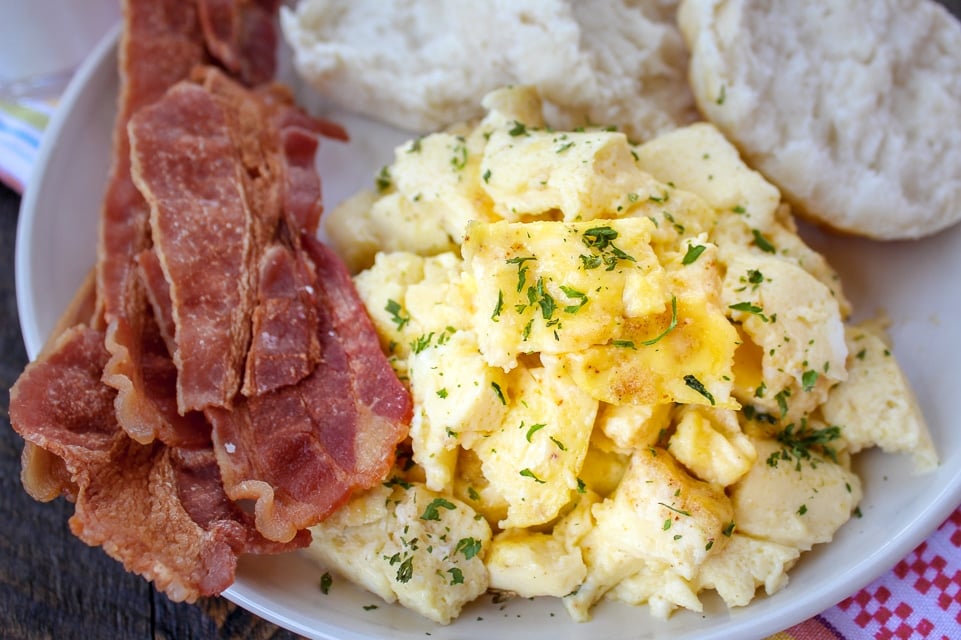 The other thing I love about baked scrambled eggs is that you can make enough so you can use them in breakfast sandwiches all week!
How do you make scrambled eggs in the oven or scrambled eggs in the air fryer?
In the oven – preheat the oven and let the butter melt in the pan. Then when the oven is ready, add your egg mixture (eggs, milk, seasoning). Bake for 6 minutes – stir gently – then bake for 6 minutes more. They'll puff up REALLY BIG but once you cut into them, they deflate – but they're still light and airy!


You can also do them in the air fryer! My air fryer is pretty small so I have a 4″ glass dish and I made some eggs in that and it worked great!
What can you make with baked scrambled eggs?
Baked Scrambled Eggs (or Air Fryer Scrambled Eggs)
These baked scrambled eggs are perfect to make on the weekend! You're all set for breakfast sandwiches all week! I love how light and fluffy they are – and they're easy to reheat! #scrambledeggs #airfryer #bakedeggs
ingredients:
2 tbsp butter
6 eggs
1/2 cup milk
1/2 tsp Lawry's seasoning salt
instructions:
How to cook Baked Scrambled Eggs (or Air Fryer Scrambled Eggs)
Oven Directions
preheat oven to 350
put butter in 8×8 baking dish
whisk together eggs, milk and Lawrys
once butter is melted, spread butter all around baking dish (spray sides with non-stick spray for extra coverage)
pour egg mixture into baking dish
bake for 6-8 minutes – eggs will still be very runny
stir a little to loosen off the sides
bake for 6-8 minutes more (if they are not completely set up, bake for 3-4 minutes more checking frequently)
Air Fryer Directions
air fry at 350 for 5 min
stir
air fry for 3 min more
NOTES:
– I would recommend spraying the pan in addition to using the butter
– If air frying, times may vary based on size of baking dish. I did an individual size for these times.
– You can add meat, cheese and veggies for a baked omelet
– Reheat individual portions in the microwave for 45 seconds
Recommended Products:
Philips Air Fryer
Pioneer Woman Square Baking Dish
Silicone Oven Mitts