I actually created a recipe that tasted good! I'm pretty proud of myself on this one! It's nothing shocking but I made it up and actually ate the leftovers for lunch the rest of the week.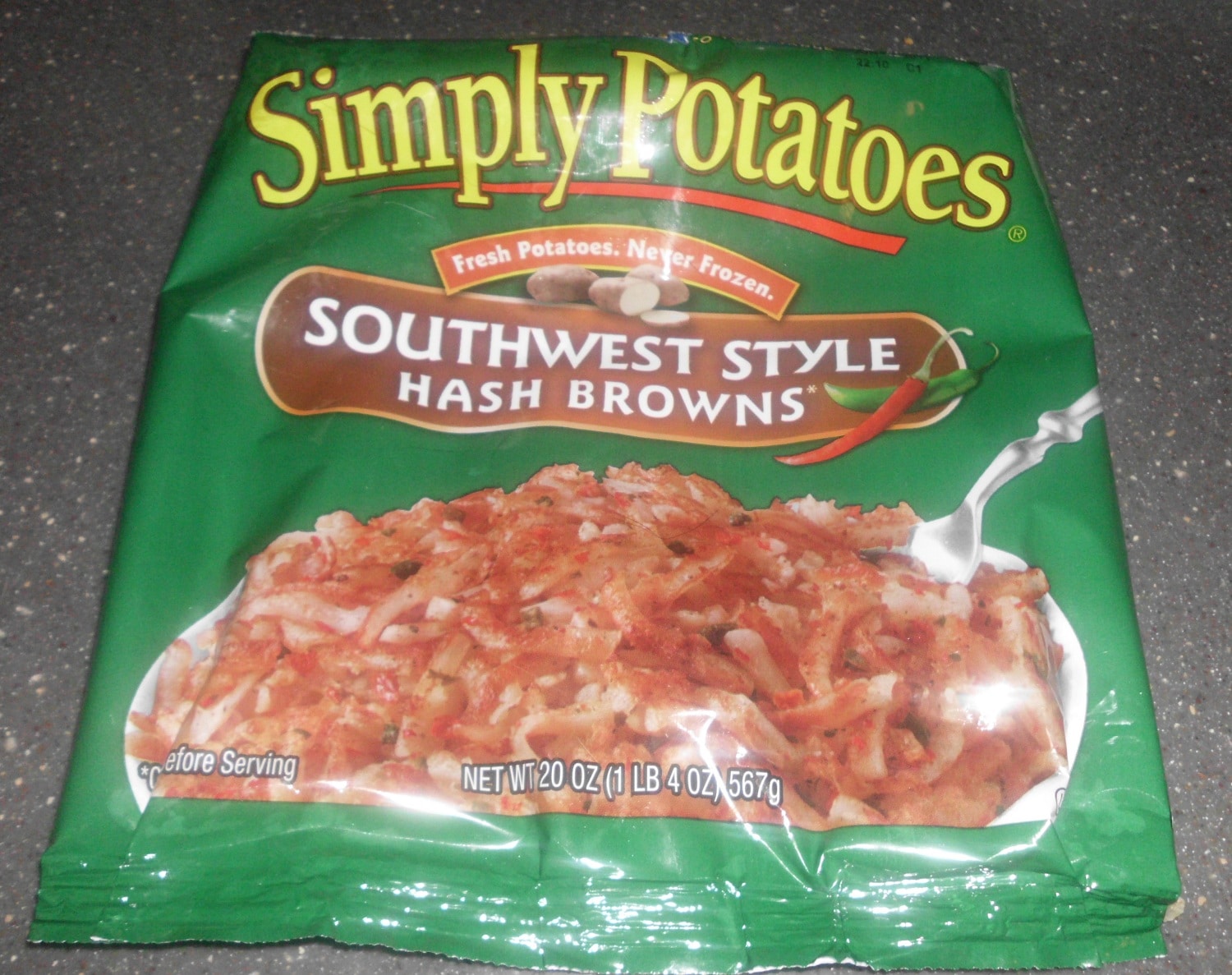 It all started because I had these
hash browns in the fridge
that I needed to use. I've really found these as an awesome staple to have on hand. They're easy to make and my husband loves potatoes.
You mix together the hash browns and a small container of sour cream. Stir them up and put them in a baking dish. I used a casserole dish but next time I would use a 9×13 pan.
Next up brown ground beef and add some veggies – I chose corn (for my
whole grains challenge
with Cooking Light) and diced tomatoes.
Thanks to Cincinnati Coupons I found a GREAT deal on frozen vegetables – these were actually more than free! They were on sale for 99 cents and I had a 50 cent coupon which Meijer doubled. So they paid me a penny each to buy veggies! No worries – I'm not going on coupon overload like "Mr. Coupon" in NKY from the Extreme Couponing show – but it was kinda fun to get something for free! Thanks Marci for your great site!
On my trip to Meijer I also found these Red Gold tomatoes on sale so I tossed a can of these in as well.
After baking a while, top with taco sauce and cheese. I'm a huge fan of Ortega Taco Sauce – my Dad used it when I was a kid. It's got such a different flavor than salsa – it's a welcome change sometimes.
We always have little bags of chips around for my husband's lunch – so I decided to grab a bag – crunch them up and toss em on top!
And voila – dinner is served. This was soooooo good! Of course – it makes a lot so I ate it for about a week with leftovers – but it was still tasty. Next time I might cut the recipe back a bit and will definitely make in a square or 9×13 pan. The casserole dish was a bit deep for this.
There you have it – the first recipe I made up that I actually liked! The nice thing is that you can change it up in so many different ways – add onions & green peppers if you like – change it up to make it more italian by throwing in some marinara rather than taco sauce – etc… The possibilities are endless!
Mexican Hashbrown Casserole
1 pkg refrigerator hashbrowns (can use frozen as well – just thaw them out first)
8 oz sour cream
1 10 oz box frozen corn or 1 can of corn, drained
1 14.5 oz can diced tomatoes
1 lb. ground beef or turkey
1-2 cups shredded cheese (depends on how much cheese you like)
Taco Sauce
Taco/Corn Chips
Preheat oven to 400.
Empty refrigerator hashbrowns into a bowl and mix in sour cream. The mixture should be creamy but not at all soupy. Spread mixture into the bottom of a greased 9×13 pan. Bake for 20 minutes.
While the potatoes are baking, brown ground beef. Add in tomatoes and corn. Stir until mixed. Spread the ground beef mixture on top of the hash browns. Bake for 20 minutes.
Top the baked dish with taco sauce – as much or as little as you like. (Could use salsa but I really like the flavor of taco sauce in this dish.) Sprinkle cheese on top of the taco sauce. Crush chips and spread over cheese. Bake 5 minutes or until cheese is melted.