Sometimes you just need something warm, greasy and familiar…and thus I went to Izzy's!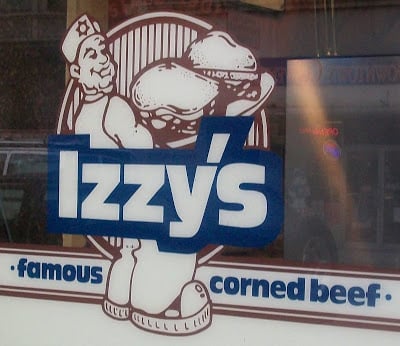 There are more than a half-dozen Izzy's locations in the tri-state area. This past week I headed to the one downtown at 6th & Main.
I love the pickles on the tables…they're spicy and crisp and just damn yummy. I devour half the container on every visit.
I love watching the kitchens – I think its the years of Top Chef and Hells Kitchen getting to me. It's a well-oiled machine most definitely. Which kitchen is more fun to watch – Izzy's or Skyline? I say – TOSS UP!
Izzy's Combo – Izzy's Famous Corned Beef and delicious Pastrami served on Rye Roll and topped with melted Imported Swiss Cheese.
My standard is the combo – I love corned beef and pastrami. The bread is so soft, the pancake so yummy, just perfection on a plate!
Also something to note – the staff – always very happy! There was some discussion about egg in the pancake (allergies) and they were quick to answer and double check even. Great staff!
If you live in Cincinnati and haven't been to Izzy's – you should check it out. The Reuben is always a great choice…but hey branch out and try other stuff. If you're a die-hard Izzy's fan – go again!