My mom makes the BEST pumpkin pie – seriously – I don't even like pumpkin pie – EXCEPT for hers. It is soooo good! I've always know she had a pumpkin pie secret ingredient and she refused to give it up!!!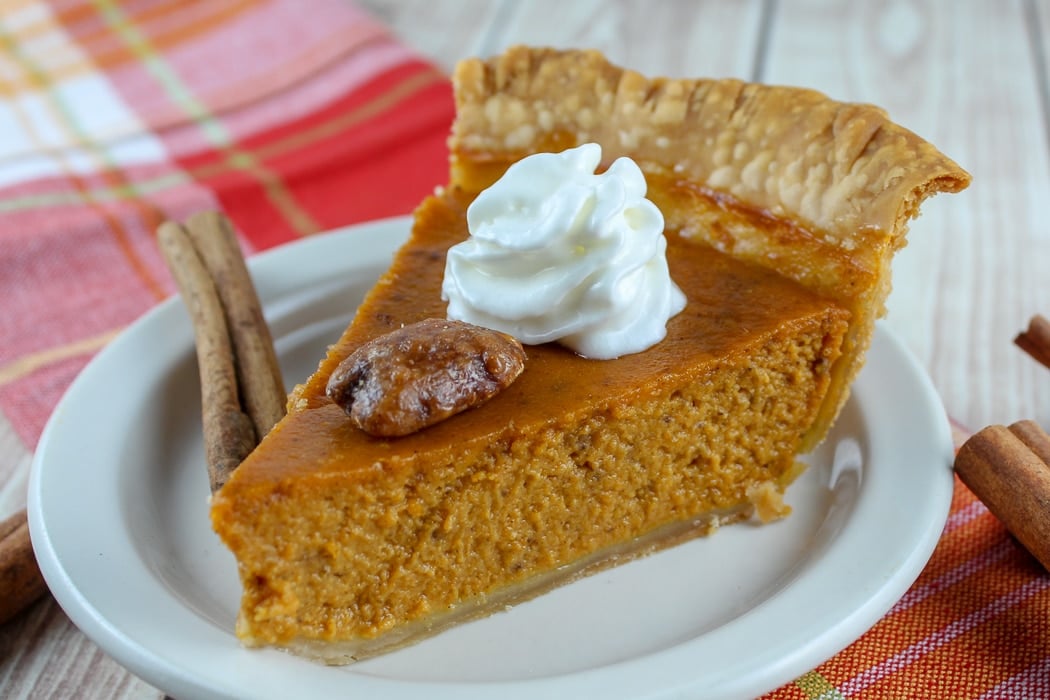 But finally – at age 70 – and after I've been blogging for 12 years – she finally decided I was worthy! Thank goodness! I don't get home that often now – so I needed to be able to make this for myself.
How to Make Pumpkin Pie from scratch?
Well – it's shockingly simple! You just add all the ingredients together and mix them together – then pour into a pie shell!


First you mix your dry ingredients (sugar, cinnamon, salt, ginger and cloves). There's no need for pumpkin pie spice – just add the actual spices – much better flavor! Then in your mixing bowl – beat your eggs. Add to the eggs pumpkin and your sugar/spices. Then you'll add in the evaporated milk and the SECRET ingredient!
What's the secret ingredient in Mom's Pumpkin Pie?
My mom uses Harvey's Bristol Cream Sherry. Harvey's is a dessert wine and – if you want to drink it – they recommend serving it over ice with a slice of orange. But it's also very good in baking – as you'll see with this recipe! Be sure to refrigerate after opening for best keeping. It's about $15 and I found it at the liquor store. (I don't drink much – so I wasn't sure where to find it.)
If you can't find cream sherry – you can modify with these substitutions:
any other brand of cream sherry – doesn't have to be Harvey's

Marsala wine is a good substitute

Regular dry sherry – but add 1 teaspoons of dark brown sugar into 1/4 cup of the dry sherry
Will pumpkin pie thicken as it cools?
Yup! It's kind of a custard type of pie – it will thicken and solidify as you bake it really – but then it firms up as it cools as well. Your pumpkin pie is done when you can toothpick the center and it comes out clean. If you shake it lightly and it's still jiggly – it needs a few minutes more.
Do you need to refrigerate pumpkin pie after you bake it?
Yup – it's got eggs and dairy in it – so definitely refrigerate any leftovers. But seriously – there won't be any. It's fine if it's out for an hour or two – but more than that – put it in the fridge.
Mom's Best Cooking Recipes
My mom is a pretty great baker – my other favorite recipe is my Mom's Peach Cobbler – it's magical with a delicious crunchy top! She also makes a delicious Pineapple Stuffing that we always have for Thanksgiving! It gets devoured every year! Mom also makes a killer Chicken & Dumplings – it uses Bisquick – so good! I love those dumplings – perfect for fall.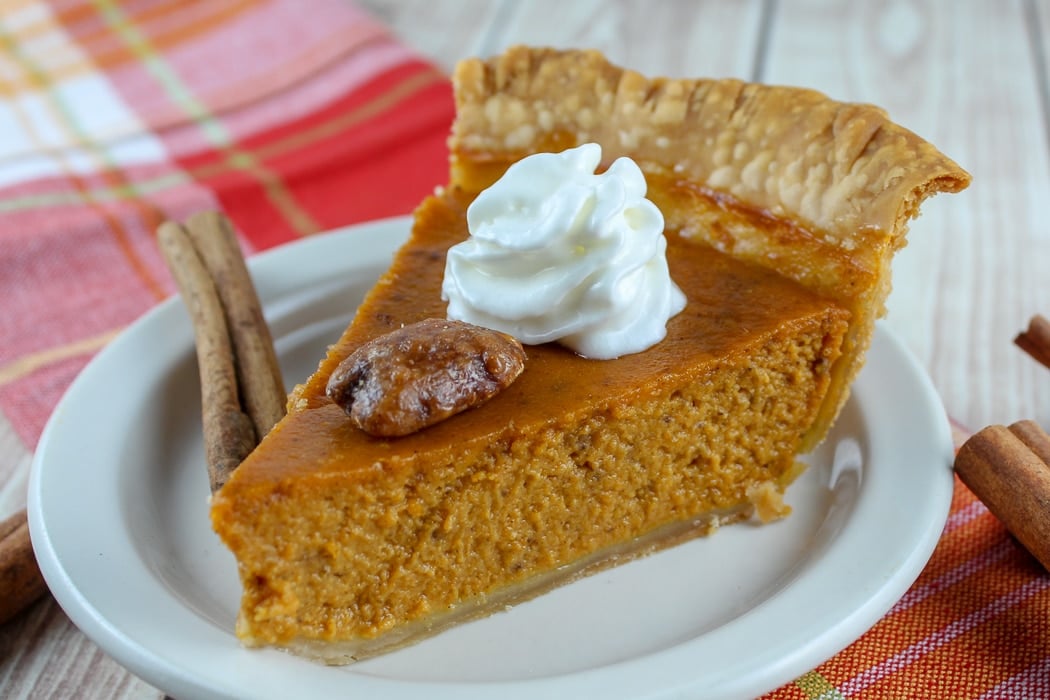 Mom's Secret Pumpkin Pie
Yield: 8
prep time: 15 M
cook time: 55 M
total time: 70 M
My Mom has always made the BEST pumpkin pie and she would never tell me her secret! Finally – at age 70 – she gave it up! The one secret ingredient that makes her pumpkin pie better than anybody else's! It's so easy and mixes up in minutes!
ingredients:
3/4 cup granulated sugar
1 teaspoon ground cinnamon
1/2 teaspoon salt
1/2 teaspoon ground ginger
1/4 teaspoon ground cloves
2 large eggs
1 can (15 oz.) pure pumpkin
1 can (12 fl. oz.) evaporated milk – MINUS 1/4 cup
1/4 cup Harvey's Bristol Cream Sherry
1 unbaked pie crust
Whipped cream
instructions:
How to cook Mom's Secret Pumpkin Pie
Preheat oven to 425° F
Mix sugar, cinnamon, salt, ginger and cloves in small bowl.
Beat eggs in large bowl.
Stir pumpkin and sugar-spice mixture into beaten eggs.
Gradually add and stir in evaporated milk and sherry. (Discard extra 1/4 cup of evaporated milk.)
Spray 8″ or 9″ pie plate with non-stick baking spray.
Pour pumpkin mixture into pie shell.
Bake in 425° F oven for 15 minutes.
Reduce temperature to 350° F; bake for 55 minutes or until toothpick inserted near center comes out clean. If you move pie and it still jiggles in the center – it needs a few minutes more – just add on 3-5 minutes at a time.
Cool on wire rack for 2 hours.
Serve immediately or refrigerate.
Top with whipped cream before serving.
NOTES:
– Pour 1/4 cup of evaporated milk out of can and discard
– You can make your own pie crust, use the roll out kind or use a frozen pie crust
– If the top of your pie cracks, top with candied pecans in a decorative arrangement! haha
Recommended Products:
Non-stick Pie Plate
OXO Pie Server
Glazed Candied Pecans