This post is sponsored by Kroger. All opinions are my own.
Last week, my friends at Kroger sent me a giant box of goodies from their Simple Truth line of products. The mission of Simple Truth is to give you a simple and easy way to find organic and natural products – you spot the logo – you know you have it!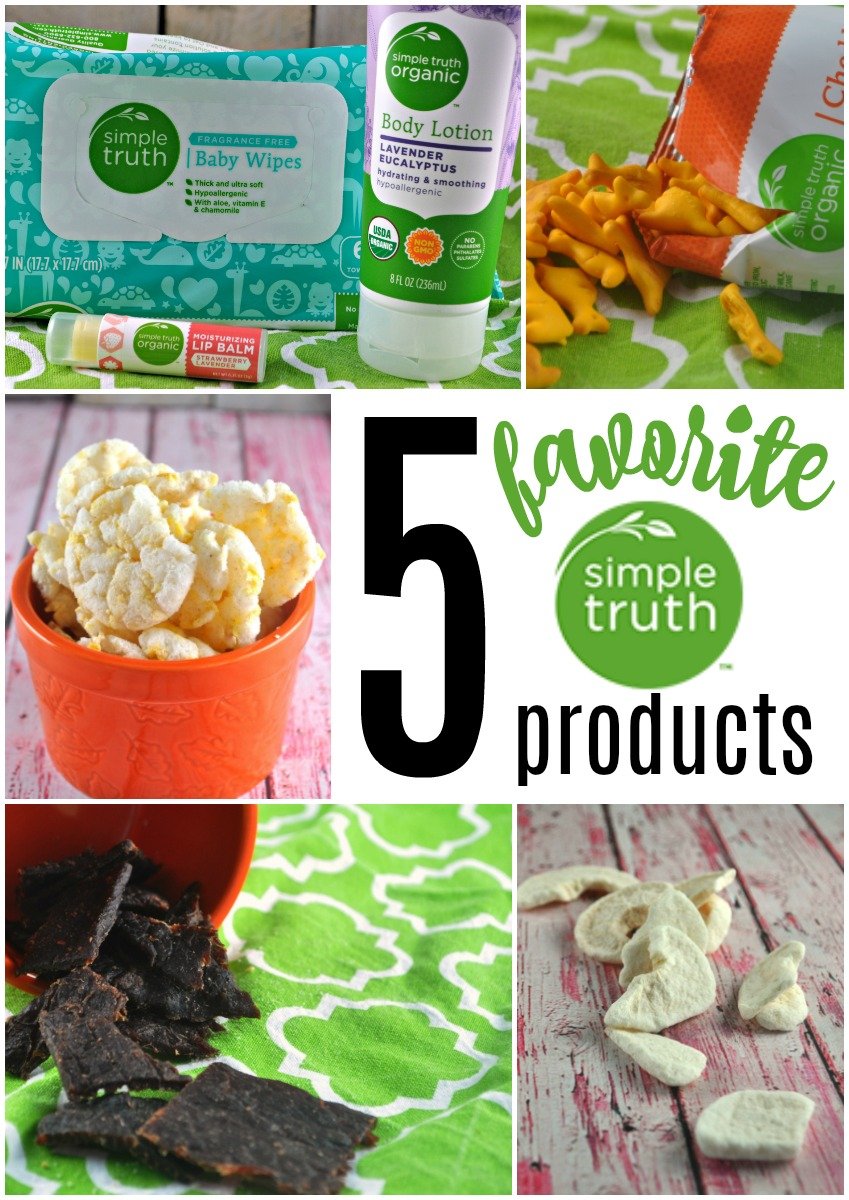 So after going through this box of goodies – I wanted to share my FIVE favorite Simple Truth products with you – so add these to your Click List right now!!!
5.
Cheddar Kangaroo Snack Crackers
– I love these little guys! They're super crunch and super cheesy – and they're organic and non-GMO! It's nothing too crazy – but it's just simple and tasty – and these little snack packs are perfect for lunch or purse snacks.
4.
Lavender Eucalyptus Body Lotion
– We got to try a few of the bath & body products but my favorite was the body lotion – it's calming and refreshing at the same time and my legs already feel better!
3. Original Beef Jerky – Simple Truth Jerky is made from certified organic beef and they never add artificial ingredients, preservatives or nitrites. I also love that it's only 80 calories per serving! Woohoo! Snack time is here!
2. Himalayan Salted Caramel Mini Rice Cakes – These must be BRAND NEW as they don't even have them on the site yet! I always thought rice cakes tasted like stale air – but these – these are DELICIOUS! They're crunchy, salty, sweet and fantastic! They tasted like popcorn!
I can't even tell you how much I loved these apples!!! I ate nearly the whole bag! I guess I was thinking they would be dry and chewy like dried fruit – but not at all! They were crunchy and almost juicy?! I want to try them all! They also have Mangoes, Tropical Fruit Blend (Pineapple, Mango, Banana), Strawberries and Strawberries & Bananas. So – if you haven't had freeze-dried fruit – try it today! Yum!
And if you want to find out everything I tried – check out the Facebook video below. I might have been a little slap happy and a lot hungry – so if you're also interested in laughing with/at me – it's good for that too: