Finally!!!! I've been trying to get together with the Westside Foodie Wannabes for over a month to go to Price Hill Chili!!! Things kept interrupting us around the holidays but finally last week – we made it!!!!
This was my first adventure to PHC and one of my first to the Westside at all! I was imagining that Price Hill Chili was just a chili parlor. I WAS SO WRONG! First, they tell me I can get beer!!! Beer and Chili?! w00t! Turns out PHC is only half of the restaurant, the other half is the Golden Fleece Lounge!
First – I must share – this is my first time for trying Hudy Delight and yes – it was in the Commemorative can! It wasn't bad – very light and I threw some lemons in…I'm down with that!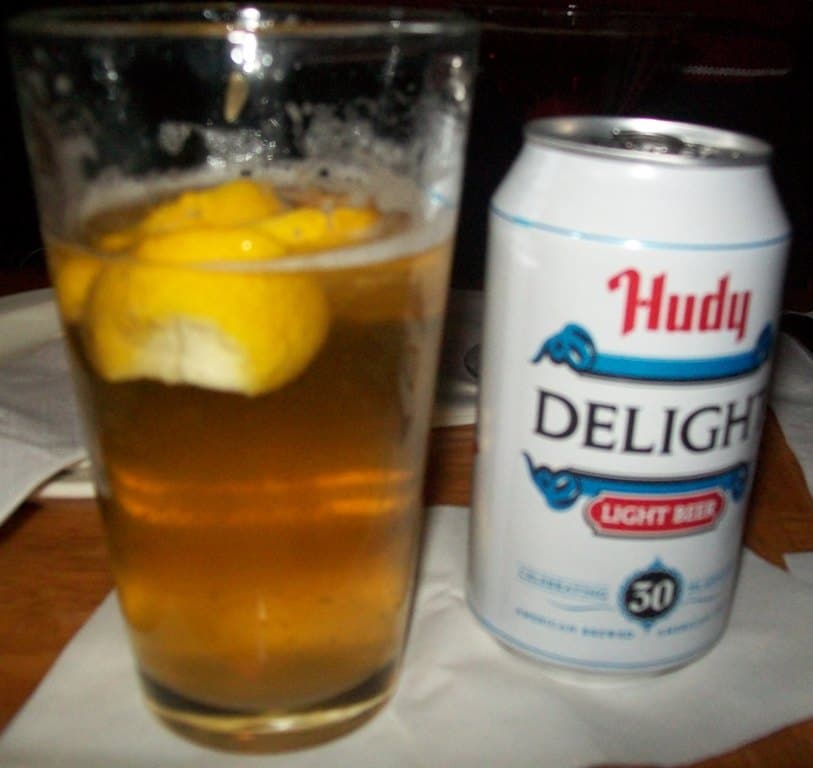 The menu is much larger than I originally thought. Are you getting gourmet food here? HELL NO! But it's good stuff – we tried a wide variety of things just because I had never been. First the Westside Girls got some Greek Bread. What the hell is Greek Bread? Hamburger buns with seasoning on them that are grilled and served with marinara.
Verdict: meh…it's fine…nice and salty. Marinara was sweet…not bad.
Next up, I had to get a cheese coney. I mean – it is Price Hill CHILI! Since the menu is so large – I had to try other things so I just opted for an appetizer of the dog…

Verdict: Good! Meatier than Skyline. The hot dog was really good – must be an actual hot dog. I still like Pleasant Ridge cuz the cheese is meltier.
Next up were the entrees. We had lots of choices between us. First the Stinger – hot roast beef with melted cheese and slaw. This was clearly the winner of the night on sight alone. Beth said she wanted gooey – and she got it!

Verdict: We were ALL jealous!
I'll touch on the other two patrons before my own – Scott had the gyro and Kristin had the grilled cheese. She admitted it was lame to get grilled cheese but again – gooey! Both were pretty happy but Scott said his gyro couldn't touch that of Mythos…

Verdict: only the gyro – wouldn't order again I bet…
Scott and I shared fries – cuz they said the basket was good for 2 and we got the Greek seasoning – which I'm a sucker for.

Verdict: AWESOME fries!
I ordered the greek sausage with homemade tomato sauce as well as onions and peppers.

Verdict: Good – a bit much bread. I liked the sausage, the sauce and the toppings…but would have liked to taste that more.
Overall – I was happily surprised with PHC – it was very busy and was really fun! That was probably the company though…it's always fun to meet the other foodies!
I'm planning on organizing a food blogger dinner out in February – so if you're a local blogger and you'd like to be included – let me know!
Price Hill Chili
4920 Glenway Ave.
Cincinnati, OH 45238
Phone: 513.471.9507