This post is sponsored by the Ohio Pork Council. All opinions are my own.
Barbecued Spare Ribs are something that have always just seemed like something I couldn't do right! Well – I was wrong! I can do it!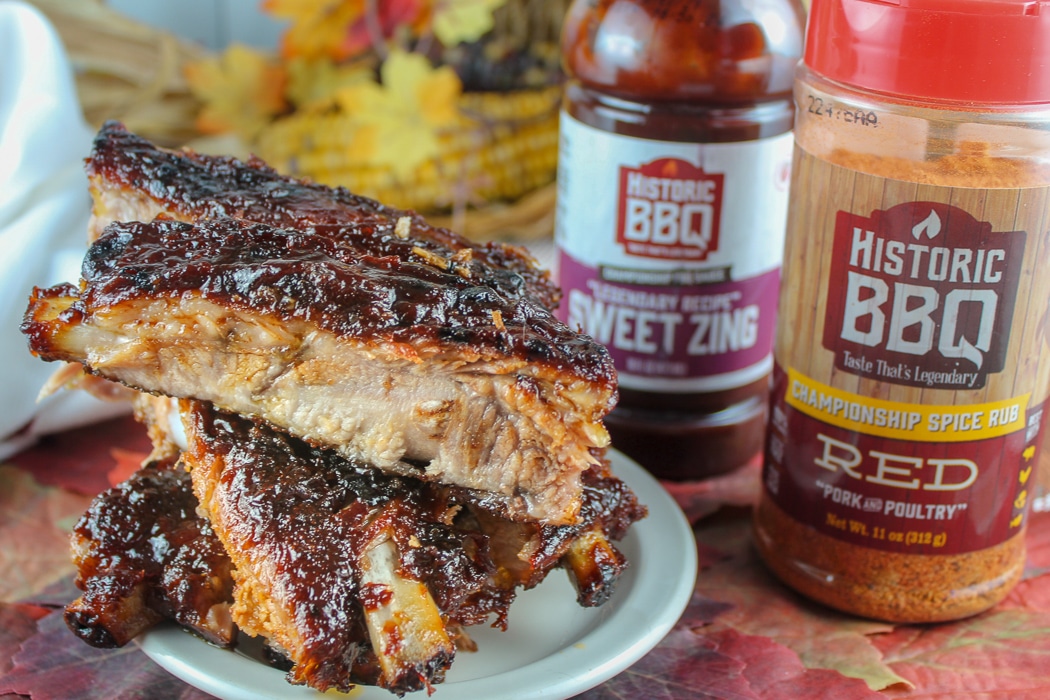 Spare ribs in the oven aren't actually that hard – it really has only one requirement: patience. I took a barbecue class and learned all the tricks of the trade from a championship award-winning barbecue team!



Historic BBQ offered up a Barbecue class at a local farmers market and I jumped at the chance to learn from them. I'm a big fan and they have won numerous BBQ competitions.


They taught us how to make these spare ribs, brisket, pork belly and even steaks! That stack of delicious was Tony showing us how you can evenly cook a load of cow – isn't it beautiful? He was using a Traeger grill – which I actually own! They are amazing!


Be sure to like Historic on Facebook if you're in the Cincinnati area – they'll list any upcoming cooking classes there.



One of the most important steps in making barbecued spare ribs is the trimming! You want to trim off the top of the ribs, the flap on the back and any extra fat. Why? This prevents the meat from cooking evenly. Now – in competition – it's essential because they have to make 10 gorgeous ribs. When you're cooking at home – it is nice to serve beautiful ribs – but really it is so all the ribs are cooked the same.


Now what to do with the trimmings? Don't throw them away! I saved them and then trimmed them a little more (discarded the fat) and was left with a pile of delicious meat. I coated them in Historic BBQ Red seasoning (Red is for poultry/pork, Black is for beef – so easy and then I popped them in my favorite kitchen appliance…



…the air fryer!!! I called them Air Fryer Rib Tips and they were DELICIOUS. I wanted to quit there and just eat these! I air fried them at 350 for 20 minutes. That's it!



After trimming the spare ribs – you have to pull the membrane off the back. Now I know – it's not the most exciting part – but it's essential. The easiest way to do this is to hold the rack of ribs over one hand and then use a paper towel to pull the membrane off with the other hand. You have to kind of pick at the edges – like a roll of packing tape – to get it started – but once you do – boom! You want the ribs dry and the paper towel helps you grip it.
How to oven roast ribs? How long to cook ribs in oven?
It's really easy – just time consuming. After you've trimmed the ribs and pulled off the membrane it's two steps! Step 1: coat with your favorite spice rub and then bake for 2.5 hours at 300. After that – you're going to foil wrap your ribs. Lay the foil down, add butter, brown sugar, honey and apple juice. Wrap and bake for 2.5 hours more. Perfection!


I forgot to wrap my pan in foil on the first 2.5 hours and thought the pan was a goner! But I just let it soak for a full day in hot water and Dawn and it came back to life!



After that – if you want sauced ribs – you take the ribs out and sauce them – then broil on LOW for 3-5 minutes. You just want to set the sauce – watch it closely. These ribs were amazing!!! Juicy, meaty, sticky, zingy, sweet – man oh man! I loved them!



You can make these oven baked spare ribs on the grill, smoker or in the oven. I love that there's not very many steps – basically – just get them in there and let 'em do their thing.



What goes with oven baked ribs?
There are so many side dishes that go with oven baked ribs – I think you have to start with biscuits. My creamed corn recipe is a perfect side any time of year – fresh creamed corn is so much better than the canned! You also can't go wrong with a great salad – like the Olive Garden salad!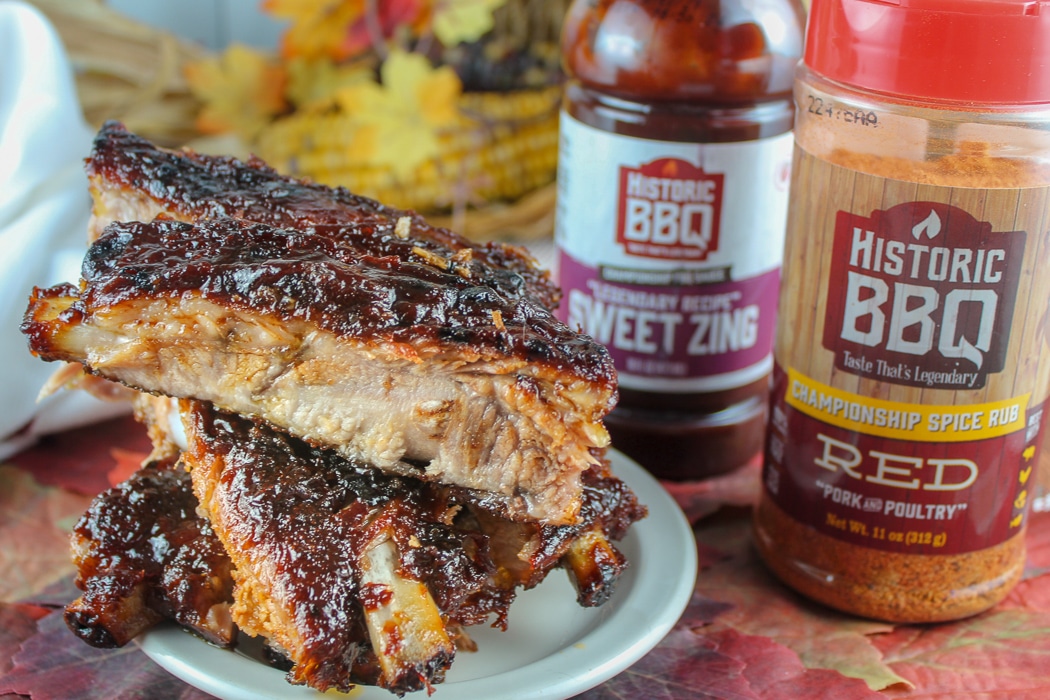 Oven Baked Spare Ribs
prep time: 15 M
cook time: 5 hour
total time: 5 H & 15 M
This is an award-winning recipe for St. Louis Spare Ribs from Historic BBQ. I'm going to walk you through every step of the process. It takes a while – but deliciousness takes time!
instructions:
How to cook Oven Baked Spare Ribs
1. Start by finding the tallest bone, normally the 4th one in and cut straight across to remove any extra cartilage
2. Remove the flap of meat on the backside of the ribs – it will prevent the ribs from cooking evenly.
3. Trim off the first bone of the thick end and any ribs on the thin end that are too thin. This should leave you with 10 bones.
4. Remove the membrane from the underside of the ribs. The easiest way to do this is to bend the rack of ribs over one hand and use a paper towel to pull the membrane off with the other hand. The ribs should be COLD at this point – if they're warmed up at all – please put back in the fridge. This helps make it easier to pull off.
5. If there is any excess fat between the bones use a spoon to gently remove it, being careful not to scrape the bones.
6. On the front side of the ribs remove any large deposits of fat and silverskin with a boning knife.
7. Season both sides generously with Historic Red
8. Line a rimmed cookie sheet with foil and place an oven-safe cooling rack on the cookie sheet. Lay the ribs, meat side up on the rack. Put the ribs in the oven at 300.
9. Check the ribs every 30 minutes, spritz with apple juice if they look dry.
10. After 2.5 hours – it's time to wrap the ribs! On a sheet of foil, put down 1/2 stick of butter (sliced), a line of honey and 1/2 the brown sugar. Lay the ribs meat down on the foil, then repeat the process on the back side. Tightly wrap the ribs in foil and add apple juice before sealing.
11. Remove the cooling rack from the cookie sheet and place the wrapped ribs on the sheet.
12. Bake in the oven at 300 for an additional 2-2.5 hours.
13. The ribs are done with a toothpick or thermometer goes into the meat with no resistance.
14. Unwrap the ribs and sauce with History Sweet Zing.
15. Return to the oven on Low Broil for 3-5 minutes – watch closesly!
NOTES:
– You can do this in your smoker as well! All the directions are the same – just cook for 2 hours each time.
– There are a ton of great bbq rubs on the market although I highly recommend Historic BBQ – it's so delicious!
– If you don't like saucy ribs – you can skip the last step.
– Save the scraps you trimmed off – separate out the fat and bones and cook the pieces in the air fryer! Coat with Historic Red and air fry for 20 minutes to 145 temp.
Recommended Products:
Rimmed Cookie Sheets
Oven Safe Cooling Rack
Grippos Spice Rub
Did you make this recipe?
Tag
@foodhussy
on instagram and hashtag it #foodhussyrecipe