This past couple of weeks I have NOT been able to cook near as much as I would like – but I do have one recipe that I made a couple of weeks ago ready to share!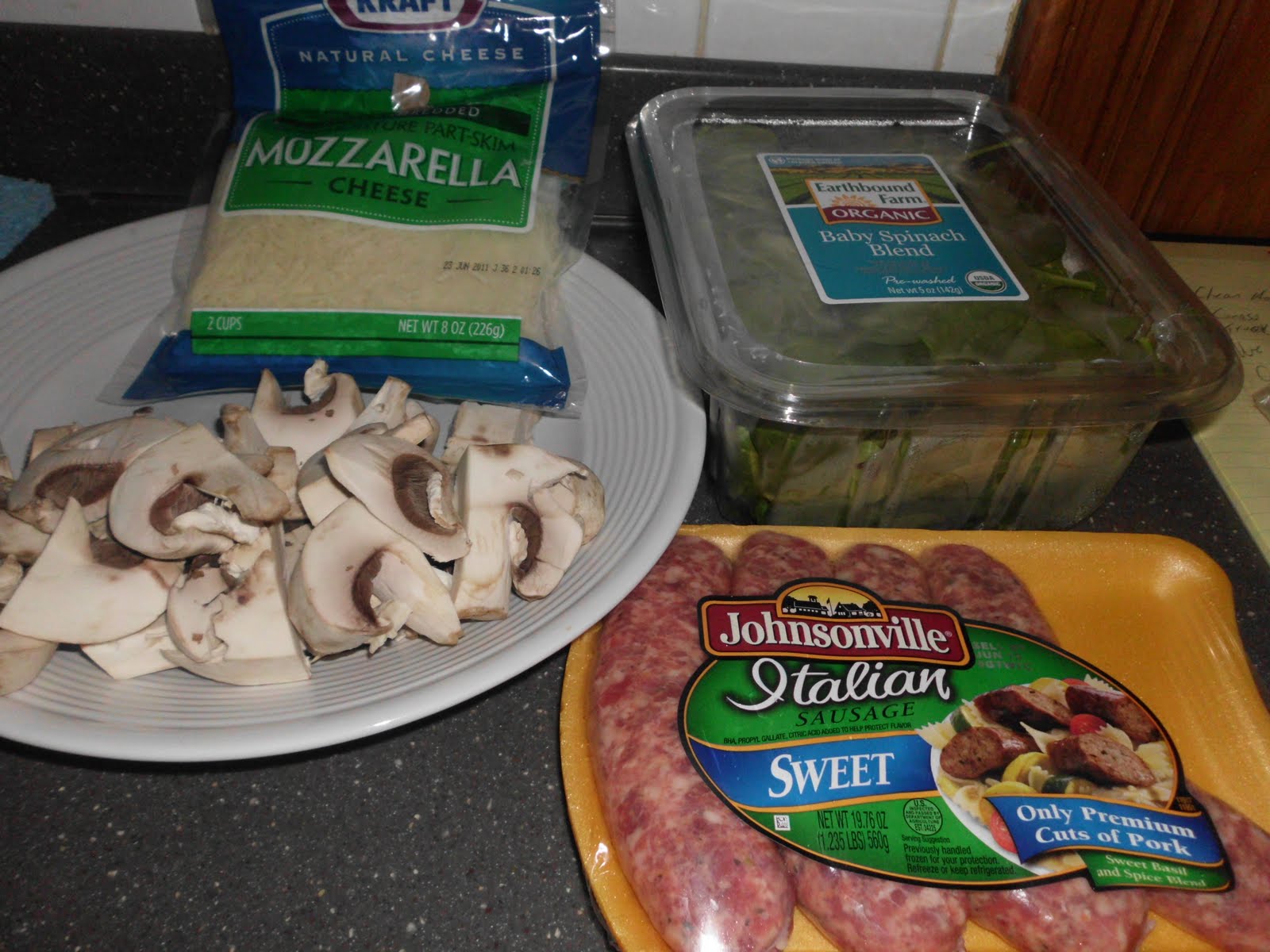 Just the name and the main ingredients – Penne with Sausage, Spinach and Mushrooms. What more could you need?
I realized AFTER making this that it was really calling for the pre-cooked sausage – more like a kielbasa – but this version worked just fine. I also subbed button mushrooms instead of wild.
I was AMAZED at the spinach! I've never actually cooked with fresh spinach. I've eaten it a million times but cooking with it is unique. You load the pan and then in just a few minutes – poof – it's deflated! I was a bit conservative because I didn't know if Larry would like it – but next time I would add what the recipe asked for.
Then – throw the pasta in! Smelling good…Once you add the cheese – it creates a sauce with the chicken broth. The cheese gets a bit stringy as mozzarella tends to – but I was really surprised by the sauce that created.
And here's the finished product. It was really great! It makes a good sized casserole dish full and gave me lots of lunches!
I'm really learning that these recipes are just guidelines – once you make them – you can think of so many things to add and make them your own!
Rotini with Sausage, Mushrooms & Spinach
Button mushrooms would also be fine here.
This recipe can be prepared in 45 minutes or less.
Yield: Serves 4


Ingredients

3 tablespoons olive oil
3/4 pound fully cooked pork, chicken or turkey sausages, thickly sliced into rounds
3/4 pound fresh wild mushrooms (such as crimini or stemmed shiitake), thickly sliced
3/4 cup chopped shallots
5 garlic cloves, minced
1/2 teaspoon dried crushed red pepper
1 10-ounce package ready-to-use spinach leaves
1 1/4 cups canned low-salt chicken broth
3/4 pound rotini or penne pasta, freshly cooked
2 cups (about 8 ounces) grated provolone or mozzarella cheese
Directions
Heat oil in heavy large pot over medium-high heat. Add sausages, mushrooms, shallots, garlic and crushed red pepper. Sauté until mushrooms begin to brown, about 10 minutes. Add spinach and broth; toss until spinach wilts, about 2 minutes. Add pasta and cheese; toss until cheese melts and sauce coats pasta, about 3 minutes.