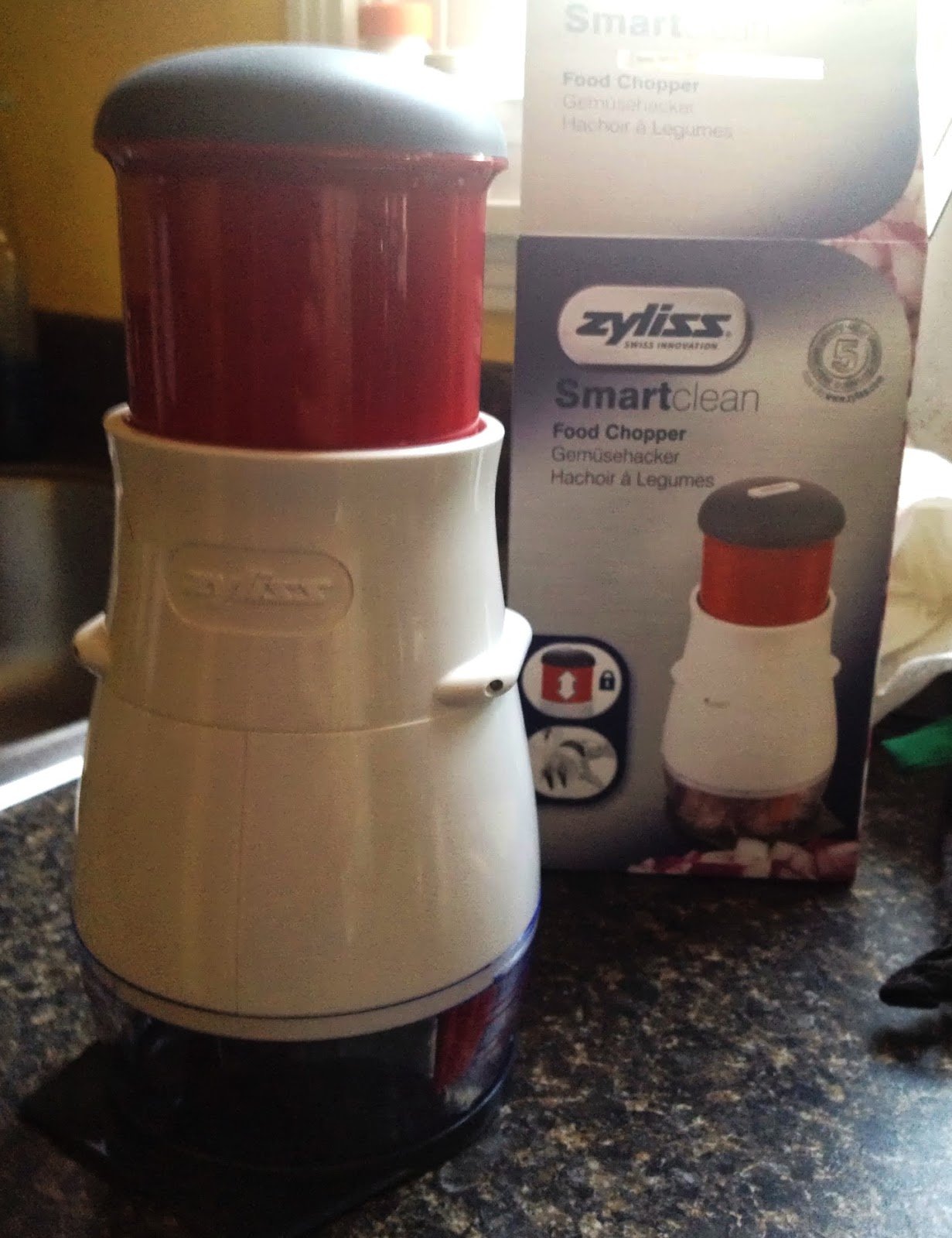 The chopper comes pre-assembled (thank goodness) and you just pop it out of the package. There aren't any instructions – but I figured it out – after a couple of tries anyway! 🙂
I'm a sprawling cook for sure – I am never neat or organized. I cover the counter with everything I need before I get started. You can't even see the two pots of water boiling (for pasta/eggs). OYE! Thankfully the dishwasher was empty so I could put stuff right in there (thanks honey!).
So in figuring out the chopper – I realized that you take the bottom dark gray "tray" off of the chopper and put your veggies in the upside-down cup. Then you put the tray back on and chop away. That said – you can't put a whole celery stalk or a whole onion in the chopper – so there is a little prep work.
I needed 1/2 onion for this recipe – so I cut it into big chunks and then put it in the chopper. Larry thought this whole process looked fun and he jumped in to chop while I made a video:
So as you can see – you gotta have a firm hand with this chopper!
Zyliss Smart Clean Food Chopper Product Review:
The chopper is industrial strength – that's the first thing I noticed! This chopper can take pressure! It does take a little prep work to be able to use it (cutting veggies into chunks) but it takes a lot of the work out of the process of dicing veggies. I still need to use it more to get the right balance down. I think I'm putting too much in the hopper – because the outcome ranges from minced to chunks – so I have to take out some of the bigger pieces and redo. I also think that onion and celery are probably two of the tougher ones to chop – cucumbers would probably chop like butta! The blades are sharp and it's a whiz to clean!
I chopped and separated the crab myself because it's already flaked. I like to have it a little more delicately pulled apart. The celery came from the chopper.
When you're done – just pop off the gray tray and the clear cup – the rest falls open so you can easily rinse in the sink – then you're done! It took about 1 minute to clean the whole thing! Love that!

So along the way in the recipe (see below) – up to this point – I have crab, cheese, celery and onion in a big giant bowl. On the stove are the shells and the eggs. Then in a separate bowl I'm mixing together sour cream/mayo, chow chow (or relish), sugar and salt/pepper. What's chow chow?
Basically – relish. I didn't have any relish but I had this – so I just substitute it. It's a little zingier but other than that – not much different. It's in the salsa section with the other Mrs. Renfros products.
After your sauce is mixed – you pour it into the dry ingredients and stir it all up. I also made a mini-batch without eggs because of my husband's egg allergy. How? I waited to add in the eggs until the very end and mixed up a tupperware bowl full with just sour cream and then added in the mayo to the rest of the batch after.
Wonderful crab pasta salad with a little Food Hussy twist here and there – plus an egg-free version! I would say for the egg-free – you might want to add more relish and even some lemon juice to make up for the lack of zing from the mayo.
1 12 oz. package small shell pasta
1 package imitation flaked crab
6 hard boiled eggs, diced
1 package co-jack cheese, diced
3 Tbsp. chow chow (or pickle relish)
Cook pasta according package directions. Rinse and cool.
Boil the eggs and peel and dice eggs.
Chop the crab into small pieces.
In a large bowl, combine the pasta, crab, cheese, celery, onions and eggs.
In a small bowl, mix together the sour cream, mayonnaise, chow chow and sugar.
Pour over the pasta and mix well.
Salt and pepper to taste.