I'm sure everybody has heard of Schwan's – right?
Schwan's
is the home delivery food service – they have everything from ice cream to breakfast sandwiches to salmon fillets and everything in between! My Dad used to get Schwan's when I was in college and he'd stock me up with things I could microwave at school to help save money from eating out. But they've changed quite a bit since then!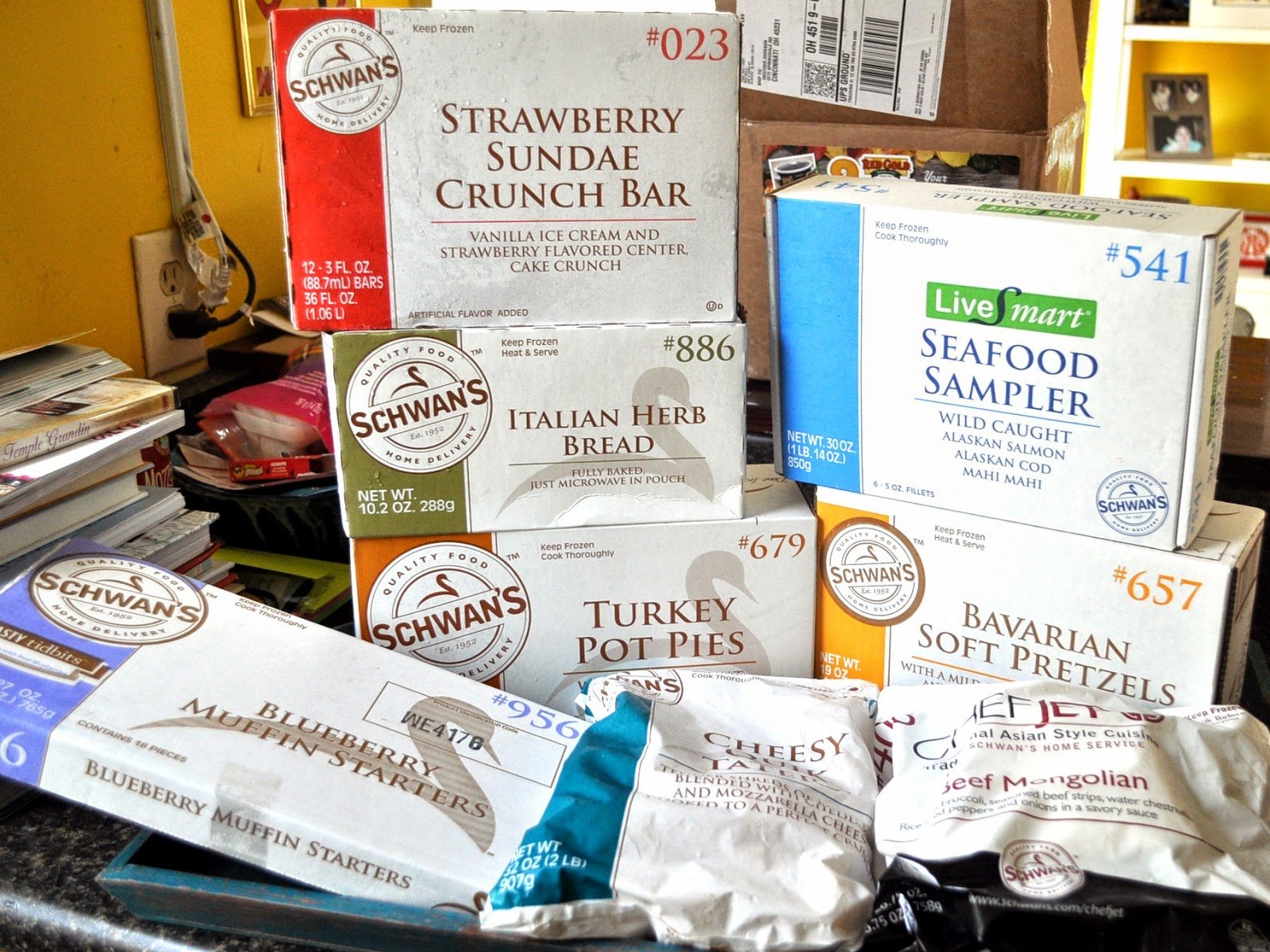 I decided to try out a wide variety of items – nearly all egg-free for my husband and myself to enjoy. (They have full nutrition on their site so it's easy to check.) I went for a few quick fix items, a few ready to eat and some that I could add to meals. I was pretty surprised at the variety and the prices – they have things at a wide variety of price ranges. They dropped off at my house and will drop off in freezer bags if you're not home.
I let Larry pick the ice cream he wanted – and it was a quick decision – he loves these Strawberry Sundae Crunch Bars (12 are $6.49). He pretty much ate one a day until they were gone. 🙂 Wouldn't you?
They also had these Blueberry Muffin starters (18 for $8.49) – you can use them in a couple different ways. If you use one in a muffin cup for small muffins, 2 for large muffins or bake them on parchment paper for a muffin top like I did. These were DELICIOUS!!! The thing I loved most was that the berries were big and JUICY! This wasn't like a boxed blueberry muffin – this tasted like I made them from scratch! Yum! (These were the one item that contained egg – poor Larry.)
One thing I wanted from Schwan's was quick-serve meals! I came across this Beef Mongolian Skillet Meal ($11.29) and decided to give it a whirl. I've tried many of the freezer meals like this before – but was pleasantly surprised. First – it's super simple!
This comes with everything you need in one bag – even the rice! You just pop open the bag – take out the rice and sauce. Rice goes in the microwave for 3 minutes, sauce goes in a bowl of hot water to thaw it out. While that's going – saute the veges & meat – then you add the sauce & rice. Voila – done! Literally freezer to plate in less than 15 minutes. That's what I need after a long day at work!!
Then – it was actually good! There was plenty of rice and veggies – plus it was not only enough for 2 – we had enough for 2 PLUS leftovers for both of us! I would definitely get this one again – tasty, quick and affordable!
All in all I'm really happy with my Schwan's choices for the month. I also bought frozen seafood fillets – so I'll be making some fish soon as well – so stay tuned for more!
And I've got a special offer for you!
Eric from Schwan's is doing some special coupon codes that are getting you a great deal!
Offer 1: Coupon Code ericg2
First order will receive $5 off $25 and $10 off of $50
Offer 2: Coupon Code
ericg15
Orders over $75 receive $15 off
Plus – the first 10 people to place orders of $25 get a $10 gift card!!!
I know it's a little confusing with different codes – but what it comes down to is $25 in merchandise for $10! Let me know if you have any issues or questions!!
Disclosure: This post is sponsored by Schwan's but all opinions are my own.