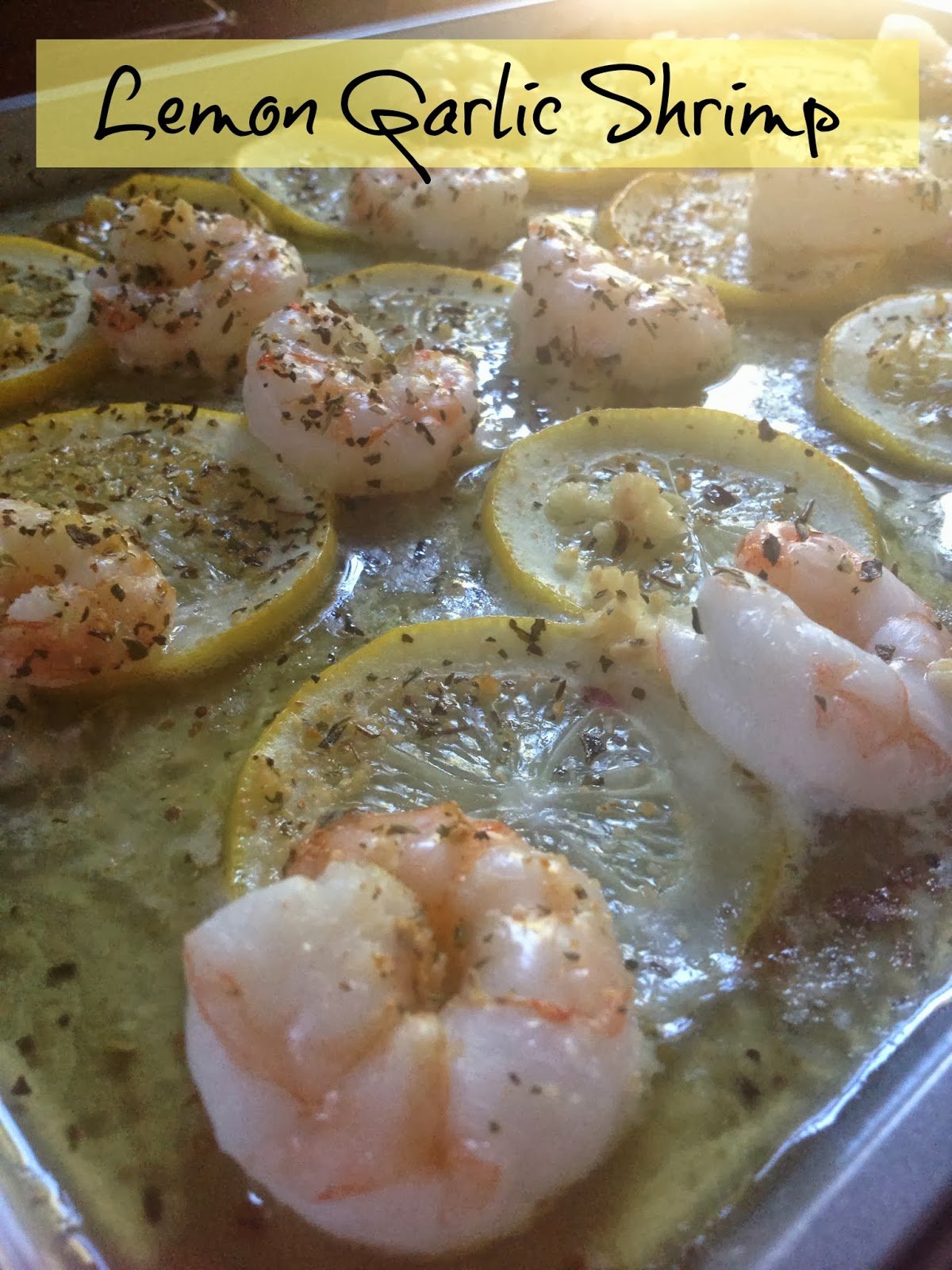 I found this fantastic recipe all over Pinterest – it was so easy there wasn't even a need for a link on it. I decided to try it out and see if we liked it as much as everyone else – so here goes some Lemon Garlic Shrimp!
It starts with a stick of butter – yeah – can't go wrong there! We were actually down to the last stick and it was a little short – but worked fine. You just pop the stick of butter on a cookie sheet and melt it in a hot oven.
Then you slice a lemon and lay it in all the melted butter. Then scatter the shrimp across the pan. After that – sprinkle italian seasoning and fresh garlic across the top. Voila. Oven and done.
This recipe was great! It was so quick and easy – it literally just took the time to melt the butter to prep it. That's my kind of work night recipe.
I decided to use up some leftover pasta for dinner – so your eyes aren't tricking you – macaroni and linguine. A few shrimp and then I drizzled butter over the pasta and dinner was served. It was really good!
I think next time I'll actually squeeze the lemon juice onto the shrimp before baking to get a little more lemon flavor into the shrimp. This will definitely be in my regular rotation for dinners! I hope you enjoy it as much as we did!
Quick and Easy Lemon Garlic Shrimp
This recipe is in my top 10 and you'll love it! I've even made it on the grill – enjoy!
Prep time: 5 minutes
Cook time: 15 minutes
Total time: 20 minutes
Ingredients
1 stick




butter

2-3 cloves




garlic, minced

1 packet




Italian seasoning (dressing mix)

1




lemon- lightly squeezed (reserve juice) then thinly sliced

1 bag




large frozen shrimp (raw, peeled & deveined)
Cooking Directions
Preheat oven to 350 degrees and place 1 stick of butter on a non-stick cookie sheet or baking dish. Melt butter while oven is preheating.
While butter is melting, lightly juice your lemon and reserve the liquid, then slice the lemon into thin slices.
Once butter is melted, spread lemon out into the butter.
Scatter shrimp – be sure to not have them overlap. I flipped them around in the butter a little before letting them rest.
Sprinkle Italian dressing seasoning packet over the shrimp. Mince garlic and sprinkle (it's a little wet if you're using fresh) over the shrimp. I love garlic – so I probably used even more than I listed!
Drizzle the reserved lemon juice over the shrimp.
Bake for 15 minutes at 350 degrees.
Serve over top of rice or pasta.