January is National Soup Month and I love a good loaded potato soup – if I see it on the menu when I'm out – I typically get it! It's creamy and cheesy and warm – what more could you want? But I've never made it at home – just seems like too much work…until now!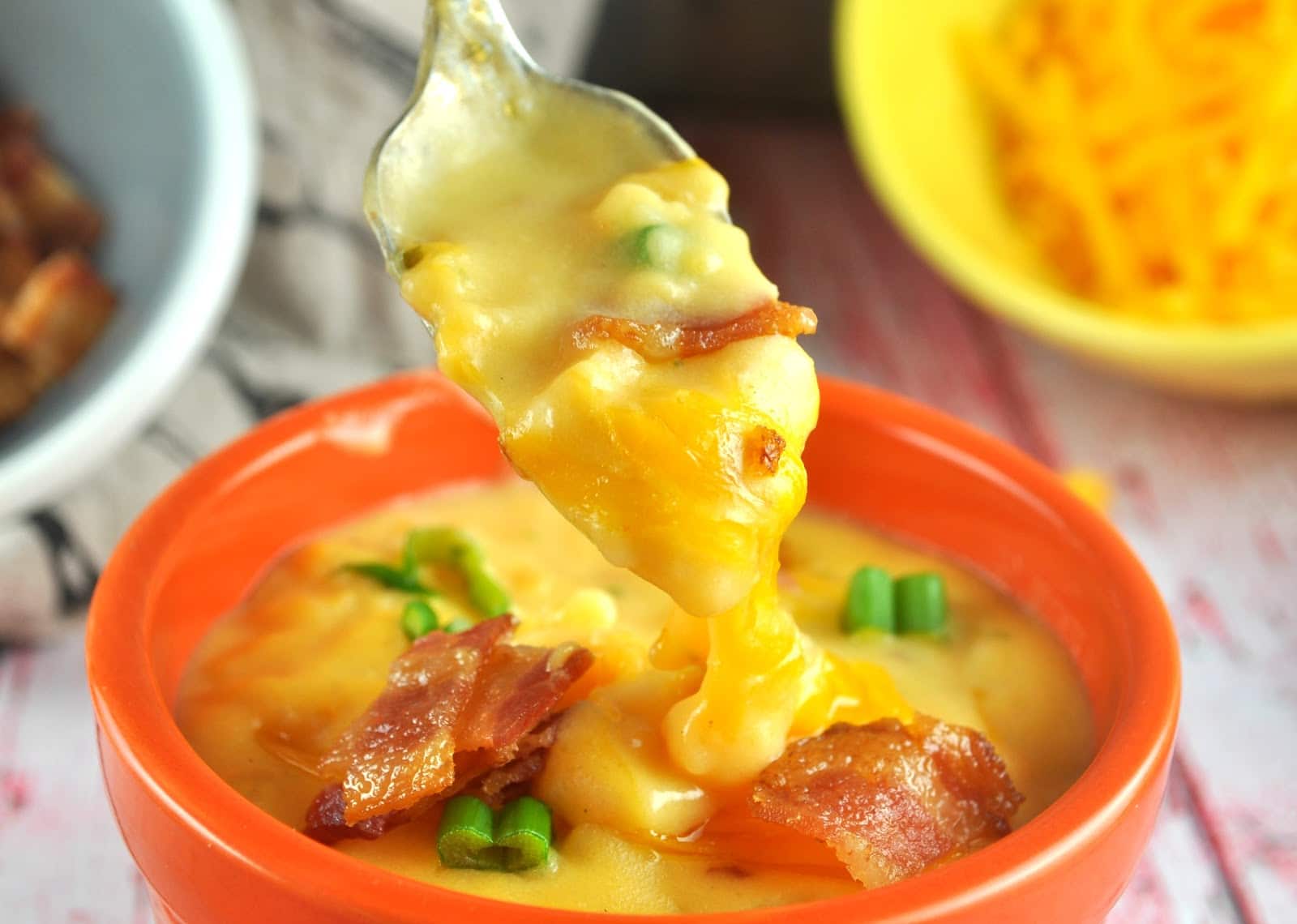 I mean that's it – right there – cheese, bacon, thick chunky soup. Now what if I told you – you could have it on the table in 5 minutes?! You know I'm all about a quick and easy dinner! And that's what I have for you…so go ahead – find the "pin it" button now! 😉
Idahoan® Steakhouse® Soups are so delicious and I love them! I use their mashed potatoes all the time – it's such a quick side and my husband LOVES taters!!! I dug into the Loaded Potato Soup first and had a little topping bar with bacon, cheddar and scallions.
But if you're having a thick potato soup like this – you need something to dip in it – right?! But you want more than just bread or biscuits – so I jazzed up some biscuits and added cheese, bacon and garlic – that's ok – right?! #drooling
These cheesy garlic biscuits are the perfect complement! They're buttery and you can pull them apart into dipping bites! That way you get more cheese and bacon on them!
These biscuit bites were so easy too – I got the idea from my Pepperoni Monkey Bread recipe – I just swapped out the pepperoni for bacon and put them in a muffin tin! Best part is – you just use the canned biscuits – so it goes together super quick. I got the biscuit mixture in the oven – made the soup and boom – dinner was done!
The Idahoan Steakhouse Soups give you the flavorful, slow-cooked taste of restaurant quality soup at home, in just FIVE minutes! You just boil some water, add your soup mix in and simmer – boom you're done! I love when I can get dinner on the table in 15 minutes or less and that was definitely the case tonight. Plus – I kept a little of the cheese and bacon from the biscuits out to use on top of the soup – DOUBLE DUTY!
And there you have it – a little cup of comfort – creamy, cheesy loaded potato soup – yum!
Idahoan Steakhouse Soups has four varieties of potato soup – it comes in Creamy Potato, Loaded Potato, Cheddar Potato and Cheddar Broccoli. All ready and on the table super quick! Don't forget to pair them with these easy cheesy bacon biscuits! (I have some left – I think I'm going to go sneak one now!)
Cheesy Garlic Bacon Pull-apart Biscuits
Ingredients
1 can

butter-flavored flaky b

iscuits

1 cup

shredded cheddar cheese

4 slices cooked bacon, crumbled

1 Tbsp minced garlic

1 Tbsp

olive oil
Preheat the oven to 350 degrees
Cut biscuits into quarters
Mix all the ingredients in a bowl and toss
Spoon 2-3 pieces of biscuit mixture into each cup of a greased muffin pan
Bake for about 15 minutes (or until the top is brown and the center is thoroughly cooked)
Dip into your Idahoan Loaded Potato soup and enjoy!
I was selected for this opportunity as a member of CLEVER and the content and opinions expressed here are all my own.