I'm a BIT obsessed with the Real Housewives of every city. I can't help it – if it's trash TV – I love it. One of my favorite cities is Atlanta!!! Kandi, Porsha, Kenya, oh my oh my I love them all! Recently I went down to visit my girl, Plain Chicken, and she said we could do a little overnight trip to the ATL and I said – only if we can Real Housewives it up!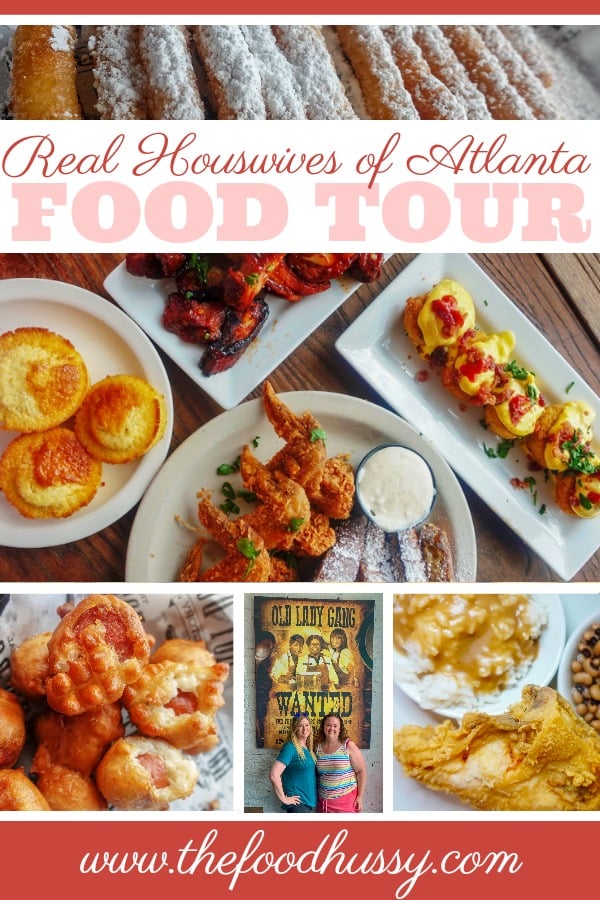 So I did my research on Real Housewives locations and gave Chicken the mandatories of where we HAD to go and she put together our travel itinerary. I love that girl!


The first stop HAD to be OLG! If you think Real Housewives of Atlanta (or RHOA) and food – that's always #1. OLG is owned by the Queen Bee Kandi Burruss and is named for Kandi's mom and aunts. The dishes are family recipes and I couldn't wait to dig in.
We tried so many delicious items from the menu! I would recommend making a reservation on Open Table. We heard that the wait can get long and it's a very small restaurant. We decided to make our reservation for lunch right when they opened so we wouldn't have a wait to worry about.



I'd heard about the Deep Fried Whipped Deviled Eggs and had to try them! I liked them so much – I made my own copycat version! (Mine were better!) They egg whites are fried and then topped with deviled egg yolk mixture along with maple bacon and sriracha. Yum!!!

Hands down – our favorite item was Mama Joyce's Rib Tips! These were juicy and tender and the sauce was sweet and sticky but zingy. It was a hit with both of us! We couldn't stop noshing on these little guys!



We also tried the Mama Sharon's Chicken & Cream Anglaise French Toast. It was ok – the wings were bland but the French toast was good. (Hard to screw up – right?). The corn bread muffins that came with our meal were forgettable.



After lunch, I forced Chicken to take pics – we had to let it be known we were there. I also had a bit of fame when I shared an Instagram story from the ladies room and Queen Kandi shared it in HER Instagram stories! I was giddy for a full 24 hours!
Next up – obviously – was the Hot Dog Factory! Porsha Williams on-again/off-again fiance Dennis is a part owner and we've seen this location on quite a few episodes! This is the location in Smyrna. There is a location downtown that they told us will be seen on this season of RHOA but I had to visit the original! It's a little spot in a strip mall about 15 minutes from downtown.
A great staff member, Sean, was working that day and was more than happy to indulge my RHOA giddiness and tell us all of his favorite menu items. We ordered pretty much one of everything – people that kept coming in were shocked at the amount of food we had! We had corn dog nuggets, funnel cake fries, deep fried oreos, onion rings and – of course – hot dogs!



Sean told us the Carolina Slaw dog and Hawaiian dog were two of his favorites. The Carolina slaw was topped with Factory Chili & Factory Slaw and it was DELICIOUS! The Hawaiian (shown here) was loaded with bacon, cheese, BBQ sauce, grilled onions and grilled pineapple. OMG – it was soooo good! Their hot dogs did NOT disappoint! I could have eaten so many of them!
Chicken LOVED the corn dog nuggets! Now – we're not sure that they were truly "corn" dog nuggets because it seems like just a normal batter (the same one the oreos were battered with) – but it was tasty nonetheless. A big reason was that they use really good all beef hot dogs.


We both LOVED The Original Hot Dog Factory – more than OLG if we're being honest but both were great stops!



Davios, Phipps Plaza, Atlanta, GA


We couldn't find another "dinner" type restaurant with ties to RHOA so we went rogue and dined at Davios in Phipps Plaza (i.e. a super expensive elite mall!). We started with their Burrata appetizer with prosciutto, kumquat, marmalade and figs. It was pretty good but not the best burrata I've had. (Burrata is like a fresh mozzarella with a runnier inside – it's good stuff!)



Chicken went for the Tagliatelle Bolognese with braised veal, beef and pork in a tomato sauce – it's a pretty standard order for her and she definitely didn't go wrong. She let me try a bite and it was really good!
I saw Lobster Risotto and knew I had to have it – this was the BEST risotto I have EVER HAD!!! And most of the time with lobster dishes – they say lobster but there might be one chunk and that's it. Not here – this was LOADED with lobster and asparagus. OMG – I am still thinking about this risotto!
Mary Mac's is an institution in Atlanta and has been visited by celebrities, politicians and many many mimaws throughout the years. Kandi and her aunts discussed their upcoming OLG restaurant here in Season 7 of RHOA!
As we tend to do – we ordered pretty much half the menu! We want to try everything! Don't worry – we don't eat it all – we usually just try bites of everything and maybe finish off the best bites. They have a HUGE menu of sides which we were psyched to enjoy – black eyed peas, rice and gravy (new to a Yankee like me), homemade creamed corn, and so much more!



One of Plain Chicken's most popular recipes is her Brunswick Stew. I had never heard of it until I tried hers and it's delicious! Then I saw Brunswick Stew on the Mary Mac's menu and knew I had to try it! It was really good – but Chicken's is better. 🙂



Chicken insisted on getting an order of hushpuppies and she was RIGHT! They were delicious – crispy and light! I could have eaten the entire order.



I ordered the Chicken Fried Chicken and loved every bite. This was one of those things – I swore I would only take a couple bites of – but ended up devouring all of it! It was so good – I had to make a copycat version of it too – coming soon!
Now let's talk about creamed corn – I never really knew how it got creamed or if I even liked it. But wow – now that I've had homemade creamed corn – I love it! Another copycat recipe coming from me very soon!!!



Plain Chicken got fried chicken (because apparently you have to there) with black eyed peas and rice and gravy. The fried chicken was good but not a lot of seasoning in it. Someone needs to explain this whole rice & gravy thing to me – I guess it's a Southern thing – cuz it's everywhere down there!



We ended with desserts – I got peach cobbler – it wasn't great (doesn't even come close to my mom's peach cobbler!) But Plain Chicken got their peanut butter pie. It was really interesting – it was very dense but very tasty. Definitely shareable!


Our last stop on our way out of town was Williamson Brothers Bar-B-Q. Plain Chicken turned me onto their barbecue sauce last year and ever since I've been OBSESSED!!! She uses this sauce in her Brunswick Stew and it's amazing. I love it and when I found out they had a restaurant – I had to go!



We had just eaten maybe an hour before – so we weren't really hungry but it didn't stop us from getting a bunch of different menu items. We got pulled pork, baked beans and macaroni & cheese. Their beans and mac & cheese were DELICIOUS!! You can see the pulled pork in the beans – omg – I wish I had some now!



They have a bunch of different kinds of sauces and I had to try them all so I could figure out which ones I wanted to bring home. I was sure I would bring home the Carolina cuz that's usually my favorite – but I was really surprised – the honey was my fav! It wasn't overly sweet but still had all the seasoning of the regular sauce – there's a bottle of it in my fridge right now!
I saved the best for last. When we walked into Williamson Brothers – we saw the pie case. Just look and drool. I mean – SERIOUSLY?! How do they even get the whipped cream that tall???? We had to order a piece – we really wanted to try all the pies – (and kinda wish we had) – but we landed on the chocolate cream pie. Plain Chicken said this was the best pie she's ever had. THAT is a big statement!!!



I hope this gives you some fun ideas for your next trip to Atlanta! And I can't wait for the Real Housewives of Atlanta to come back for their next season. I need some new places to visit on my next trip!