After a visit to the gym, the first thing you should do is eat – right? Really I try not to but we were starving and Larry kicks my butt so hard at the gym there's no way I could come home and cook! LaRosa's is also a block away…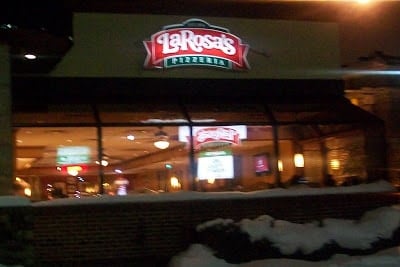 We drive past this all the time but never really took notice – it's on Montgomery Rd across from the Police Station in Norwood.
I'm all about the JoJo's BLT salad. It's great and the creamy garlic dressing makes it perfect. It's bad for me cuz there's a ton of bacon on it – but it tastes great!
Pretty sure Larry got the Lent special fried fish hoagie. They have one that's beer-battered and one that's not – this was not. (Their website is great for online ordering – fantastic actually – but kinda sucks when I just wanna quick peek at the menu.) I snuck a bite as I usually do and it was good – the fish was pretty flaky and tasty and I didn't really miss not having tartar sauce.
I got spaghetti with meat sauce and added sauteed mushrooms. I got that from their online ordering – if you've never done it – you should! It tells you every option possible and many you'd never think of.
But the spaghetti – I really like it – it's probably my favorite thing on the menu since I don't love the pizza that much. The portion is huge and the sauce is pretty tasty!
Tonight though – the garlic bread SUCKED! It was hard as a rock!!!! Couldn't even eat it…
Why Should You Go? Well it's not my favorite – but it's consistent. And it's a crowd-pleaser. Plus they have great specials that are very budget-friendly (I think Tuesday is all-you-can-eat spaghetti.)