Last fall I went to Gulf Shores in Alabama and had so much fun!! I also discovered the amazingness that is Pimento Cheese. I don't know why I hadn't really tried it before but I really liked it!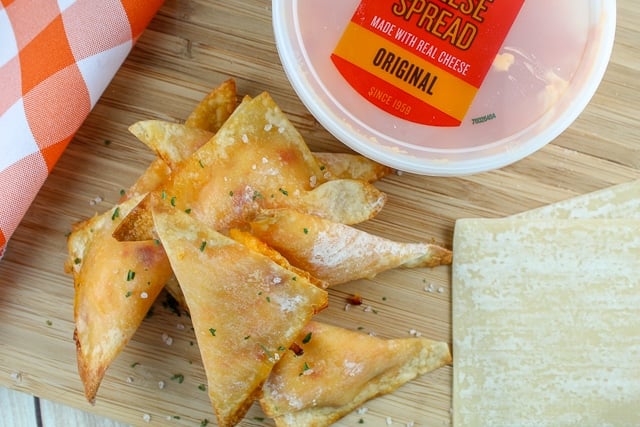 I knew once I got back to Ohio – I had to get some and see what I could create with it! Luckily – my air fryer was calling my name and I knew what to make!
Last week – I made Air Fryer Mozzarella Sticks and had some leftover wonton wrappers and decided to make Pimento Cheese Wontons!
Can you air fry wontons?
Definitely! These wontons are super easy to make and I'm going to show you step by step. Then you just pop them in the air fryer for 3 minutes – flip – 2-3 more!
How do you make wonton appetizers?
This is an easy quick process. You take the wonton wrappers and lay them out (you can also use egg roll wrappers – they're the same thing just a different size). Next have your filling and a small dish of water.
Drop a teaspoon of filling onto the middle of the wonton and dab water with your finger around the edges of the wonton wrapper – just so it's moist. Then fold over and press around the edges.
That's it! Your Wontons are ready to go in the Air Fryer!
You can find more ideas in my Air Fryer Recipes section or in my Air Fryer Facebook group!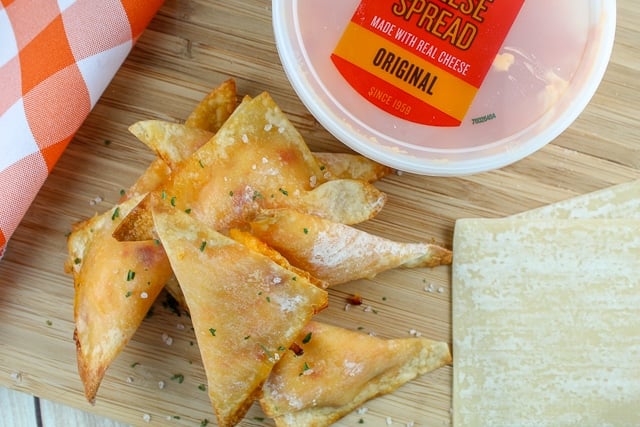 Air Fryer Pimento Cheese Wontons
prep time: 4 M
cook time: 6 M
total time: 10 M
Air Fryers are all the rage and they're so easy to use! Instead of grabbing those freezer appetizers with preservatives and chemicals – just make your own! Your friends and family will love these air fryer pimento cheese wontons! #wontons #airfryer #pimentocheese
ingredients:
8 wonton wrappers
1 container pimento cheese
small dish water
cooking spray
instructions:
How to cook Air Fryer Pimento Cheese Wontons
Lay out wonton wrappers
Add one teaspoon pimento cheese to the middle of the wonton
Dab water around edge of wonton with finger
Fold over wonton into a triangle shape
Press edges sealed
Give all the wontons a quick spray with cooking spray on both sides
Place in air fryer
Heat at 350 for 3 minutes
Flip wontons and cook for 3 minutes more
Recommended Products:
Phillips Air Fryer