I'm always wishing I had a salad bar in my house. If I had all the ingredients pre-chopped and staring at me – I'd eat salad a whole lot more. Every now and then I find a salad recipe that I have to make and this was one of those times!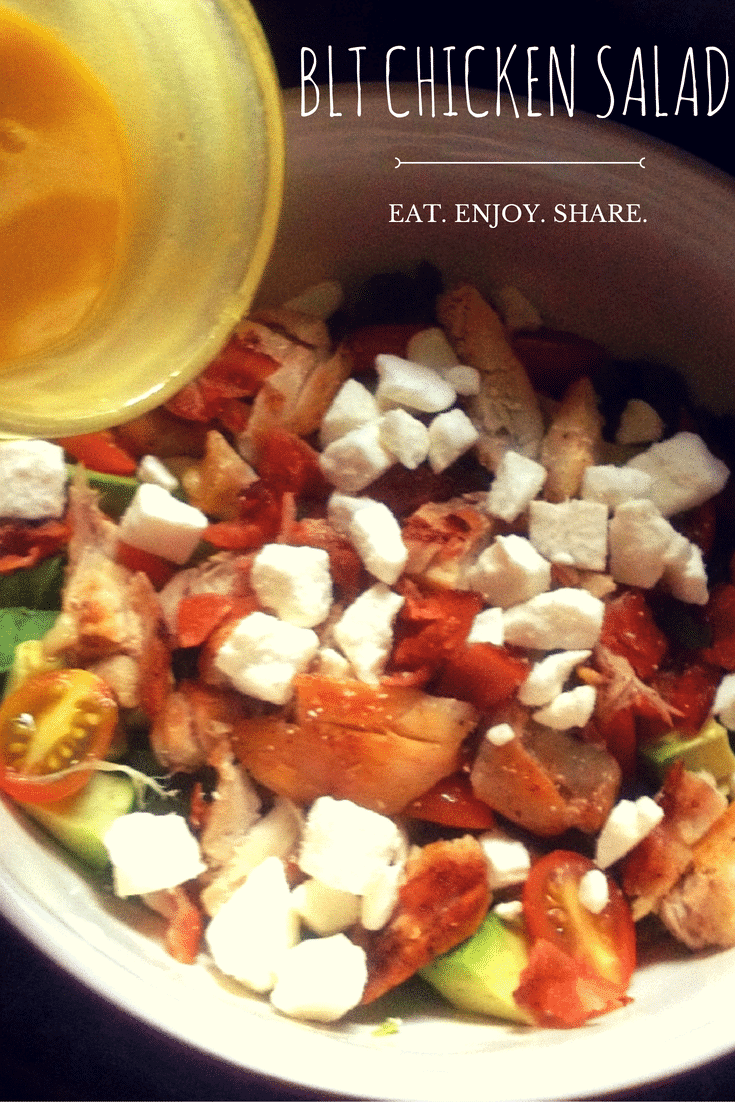 This BLT Chicken Salad sounded awesome – I mean – what can be bad with a BLT?! And then throw in avocado – I'M IN HEAVEN!!!
It's a simple salad – I cooked a few slices of bacon in a skillet. Then I removed the bacon and added a couple boneless, skinless chicken thighs and sauteed them (they're small and thin – so they cook quickly).
While the chicken was cooking – I chopped romaine lettuce, tomatoes and avocado and tossed that all together.
After the chicken cooled a bit – I shredded it with a couple of forks and chopped the bacon into bite site pieces. Then I topped the lettuce/tomato/avocado with feta, chicken and bacon.
Every salad needs a bit of dressing – so I mixed up a quick honey mustard dressing. Let me tell you – this is so simple! I would bet you have everything you need in your pantry. All it takes is olive oil, dijon mustard, honey and apple cider vinegar. Four ingredients for delicious, fresh dressing!! No more bottled dressing for me!
This salad was extremely tasty and I loved it! I split it in half and took the rest to work the next day – sooooo good!
BLT Chicken Salad
2 boneless, skinless chicken thighs

4 slices bacon, cooked and chopped

1 head romaine lettuce

1/2 cup cherry/grape tomatoes, cut in half

1/3 cup feta cheese crumbles

1 avocado, peeled, pitted, and diced

1/4 cup olive oil

1 tablespoon Dijon mustard

1 tablespoon honey

1 1/2 teaspoons apple cider vinegar

Pinch of salt
In a small skillet, cook bacon then remove and drain on paper towels. Using the grease from the bacon, add your chicken and cook for 2-3 minutes each side, until lightly browned. Remove from heat and allow chicken to cool slightly. When cool enough to touch, shred chicken into bite-sized pieces.

In a bowl or mason jar, combine dressing ingredients and combine thoroughly. If being made in a mason jar, you can do this by securing the lid and shaking. Refrigerate until ready to eat.

In a large bowl, toss together romaine, tomatoes, and avocado. Top with chicken, bacon and feta cheese. Drizzle with dressing and toss.
Around The Web
'); script.type = 'text/javascript'; script.src = 'http://widget.crowdignite.com/widgets/31877?v=2&_ci_wid=_CI_widget_'+_CI.counter; script.async = true; ref.parentNode.insertBefore(script, ref); })();