I'm a Twitter junkie and am always watching brands and publications for fun opportunities and found a great one from @CookingLight. They are working with author and host Allison Fishman on "The Twelve" and having real readers implement 12 healthy habits in 2011.
Every month, Allison chooses a new reader to take on that months challenge and for April – SHE CHOSE ME! The challenge is a big one – eat three servings of whole grains EVERY DAY! I probably don't eat three in a month! But she's working with me to figure it out.
My first challenge was to identify the "whole grains" and find recipes that I might like using them. The first one I found and decided to make is Bulgar & Lamb Meatballs in Tomato Sauce from Cooking Light.
And later today, there will be a blog from Allison about me and the April challenge! I'll add a link once it's up.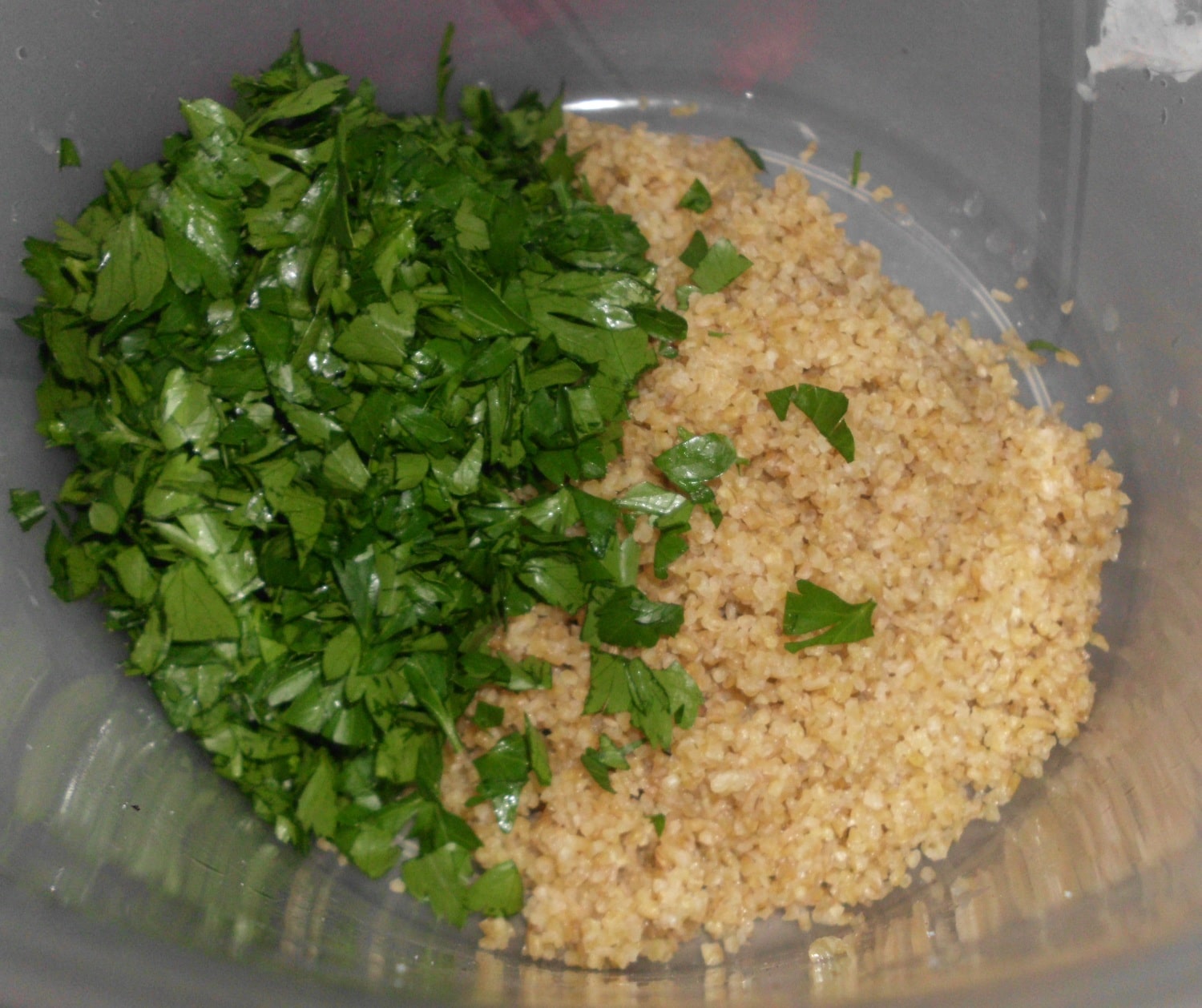 I must say – using these fresh and natural ingredients sure does make pretty food! First I soaked the bulgur for a couple of minutes and then drained it. Then added parsley and dill.
Seriously – look how pretty it is!!!
I added a "meatloaf mix" instead of straight lamb and didn't use eggs in the meatballs – but they stuck together just fine. I was a bit apprehensive about "boiling" the meatballs rather than frying them – but went for it anyway!
I also ended up using a can of Rotel Hot Tomatoes because that's all that was in the cabinet – and they were HOT!!! I tried to keep out some of the habaneros because I didn't want to ruin the meal – but it turned out okay. I also substituted beef broth for the red wine and threw in a can of mushrooms.
The recipe mentions serving this over rice – I was in the mood for pasta but went the healthy route with Whole Wheat pasta.
And voila! A sprinkle of parmesan and dinner is served!
It tasted great – a little spicy but I really enjoyed it. I'd say next time I would use the Muir Glen tomatoes because they are so wonderful, add a touch more of salt and add a small can of tomato sauce.
The bulgar sort of takes the place of the breadcrumbs and there's still enough meat to not make them taste funky. It's a very light dish with lots of flavor.
I hope you enjoy and let me know if you eat whole grains…I'll continue to share throughout the month of April about my challenge.
Bulgar & Lamb Meatballs in Tomato Sauce
Ingredients
Meatballs:
2 cups water
1 cup uncooked bulgur
1 cup chopped fresh parsley
2 tablespoons chopped fresh dill
3/4 teaspoon salt
1/2 teaspoon freshly ground black pepper
10 ounce lean ground lamb
2 large egg whites
2 garlic cloves, minced
Sauce:
2 teaspoons olive oil
1 cup finely chopped onion
1 garlic clove, minced
1/2 cup dry red wine
1/2 cup water
1/8 teaspoon ground cinnamon
1 (28-ounce) can diced tomatoes, undrained
Dill sprigs (optional)
Preparation
To prepare meatballs, soak bulgur in 2 cups water for 2 minutes; drain through a fine sieve. Combine bulgur and next 7 ingredients (bulgur through 2 minced garlic cloves). Cover and chill 30 minutes. Shape lamb mixture into 18 (1-inch) meatballs; cover and chill 30 minutes.
To prepare sauce, heat oil in a Dutch oven over medium heat. Add onion; cook 5 minutes, stirring occasionally. Add 1 minced garlic clove; cook 3 minutes, stirring often. Add red wine; bring to a boil. Cook 2 minutes. Stir in 1/2 cup water, cinnamon, and diced tomatoes.
Add meatballs; bring to a boil. Cover, reduce heat, and simmer 10 minutes. Turn meatballs; cover and cook 10 minutes. Garnish with dill sprigs, if desired.