This post is sponsored by V&V Supremo® . All opinions are my own.
I love when I find a quick easy dinner and can change it up based on what's in my fridge! A while back I made these
pulled pork empanadas
and they're so tasty! But today – I had chorizo in my fridge – so swap the pulled pork and now we have Chorizo + Cheese Empanadas! Just as delicious and SO SIMPLE!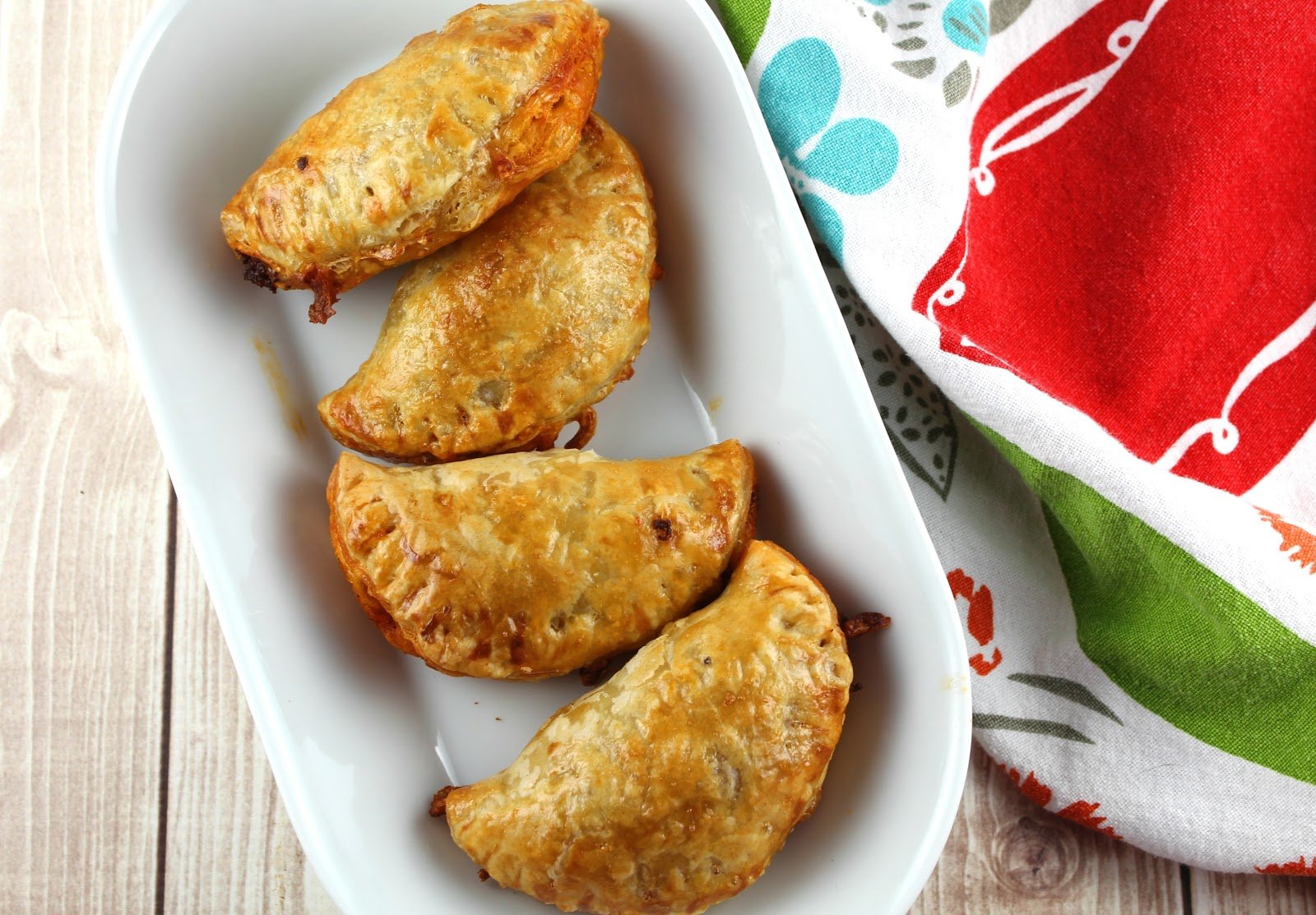 These are cheater empanadas because I use puff pastry for the dough – you're basically making a little hand pie. This is perfect with a little salad and some delicious ranch – dip the empanada, pour it on the salad – you're good!
These are so easy to make – you brown the chorizo – which only takes a few minutes – trust me – your oven will take longer to preheat! Then lay out the puff pastry. I had a round cookie cutter (3-4″) that I used – so I cut out 8 circles. Add your toppings, fold over and seal with a fork – then baste with a beaten egg. By the time that was done – the oven was ready to go!
V&V
Supremo was founded by Mexican natives in 1964 and is America's most authentic
Mexican cheese – they make all of their own fresh farmer's cheese in the hand-crafted
style of Central Mexico.
I love
the
V&V Supremo brand of chorizo
because they have a mild version – while I
love chorizo – spicy food attacks me like you wouldn't believe! Not to mention,
their chorizo is the highest quality in the U.S. as it's free of fillers, MSG
and gluten. I decided to add some of their shredded Chihuahua® Cheese
with the chorizo – it
melts really nicely and I'll have leftover cheese for quesadillas!
If you're looking for V&V Supremo products – here's where I found them at Meijer but they're also at Kroger, Costco, Hy-Vee, Jewel, Walmart and more. (Here's their
Store Locator
to find them near you.) The chorizo was near the sausage – lots of mild! Yeah! The Chihuahua cheese is in the tray of the cheese case area – they have
so many kinds
I love! I like the wheels of Queso Fresco too! They have
recipes
on their site too!)
They only take 15-20 minutes to bake and that egg baste makes them a perfect crispy golden brown. They're so light and flaky! It's always fun to have some ideas for dip as well – I just went simple with sour cream but they would be great with queso or even that mayo+ketchup combo! There's a local empanada food truck that has a pink sauce and it's basically just that. Yum!
I promise everybody will love these little hand pies! They're quick and easy and fun to eat! And they're made even better with the authentic aste of V&V Supremo Chorizo & Chihuahua Cheese!
Yield: 2 servings (4 empanadas each)
Chorizo & Cheese Empanadas
These super quick and easy empanadas are the best for a busy weeknight dinner. You brown the chorizo while the oven is heating up and 15 minutes later – dinner is served!
prep time: 10 mins
cook time: 15 mins
total time: 25 mins
ingredients:
Puff Pastry
6-7 oz (1 link) V&V Supremo Chorizo
1/2 cup V&V Supremo Shredded Chihuahua Cheese
Picante sauce
1 egg, slightly beaten
instructions
Preheat oven to 425
Brown chorizo in a skillet, breaking it up into crumbles as you cook. You might need to add a tiny bit of olive oil. Once browned, set aside to cool
Line cookie sheet with parchment paper
Cut out rounds of puff pastry with 3″ or 4″ round cookie cutter
Top round of puff pastry with 1 Tbsp of chorizo, dab of picante sauce and shreds of cheese (add more cheese!)
Fold over pastry and seal shut with end of fork
Brush top of empanada with beaten egg
Bake 15-20 minutes until golden brown