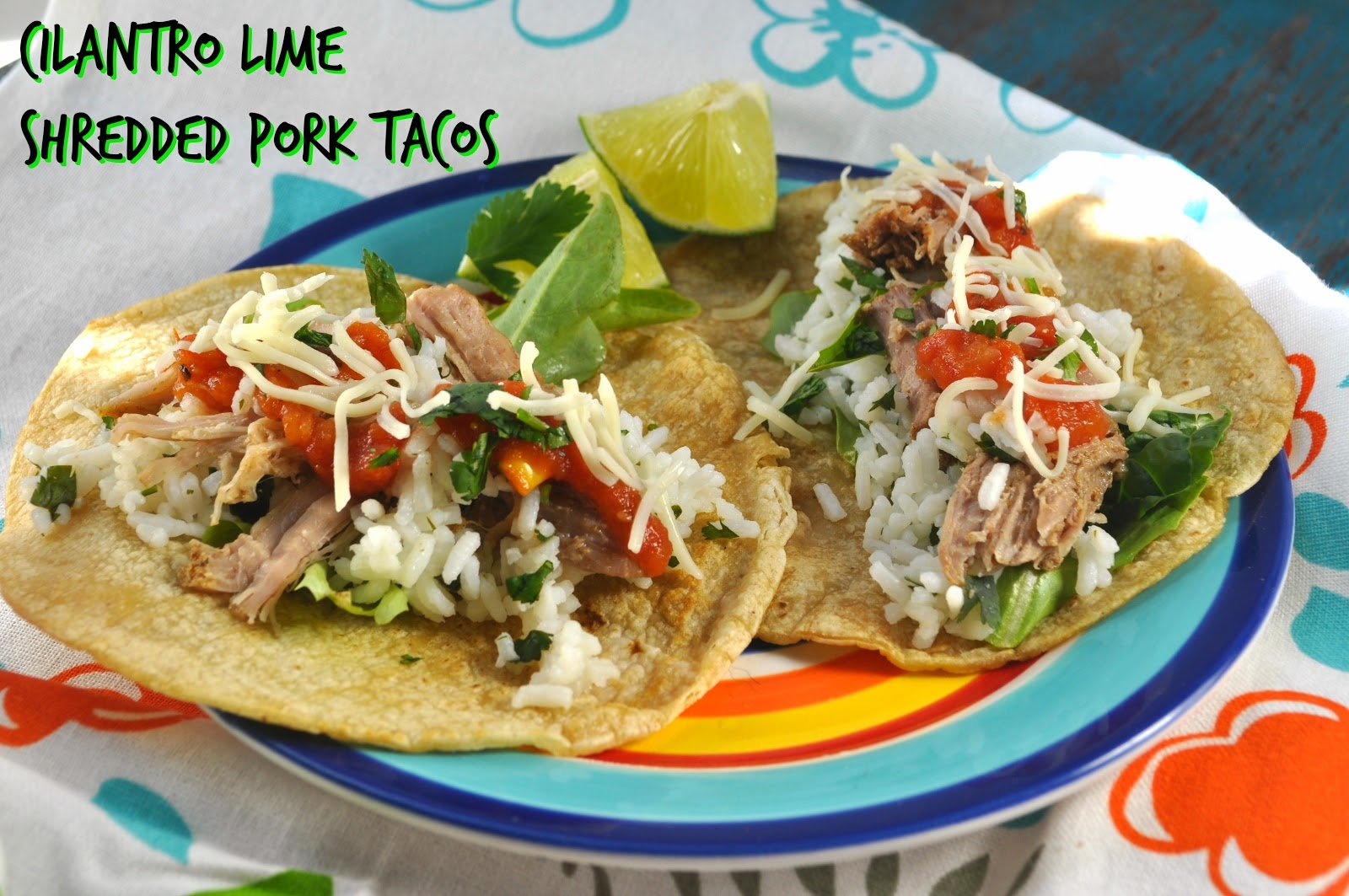 This spring I love having light and healthy dinners that can mostly be done on their own! The crock pot is still your BFF – even as the weather gets nicer. Today's recipe has a delicious Cilantro Lime rice thanks to
Minute
® Rice!
I found some country style ribs on sale at the grocery store – so I snagged those and let my brain figure out the rest.
First I created a rub with some fajita-type of seasonings: cumin, chili powder, garlic, etc… Then I rubbed all the ribs with the seasoning and popped them in the crock pot. Instead of adding water – I used chicken broth for a little extra flavor. Be sure to not rinse all the seasoning off as you add the liquid. Four hours on high and your shredded pork is ready!
While that's cooking – make up some Cilantro-Lime rice – just like your favorite burrito place makes – it's super simple! Chop up some delicious cilantro (it's super cheap – 50 cents for a huge bunch).
Cook up your Minute® Rice (directions on the box) and add the cilantro and some lime juice – boomio! This rice is great on it's own or added to burritos, tacos, wraps, etc… – it just adds a little zing!
Plus – it's prettier. 🙂
And seriously – this pork is amazing – it's juicy and delicious. Plus the fat cooks out in the crock pot so it's that much better! My husband could eat rice pretty much any night of the week – so we always have Minute® Rice on hand – in five minutes – he's a happy camper – I'll take that any night. likes to just have the pork & rice plain – while I doctor it up into lots of different options.
These tacos were so good and so light – you can really add whatever you like – if it's a little guac, a little sour cream, more veggies – whatever you like. Or if you're not a fan of pork – you can use chicken breasts!
corn tortillas
spring greens
shredded pork
cilantro-lime rice
shredded cheese
salsa
Heat tortilla shells in a skillet lightly sprayed with cooking spray. Once tortillas are heated through – build your tacos!
CopyCat Chipotle Cilantro-Lime Rice
* 1-2 Tbsp. fresh lime juice
* 3/4 cup cilantro, stems removed and roughly chopped
* Salt to taste
Cook your
Minute

®

Rice
as directed. Once your rice is cooked, add the fresh lime juice, cilantro and salt. Stir well and set aside.
* 1.5-2 lb boneless country style pork ribs
* 1 Tablespoon cumin
* 1 teaspoon salt
* 1 teaspoon pepper
* 1 Tablespoon chili powder
* 1 Tablespoon garlic & herb seasoning
* 1 cup chicken broth
Mix seasonings in a bowl and coat ribs on all sides. Place in crock pot. Pour 1 cup chicken broth around the pork (try not to rinse off all seasonings). Cook on high for 4 hours. Remove from crock pot and shred.