Recently I was #blessed to travel to Birmingham, AL to visit my blogging bestie
Plain Chicken
. And wow – did that girl show me the town! Well – at least where to eat. One of the places we had to go was the
Front Porch
and I had to get the Candied Bacon Bombs.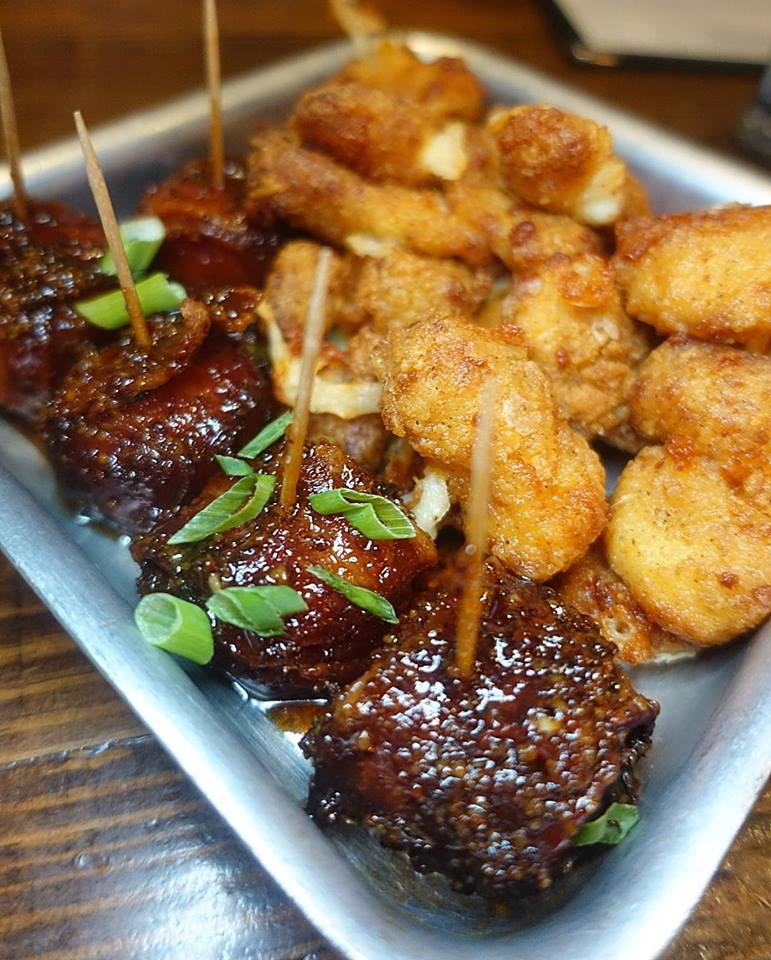 These little gems are buds of candied kielbasa wrapped in bacon and served with flash fried cheese curds. Well they had me at cheese curds to be honest – but I couldn't wait to try these little gems!
I wasn't exactly sure how to candy kielbasa but i decided to take the idea and make my own version of it – and of course – I served them with cheese curds!
It was a pretty fun testing this recipe out! I mean – does anybody want to be my friend and help me next time? I knew we needed some brown sugar – and they definitely tasted of BBQ sauce – so that was my starting point. I grabbed my favorite kielbasa and used the bacon I got from my recent trip to Sugardale Bacon and went to town!
This towel says it all #amiright? A friend of mine saw this and said she KNEW I had to have it. She was right…
So what did I do to make these? I took kielbasa pieces and wrapped them in a half slice of bacon and then dipped them into my favorite sticky sweet bbq sauce, sprinkled them with brown sugar and baked them!
The result was amazing! These little gems were meaty & sweet & zingy & just plain delicious! I've started a new diet since my divorce – it's called "give the dogs half your food so you don't eat it all" – I've lost 30 pounds and they're much happier. They were more than happy to oblige me on this recipe!
Yield: 4
Copycat Candied Bacon Bombs
These Candied Bacon Bombs are so delicious! I first had them in Birmingham Alabama and had to come home and recreate them! Kielbasa, bacon, bbq sauce and a secret ingredient 😉 #bacon #baconbomb
prep time: 20 mins
cook time: 35 mins
total time: 55 mins
ingredients
1 package kielbasa
1 package bacon
2 cups favorite dark barbecue sauce
3-4 tablespoons brown sugar
instructions
Preheat oven to 375
Slice kielbasa into small chunks/slices
Cut 1 package of bacon slices in half
Wrap 1/2 slice of bacon around kielbasa bite
Secure with toothpick
Place barbecue sauce into a bowl or glass (you want it to be tall enough to dip the whole bite into)
Dip each bacon bite and submerge into barbecue sauce
Place bites onto parchment lined baking sheet
Sprinkle with brown sugar
Bake for 35 minutes