Most people that have met me for more than ten minutes quickly find out I'm from Iowa. I'm very proud of my home state and love thinking of my 30 years there! As a food blogger, I tend to miss specific food items more than almost anything (other than my bestie!).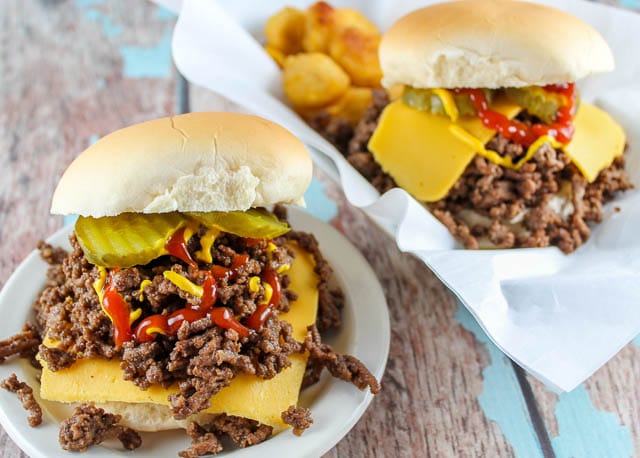 My favorite restaurant dish back home is a Cheese Rite! So Maid Rites are an Iowa thing (akin to Skyline Chili here in Cincinnati) – I made a regular
Maid Rite copycat
a while back and it's been a big hit – but I love a Cheese Rite so I had to share it as well.
I also made a slight tweak to the recipe – a friend of mine back home mentioned that they never put onions in with the ground beef at the restaurant (he worked there in my home town of course) – so I took out the onions – to be authentic. But you can add it back in if you like.
This is a super quick and easy recipe to get on the table – you brown your ground beef and then add your liquid and seasonings. Then you let the liquid cook off and it carmelizes the meat just a bit and you're good to go! For a Cheese Maid Rite – you add cheese! I like Land O'Lakes American – I just think there's nothing better.
Whenever I go home – I always get the Maid-Rite and a Pork Tenderloin – why? Because we have fries in Ohio!! But when I'm making them at home – a side of fried cheese curds does the trick! I love topping my Cheese Rite with pickle, mustard and ketchup. It's such a simple recipe and it's on the table in 20 minutes!
Yield: 4
Copycat Cheese Rite Maid Rite Loose meat Sandwich
Maid-Rites are an Iowa specialty that I've eaten since I was 3 years old. But my tried and true order is a Cheese-Rite with a side of cheese curds – so delicious!!!
prep time:
cook time: 15 mins
total time: 15 mins
ingredients
1 lb ground beef
1 beef bouillon cube
1/2 cup water
1 Tbsp brown sugar
1 Tbsp apple cider vinegar
1.5 Tbsp Worcestershire sauce
1.5 Tbsp soy sauce
8 slices Land O'Lakes Yellow American cheese
Hamburger buns
Ketchup
Mustard
Dill pickle slices
instructions
Brown ground beef – chopping vigorously until the pieces are tiny!
Add bouillon, water, brown sugar, apple cider vinegar, Worcestershire sauce and soy sauce.
Stir and continue chopping ground beef.
Simmer until liquid has evaporated.
Open bun and add a slice of cheese
Top a heaping spoonful on top of the cheese and top with another slice of cheese, dill pickles, mustard and ketchup and you too will be reveling in the delight of the Iowa Cheese Rite Maid Rite!