Recently I went to a local diner in town – the Double J – and had what they called a Dixie Bell Sandwich – it was a loaded up grilled cheese with sliced ham, cheese, tomatoes and bacon – all held together with two slices of marble rye. I knew – I had to recreate this!!!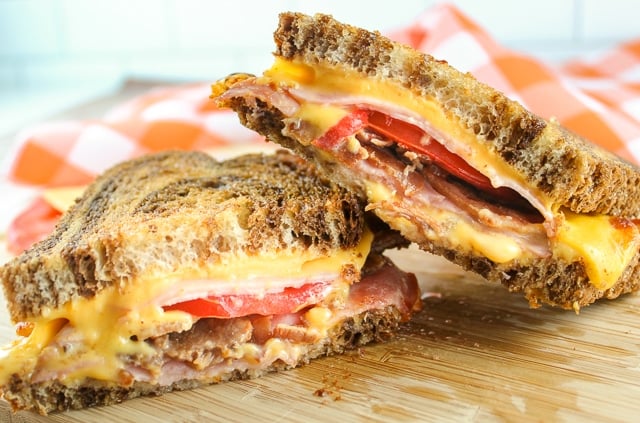 This sandwich was easy to make and so delicious! I wondered if it might need something else but nope – it was perfection! The bacon and ham are smoky, the cheese is melty, the tomatoes are juicy and the bread adds a perfect crunch. This sandwich is so delicious! You won't ever want a plain grilled cheese again!
What cheese goes best with ham?
Now when you're making a grilled cheese sandwich – it's key to have the right cheese. Luckily – ham is very versatile. My favorite grilled cheese is always Land O'Lakes American Cheese – no paid endorsement there – it's just my favorite!
With ham – you could also easily go with Swiss, Cheddar or CoJack as well! If you're making grilled cheese – you can also use SHREDDED cheese – so it melts quicker.
What goes with grilled cheese?
This grilled cheese has a lot going on with ham, tomatoes and bacon. I actually used bacon jerky in this sandwich! (It was in my pantry – and worked great!). Here are some other sides you could have with grilled cheese:
This Copycat recipe is one you'll make time and time again! It's a Grown Up Grilled Cheese – jazzing it up with ham, tomato and bacon. I also love the marble rye – it's hearty enough to hold this juicy cheesy deliciousness!
You can also make this in the Air Fryer – say what? Air Fryer Grilled Cheese?! Yup! You can make it in the Air Fryer or the Stovetop!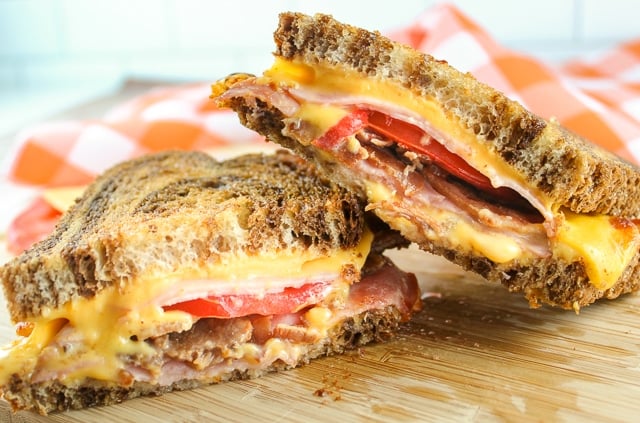 Copycat Grilled Ham & Cheese with Tomato and Bacon
prep time: 5 M
cook time: 8 M
total time: 13 M
I love a grilled cheese sandwich- but every now and then – it needs more!!! I tried this sandwich at a local diner and loved it – Grilled Cheese with Ham, Bacon and Tomato – so now I made it at home! It's everything – meaty, cheesy, melty, juicy, bacony! This is no ordinary grilled cheese sandwich.
ingredients:
4 slices marble rye
8 slices smoked ham
8 slices Land O'Lakes American Cheese
4 thin slices tomato
4 slices cooked bacon
butter
instructions:
Air Fryer Method
Butter one side of each slice of bread
Lay one slice of bread butter side down in basket of air fryer
Layer with 2 slices cheese, 2 slices ham, 2 slices tomato, 2 slices bacon, 2 slices ham & 2 slices cheese.
Add 2nd slice of bread – butter side up – on top of sandwich
Turn air fryer to 350 degrees and cook for 4 minutes
Open air fryer and flip sandwich
Cook for an additional 4 minutes
Stovetop Method
Heat skillet to medium high
Butter one side of each slice of bread
Lay one slice of bread butter side down in pan
Layer with 2 slices cheese, 2 slices ham, 2 slices tomato, 2 slices bacon, 2 slices ham & 2 slices cheese.
Add 2nd slice of bread – butter side up – on top of sandwich
Press top of sandwich with spatula and when the cheese is melting (3-4 minutes) flip sandwich
Press sandwich so layers melt together
Cook for an additional 3-4 minutes