One of my favorite restaurants is Rusty Bucket – I've been many times – and they serve food from scratch and have a great staff. They all really love working there and have a great family atmosphere. After going so often – they know me – so they're always telling me about new dishes and fan favorites.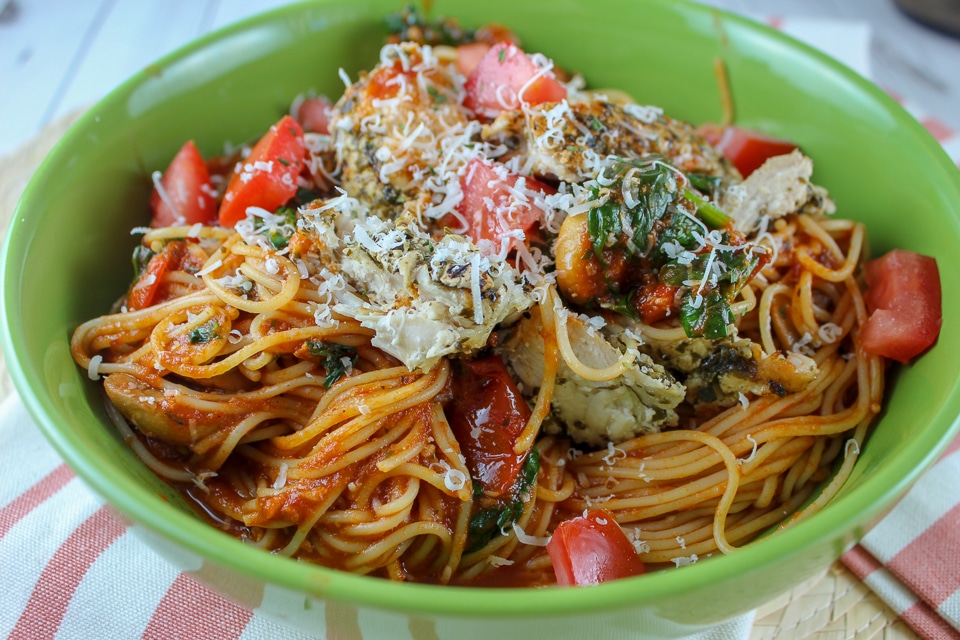 Recently I tried their Pesto Chicken Pasta – man oh man – I loved it so much that I begged them to share the recipe with me – and they did! So now I'm sharing with you.
This dish has pasta sauteed with garlic, olive oil, spinach, mushrooms and tomatoes. It's then topped with a pesto-marinated chicken breast and served with garlic cheese bread. So yummy!!!!
What's good to eat at Rusty Bucket?
Man oh man – I got to try a bunch of their new menu items and some of their favorites – and I have a LIST! My favorite item by far is the Juicy Lucy burger! It's on the Happy Hour menu – but if you ask for it – you can get it any time. Two patties with grilled onions and melty American cheese – man – it's my fav! Their spinach queso is another amazing dish – it's perfection!
Two of the new items I loved were the Cheese Blanket Nachos – it's a tray of nachos – but every single chip has toppings! Yes! And they even let us try their Chicken and Waffles from the Sunday brunch menu. Holy moly! I've never cared for Chicken and Waffles but this was amazing!!! The batter-dipped chicken made the difference – definitely the go-to for brunch!
You make this dish in two parts – first the pesto chicken – then let that rest and put together your pasta. I actually just used one large chicken breast for this recipe – if you pound it thinner with a meat tenderizer – you've got plenty of chicken to split between two people.
Then you put together the pasta and sauce – I love that this has pieces of tomato and mushrooms. I also made the garlic cheese bread to go with it – I'll have that recipe up soon!
Can you freeze Pesto Chicken Pasta?
You could freeze the leftovers – there's no dairy – so it will reheat fine. Since I'm newly single and most recipes make at least enough for 2 – I usually eat half and then freeze the other half for an easy-to-grab packed lunch!
This dish will quickly become one of your favorites and it's super easy to make! But, next time you're at Rusty Bucket – don't hesitate to try this delicious dish – or that darned Juicy Lucy!!! I just had one last night again!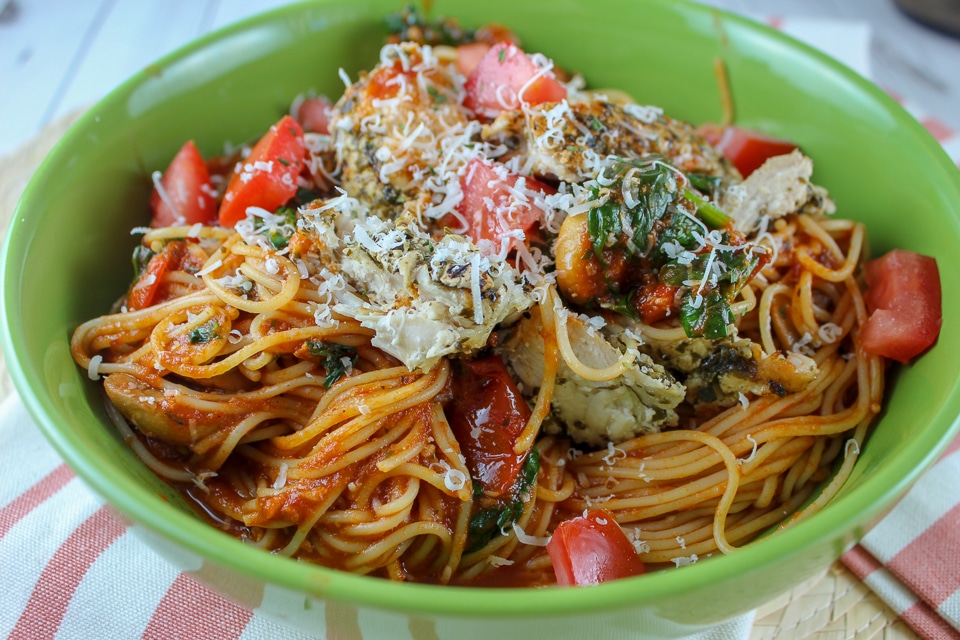 Copycat Rusty Bucket Pesto Chicken Pasta
prep time: 5 M
cook time: 20 M
total time: 25 M
Rusty Bucket is one of my favorite restaurants – they do their dishes from scratch and the staff is so friendly! Their Pesto Chicken Pasta is delicious! The pasta has chunks of tomatoes and mushrooms and the chicken is tender and juicy – I love it! It's definitely a favorite in our house! #pestochicken #chickenpasta #copycatrecipes #rustybucket
ingredients:
2 Tbsp olive oil
1 large chicken breast, pounded thinner
2 Tbsp pesto
2 tbsp butter
1 Tbsp minced garlic
4 oz mushrooms, sliced
8 oz can tomato sauce (with basil, oregano & garlic if you can)
1 roma tomato, diced
1.5 cups fresh spinach, loosely chopped
12 oz angel hair pasta
Fresh Parmesan Reggiano cheese
instructions:
How to cook Copycat Rusty Bucket Pesto Chicken Pasta
Heat oil in skillet
Heat water for pasta in a separate pan
Pound chicken breast with meat tenderizer to even 1/2 inch thickness
Coat both sides of chicken breast with pesto
Add chicken to skillet and cook 3-4 minutes per side until chicken is 165
Remove chicken from pan and set aside to rest
Once water is boiling add angel hair pasta and cook according to package directions (4-5 minutes)
Add butter to hot skillet – once melted add garlic
Add mushrooms and saute until soft (2-3 min)
Add tomato sauce and most of diced tomato to pan and bring to a simmer (1-2 min)
Add spinach to sauce and cook 1-2 minutes until wilted
Drain pasta and add to pan
Grate fresh Parmesan over pasta sauce and add a pinch of salt & pepper
Slice chicken breast
Plate pasta and sauce into two bowls and top each bowl with half of the sliced chicken breast and sprinkle extra diced tomatoes on top.
Grate with a little additional Parmesan