Earlier this week I shared my
favorite breakfast, lunch and brunch spots in Gulf Shores
! I know a lot of you have been down to Gulf Shores for vacations and now I know why – it was so much fun!!! After all the eating we did – I came home and had some dishes I just knew I had to eat again!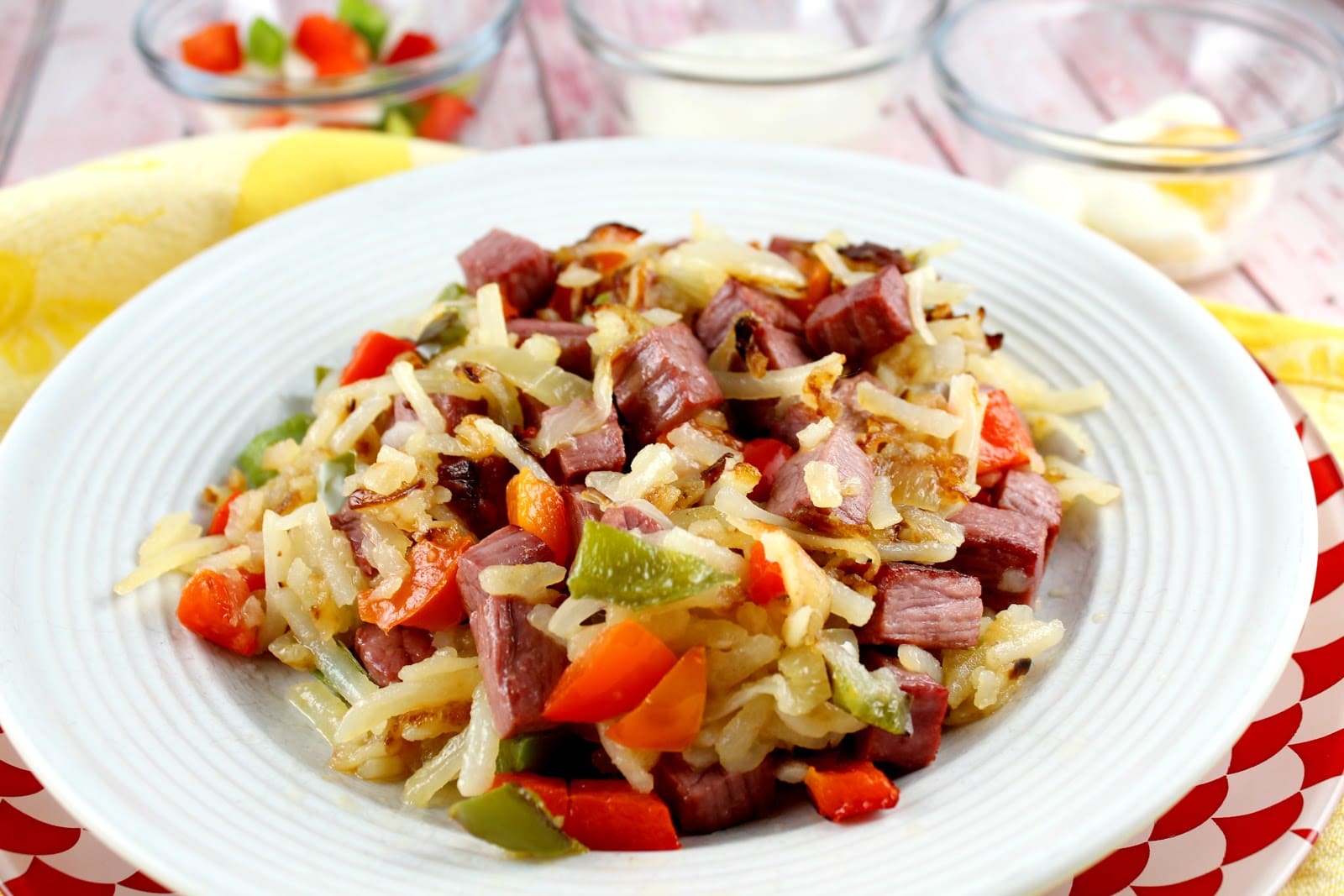 First up was the Corned Beef Hash that I had at the Sunliner Diner! It was such a delicious breakfast – and so easy! I knew I could have this again at home!
The Sunliner Diner description is Tender house-made corned beef, green and red peppers, sweet Vidalia onions and hash browns topped with two eggs your way, horseradish cream and a Sunliner biscuit. It has you drooling right????
I think I did a pretty great job making a copycat of it! I even had my first foray into poached eggs just to make sure I got it right. If you like your hashbrowns crispier – you'll probably want to make them on a griddle or a more traditional nonstick pan.
For the corned beef – instead of trying to make my own – I just asked my Shipt shopper to get me 1/2 pound of corned beef from the deli – but not have it sliced – just get it in a big hunk.
Then I poached eggs for the first time ever! I'm still working on the technique but am glad to finally know how to do it! They're really my favorite – I love a runny yolk any way I can get it! So what did I do for the horseradish cream? I used Heluva Good's Bacon Horseradish Dip! It was great!! Added that extra zing!
This was definitely a delicious breakfast and I loved that I could have it at home. It took me right back to Gulf Shores and the amazing trip I had with Steph from Plain Chicken. Now you might be asking – what about the biscuit? Well – Steph has the recipe for their Bacon Cheddar Ranch biscuit – so you can make that too!
Yield: 2
Copycat Sunliner Diner Corned Beef Hash
prep time: 10 mins
cook time: 15 mins
total time: 25 mins
This Copycat recipe is remaking the delicious Corned Beef Hash from the Sunliner Diner in Gulf Shores. Tender house-made corned beef hash, green and red peppers, sweet Vidalia onion hash browns topped with two poached eggs and bacon horseradish cream.
ingredients:
2-3 Tbsp oil
Half bag Simply Potatoes hash browns
1/2 pound corned beef, 1″ dice (Purchase from deli counter in one piece – not sliced)
1/2 green pepper, diced
1/2 red pepper, diced
1/2 Vidalia onion, diced
2 poached eggs
Heluva Good Dip Bacon Horseradish Dip
instructions:
Heat oil in nonstick pan
Lightly saute onion, peppers and corned beef for 3-4 minutes
Remove onion mixture and set aside
Add more oil to the pan and heat
Fry hashbrowns to desired doneness
While hashbrowns are frying, poach eggs
Add back in onion mixture and heat through
Plate corned beef hash and top with poached egg
Drizzle bacon horseradish dip over the corned beef hash