Who doesn't love nachos? But the thing is when you're at HOME – how often do you make them? I'm about to change all that – these literally just took a few minutes to put together and a few minutes to bake and they were SO DELICIOUS!!!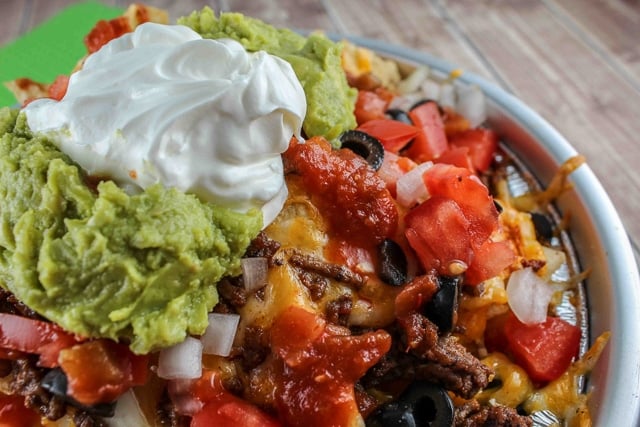 Here was the inspiration dish – Tacky Jacks Mexican Garbage Nachos – they're featured in my Gulf Shores dining post! They have everything: chips, taco meat, cheese, tomatoes, olives, onions, jalapenos, sour cream and salsa! What more could you ask for??? (OK – maybe guacamole?!)
Here's my version! All the same toppings but I just added some guacamole – I mean – why not?! The thing is – this is so easy to make and you can customize it to what YOU and your family love. I think it was fun just to serve them in the same way I had them in 'Bama – with the foil pan in the cake pan – I mean – it took two seconds but that extra step made them more memorable! It took me right back to my beach vacation!
You will not be able to resist these nachos! I even added my (now) famous Taco John's Potato Ole Seasoning Mix to the nachos – it just adds even more zing and fun! I know you're going to love it!
Yield: 2-4
Copycat Tacky Jacks Mexican Garbage Nachos
When I visited Gulf Shores and Orange Beach – one place I loved was Tacky Jacks! These Garbage Nachos were so fun and so delicious! had to make them myself! They could also be called Kitchen Sink nachos because they've got everything
prep time: 10 mins
cook time:
total time: 10 mins
ingredients
1/2 bag your favorite chips (I like restaurant style with lime)
1/2 pound ground beef
1/2 package taco seasoning (or 2+ Tablespoons Taco Johns Potato Ole Seasoning Mix)
1 tomato, diced
1/2 onion, diced
pickled jalapenos
8 oz colby jack cheese, shredded
1-2 oz black olives, sliced (I bought the individual cups)
3-4 Tbsp salsa
3-4 Tbsp sour cream
instructions
Preheat oven to 375
Brown ground beef and add taco seasoning (or 1-2 Tbsp Taco John's seasoning) per package instructions
Set disposable cake pan inside a cake pan
Layer chips, ground beef, salsa and cheese and mound up in the center – be sure to get some cheese, salsa and beef in the layers!!!! Not just on top!
Once layers are made – top with tomatoes, onions, salsa, jalapenos and olives
Bake for 5-10 minutes until cheese is melted – but keep an eye on it – don't let the cheese dry out
Remove from oven and top with sour cream and guacamole