My friends and I love PF Changs! It's one of the first fancy Chinese restaurants I ever had – it was the first time I tried something other than sweet & sour chicken oh so many years ago. My favorite dish of theirs are their Lettuce Wraps!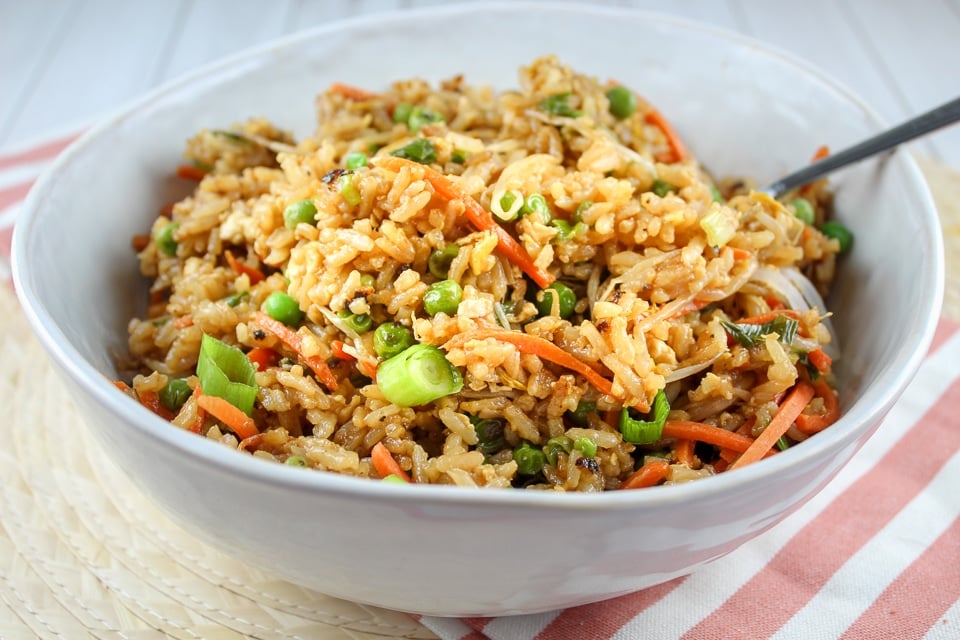 But on my last visit – I just went with something simple and got their fried rice. I loved it so much I went on the lookout for a PF Chang's Fried Rice recipe and found a video on their YouTube channel and then went from there!
How to make PF Chang's Fried Rice?
This Copycat PF Changs Fried Rice recipe is surprisingly easy! I started by cooking Jasmine rice (at their reco) – my tip for rice is to use chicken broth instead of water! It adds a ton of flavor! While the rice is cooking – I whip up the soy sauce mixture (soy sauce + a few seasonings). Then you start the stir fry with sesame oil (huge key ingredient – very strong flavor) – add your egg – veggies – rice and once it's all in – add the soy sauce mixture.
How long will fried rice last in the fridge or freezer?
You can definitely freeze your leftover fried rice! That's actually what I did! I portioned it out and put one in the fridge for lunch and one in the freezer for another day. I end up getting a little bank of delicious leftovers that I can grab and go for lunch whenever I need it. In the fridge – these will last 3-4 days.
Can fried rice be reheated?
Definitely – I just reheat in the microwave for 1:30-2 minutes or if you're feeling fancy – you can re-fry the fried rice! Just throw it in a hot skillet for five minutes.
What to serve with PF Changs Fried Rice?
I love this PF Changs Fried Rice recipe because you could easily add a protein to it like grilled chicken, steak, pork or shrimp – or just enjoy it on it's own. It's full of veggies like carrots, peas, bean sprouts and scallions. You could even throw in broccoli, zucchini or mushrooms to make it more filling. I would say to use FRESH bean sprouts vs. canned. I used canned and didn't like it. If you want more protein without adding meat – you could add another egg or two when you scramble them at the beginning!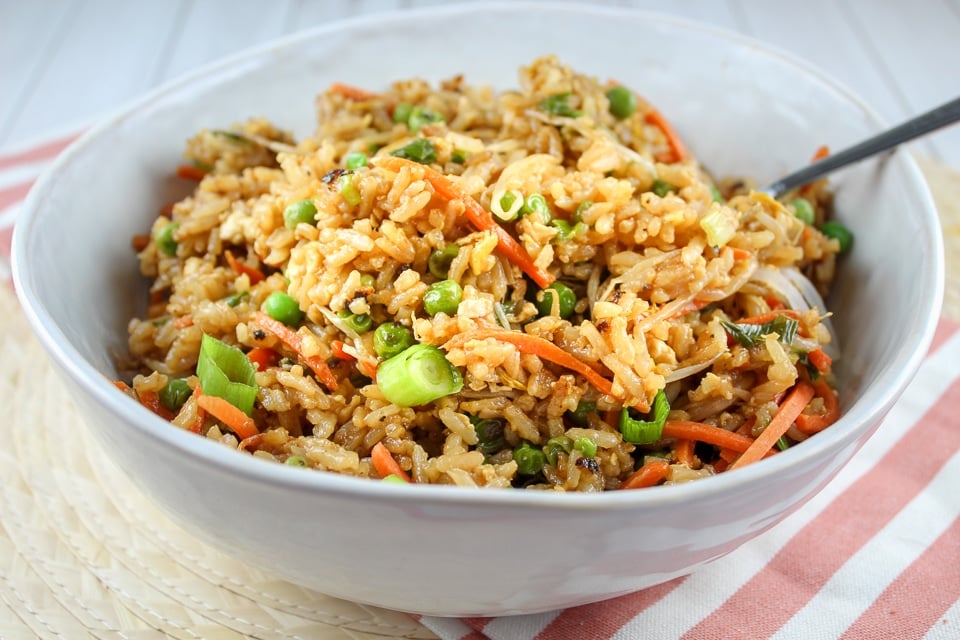 Copycat PF Chang's Fried Rice
prep time: 5 M
cook time: 25 M
total time: 30 M
PF Chang's is one of my favorite places and I love their Fried Rice! It's really pretty easy to make and your whole family will love it! This recipe is ready in less than 30 minutes and you can add chicken to it to make it a meal.
ingredients:
1 cup Jasmine rice
1 3/4 cup chicken broth (or water)
3 tsp sesame oil
2 eggs
1/3 cup shoestring carrots
1/3 cup frozen peas
1/4 cup green onion, sliced
1/3 cup fresh bean sprouts
3 Tbsp soy sauce
1/2 tsp ground mustard
1/2 tsp minced ginger
1 tsp minced garlic
2 tsp molasses
instructions:
How to cook Copycat PF Chang's Fried Rice
Heat chicken broth (or water) in sauce pan to boiling
Add rice and turn down to simmer for 15 minutes until liquid is gone and rice is fluffy
While rice is cooking, whisk together soy sauce, mustard, ginger, garlic and molasses and set aside
Once rice is ready remove from heat
Place stir fry pan on heat and add 1 tsp of sesame oil
Crack eggs into pan and scramble in pan
Once eggs are scrambled, add 1 tsp sesame oil to pan
Add carrots, green onion, peas and bean sprouts – stir fry for 3-4 minutes
Add remaining tsp of sesame oil and rice and stir fry for 3-4 minutes
Spread rice around pan – up around sides – so rice is spread out as much as possible
Add soy sauce mixture and stir fry additional 3-4 minutes
Serve and top with green onions