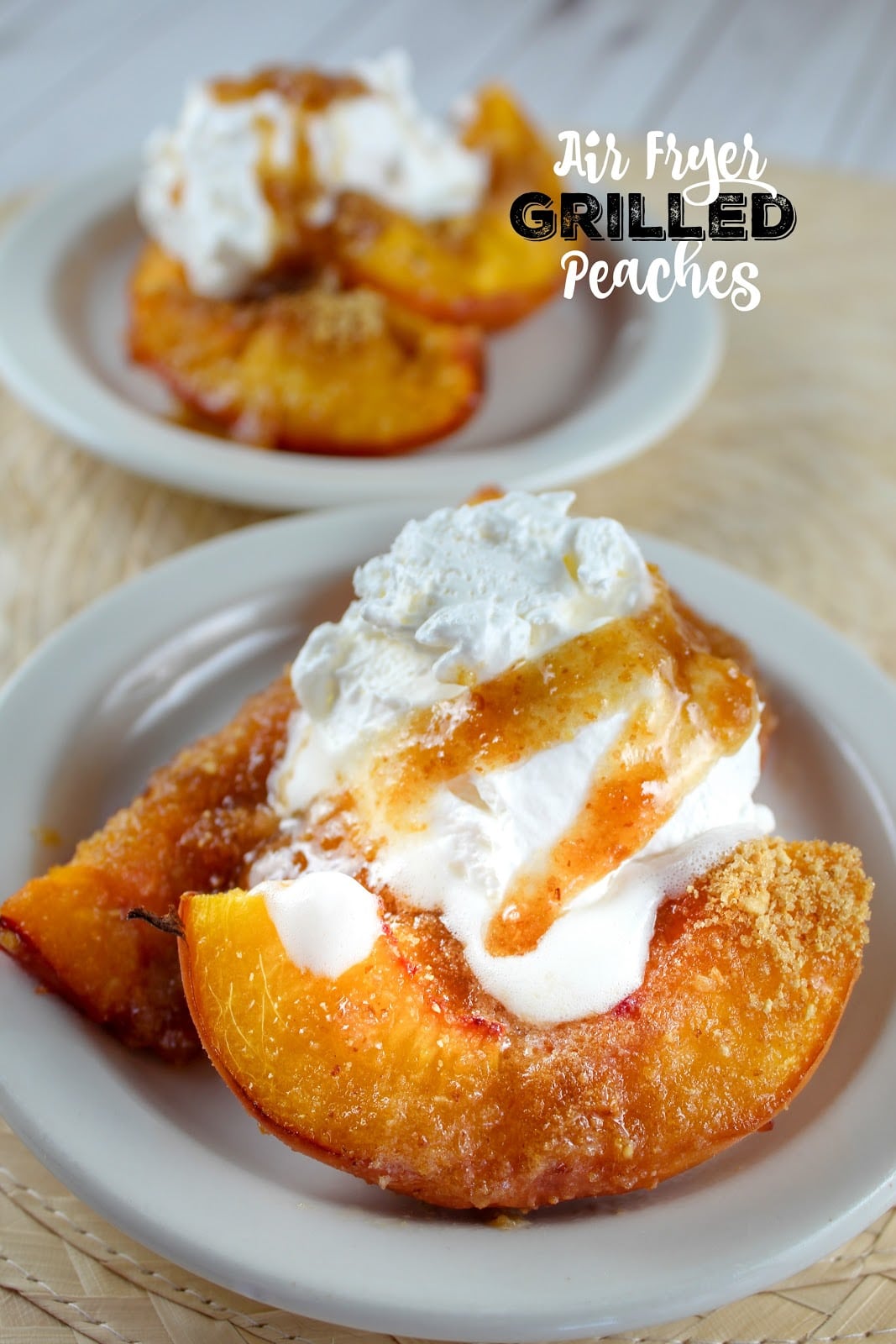 Grilled peaches are such a summertime treat – but sometimes you don't want to heat up the grill just for a couple of peaches! Now you can make grilled peaches in your air fryer!! They're ready in minutes and just as delicious (even if your peaches aren't quite ripe!)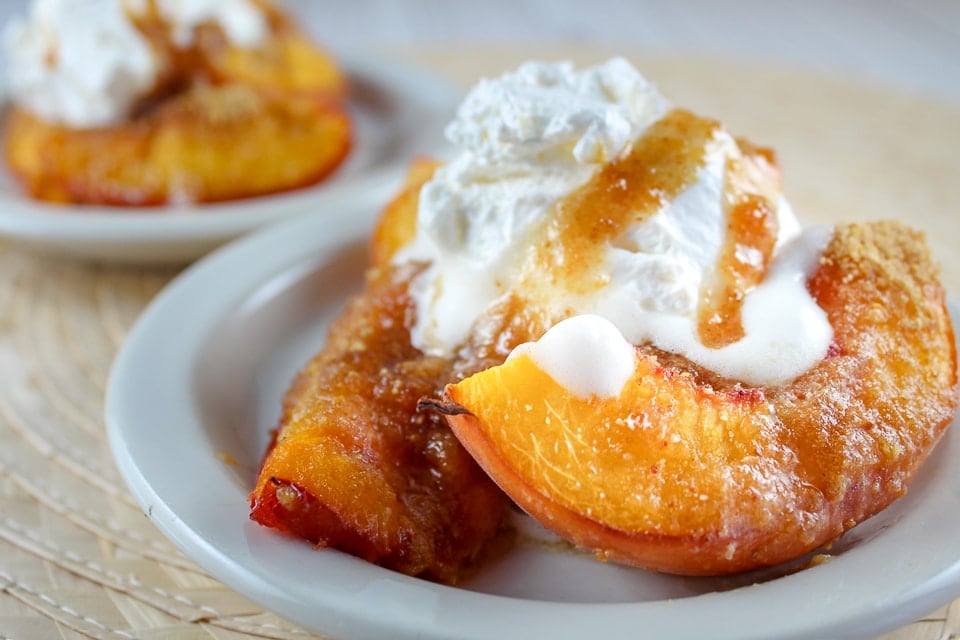 I head to the farmers market every week and grab fresh veggies and fruit – my typical grab is corn, peaches, tomatoes and maybe a melon or some green beans.
What do Grilled Peaches taste like?
Um – magic! Seriously – they are melt in your mouth delicious! It's like the filling in peach cobbler or peach pie without the crust. They're juicy and sweet with a little buttery crunch – yum!
How to make Grilled Peaches in the air fryer?
It's ridiculously easy – as are most air fryer desserts! You quarter or halve the peaches and remove the pit. Then place your peaches in the air fryer skin side UP. I like to put them on parchment paper to catch the brown sugar as it melts then air fry for 5 minutes. While they are cooking, mix together graham cracker crumbs, melted butter and brown sugar. After 5 minutes, flip your peaches and put skin side DOWN – top with crumble and cook 5 min more. Done! Then top with your favorite ice cream or whipped cream!
Do Grilled Peaches need to be ripe?
Nope – the peaches have enough sweetness in them and the air frying softens and perks them up – making them perfect. I would probably use peaches that a little UNDER ripe! And if you didn't know – peaches are ripe when they give a little if you squeeze them.
Can you freeze Grilled Peaches?
No – I wouldn't. They're going to get super mushy after freezing them. I also can't imagine having any left!
Can you reheat Grilled Peaches?
Sure – you can reheat these – since they're already cooked – I would just microwave them for 45 seconds or so.
Can you use canned peaches for Grilled Peaches?
No – I wouldn't. Canned peaches are already ripe and they would get too mushy in the air fryer.
What to serve with Grilled Peaches?
Grilled peaches are great on their own and this recipe tends to have a little sauce that runs off the peaches onto the parchment. I carefully remove the parchment and pour the sauce over the peaches. They go great with whipped cream of vanilla ice cream.
More Air Fryer Desserts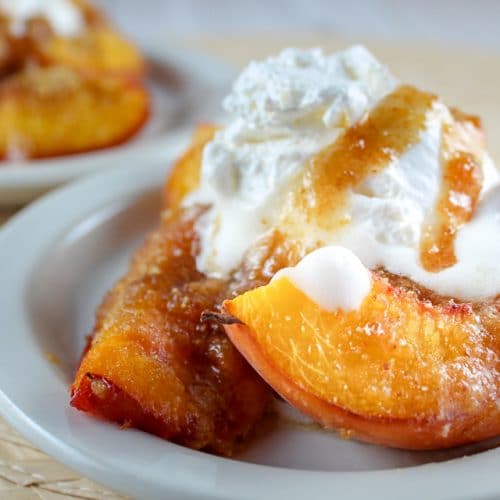 Air Fryer Grilled Peaches
Grilled peaches are such a summertime treat - but sometimes you don't want to heat up the grill just for a couple of peaches! Now you can make grilled peaches in your air fryer!! They're ready in minutes and just as delicious (even if your peaches aren't quite ripe!) 
Ingredients
2

yellow peaches

1/4

cup

graham cracker crumbs

1/4

cup

brown sugar

1/4

cup

butter

diced into tiny cubes

Whipped Cream or Ice Cream
Instructions
Cut peaches into wedges and pull out pits

In air fryer, set a piece of parchment paper on top of rack

Lay peach wedges, skin side up (on side) on parchment

Air fry at 350 for 5 minutes

Mix together crumbs, brown sugar and butter

Flip peaches skin side down

Spoon crumb mixture over top of peaches – try and keep the butter on top of the peaches as best you can

Air fry at 350 for 5 minutes more

Using a big spoon – spoon up peaches onto plates

Spoon any excess butter/topping mixture from parchment onto whipped topping