I'm a big fan of Shark Tank – I watch it all the time and get super excited when a local place is on! A couple years ago Tom + Chee was on – they're a grilled cheese restaurant – and they're delicious!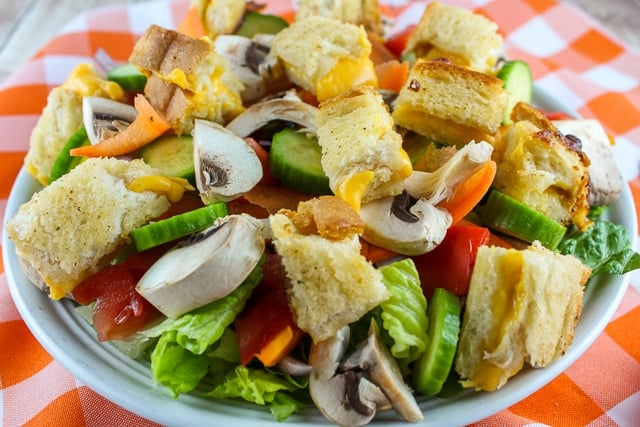 I love getting their Grilled Cheese Salad! It's a salad loaded up with lots of vegetables and then it's topped off with Grilled Cheese Croutons! Crunchy, cheesy, light and refreshing – this dish is amazing!

First off – you've got a great salad here! It's crisp romaine lettuce topped with all my favorite vegetables: cucumber, carrots, bell pepper, red onion and mushrooms.


The carrots were fun too – I used a vegetable peeler length-wise on the carrot and made these super thin shaved carrot slices!
How to make Grilled Cheese in the Air Fryer
It's super easy to make Grilled Cheese in the air fryer! You do it just like you do in a pan! Butter the outside of the bread – layer it in the air fryer and you're done! Set it to 350 degrees and go for 2-3 minutes – flip and do 2-3 minutes more. It doesn't brown as much – but it's much less greasy!
Once you have your grilled cheese done, you chop it into pieces and top your salad with it! I only used a half sandwich on each salad and it was plenty!


The other thing I love about this is grated cheese often times gets lost in a salad and you can't even taste it. This way you really taste the cheese and the croutons are fresh! It's melty and crunchy deliciousness!



What can you serve with the Grilled Cheese Salad?
– Marinated Chicken
– Juicy Fried Chicken
– The Best Tomato Soup



This Grilled Cheese Salad is a full meal – I didn't even add anything to it – other than RANCH dressing! (My favorite is Litehouse Ranch.) But you sure can top it with bacon, chicken or both!
I know you're going to LOVE this Grilled Cheese Salad as much as I do!
You can find more ideas in my Air Fryer Recipes section or in my Air Fryer Facebook group!

Copycat Tom + Chee Grilled Cheese Salad
prep time: 15 M
cook time: 5 M
total time: 20 M
I have loved the Grilled Cheese Salad at Tom + Chee for years and I finally decided to make it myself. It's so simple and delicious! Tom + Chee was seen on Shark Tank a few years back and has become a big chain – and this is one of their best ideas! This takes croutons to the NEXT level! #grilledcheese #salad
ingredients:
1 head Romaine lettuce, diced
2-3 Roma tomatoes, diced
1 cucumber, diced
1/2 red onion, diced
1 carrot, shaved
1/2 bell pepper, sliced
4 oz sliced mushrooms
2 slices bread
2 Tbsp butter
3 slices Land O'Lakes American Cheese
Favorite Ranch Dressing
instructions:
Prep all salad ingredients
Layer salad onto two plates
Prepare 1 grilled cheese sandwich as you normally would (I like mine in the air fryer – 2-3 minutes per side at 350)
Slice grilled cheese into large chunks and split between two salads (just 1/2 sandwich per salad)
Add favorite ranch dressing and enjoy!