As a kid – the only way I ever had salmon – was FROM A CAN! My Dad used to make salmon patties out of canned salmon (gack). It had this gross vertebrae that he wouldn't take out – ew ew ew. Thankfully – I now know the wonder of salmon in a fillet form – whew!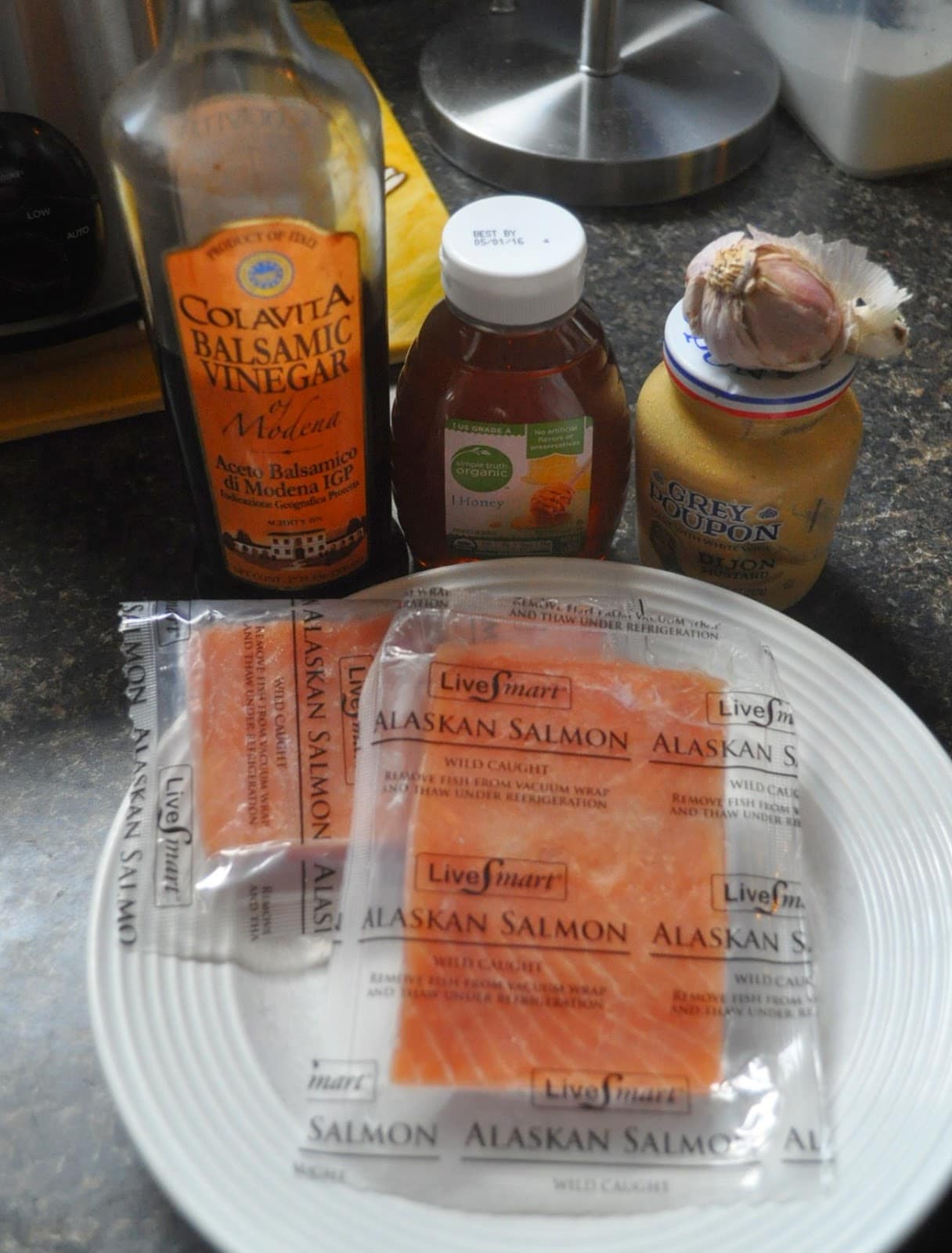 Schwan's Home Delivery has a variety pack with Salmon, Cod and Mahi Mahi ($19.99) that I recently got with a delivery so I decided to give it a whirl with a new recipe. I found a great recipe for Balsamic Glazed Salmon – with garlic, balsamic vinegar, honey and dijon mustard – I was salivating already.
For the glaze, you saute a little garlic (in my new ceramic pans from Brylane Home) then add in chicken broth, honey, balsamic, mustard, salt & pepper. Simmer until it thickens and you're ready to glaze!
The salmon is frozen in individual vacuum sealed packages so it's perfect for portion control and as fresh as frozen can get! I'm have a hard time with portion control so I have to say that's probably the best part for me.
I decided to bake the salmon on parchment paper – less mess for cleanup. The original recipe was for more than 2 fillets but I went ahead and made the full batch of sauce – you never know if they skimp or not – so I had plenty extra.
I needed a side dish- so I busted out my – not as fancy but still yummy – Cheesy Quik Taters ($9.19) from Schwan's. These are little hashrounds with cheese in them! I just baked them along side the salmon. Throw together a little salad and we're good for dinner!
The salmon was delicious and the potatoes were just the right amount of cheesy and yummy. All in all a great dinner – thanks to Schwan's. (Scroll down to find a special offer for you to get $25 worth of home delivered food for just $10!)
Easy Balsamic Glazed Salmon
Ingredients You'll Need:
2 (5 ounce) salmon fillets
4 cloves garlic, minced
1 tablespoon chicken broth
1 tablespoon honey
1/3 cup balsamic vinegar
4 teaspoons Dijon mustard
salt and pepper to taste
1 tablespoon oregano
Cooking Directions:
1. Preheat oven to 400 degrees F. Line a baking sheet with parchment paper.
2. Coat a small saucepan with non-stick cooking spray. Over medium heat, cook and stir garlic until soft, about 3 minutes. Mix in broth, honey, balsamic vinegar, mustard, and salt and pepper. Simmer, uncovered, until slightly thickened.
3. Arrange salmon fillets on parchment-lined baking sheet. Brush fillets with balsamic glaze, and sprinkle with oregano.
4. Bake in preheated oven for 10 to 14 minutes, or until flesh flakes easily with a fork. Brush fillets with remaining glaze, and season with salt and pepper.
And I've got a special offer for you!


Eric from Schwan's is doing some special coupon codes that are getting you a great deal!


Offer 1: Coupon Code ericg2
First order will receive $5 off $25 and $10 off of $50
Offer 2: Coupon Code
ericg15
Orders over $75 receive $15 off
Plus – the first 10 people to place orders of $25 get a $10 gift card!!!
I know it's a little confusing with different codes – but what it comes down to is $25 in merchandise for $10! Let me know if you have any issues or questions!!


Disclosure: This post is sponsored by Schwan's but all opinions are my own.


If you're looking for other great salmon recipes – check these out:
Pesto Baked Salmon
Baked Seasoned Salmon