Years ago – I had this awesome Blueberry Cornbread from
Fresh Market
– I've always remembered it and thought – someday I'm going to get a cast iron pan and make me some! Well – the day finally came!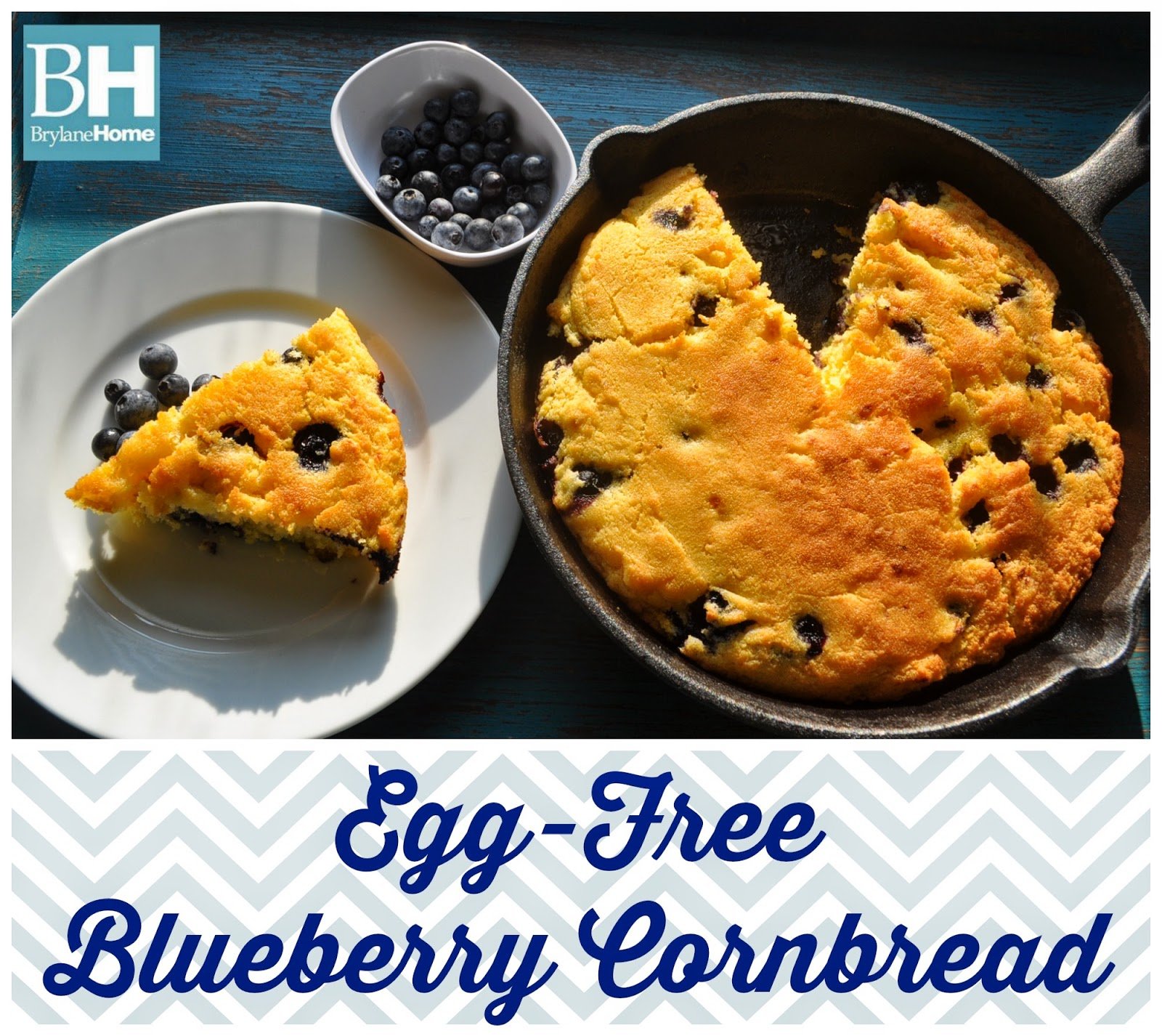 In the mean time, I got married to a cute boy with an egg allergy. So I decided to try making an egg-free blueberry cornbread recipe. I can't eat a whole pan of cornbread on my own – so I had to make it something that we could both eat!
I did some research and decided to try using an old banana in place of the egg – I've done that before in recipes – so it was worth a try. I gathered up all my ingredient and got started!
I recently got this pre-seasoned set of
3 cast iron pans (just $24.99) from BrylaneHome
. I used the largest size for this recipe – but am excited to have all three sizes. It's great that these come preseasoned as well – so you can just rinse them out and use them right away. I can also tell you that since I got these – I have used this skillet probably every other day. I am officially a cast iron addict!
For this recipe – preheat your oven and put the oil in the cast iron pan – then put the pan in the oven while it's preheating – this way your pan gets super hot as does the oil – which is essential in this recipe!
While the oven/pan are preheating – mix together the dry ingredients: cornmeal, flour, salt and baking powder.
Then, in a separate bowl, mix the wet ingredients – buttermilk, vegetable oil and the mashed banana.
After the banana is mixed in with the buttermilk/oil as best you can (don't worry if you have a few lumps) – then mix the wet with the dry. This comes together quickly into a bright yellow batter. After that is mixed well – fold in your blueberries.
It's so B-E-A-UTIFUL! That bright yellow batter with the pop of color from the rich dark blueberries!
By this time your pan & oven are preheated. At this point you want to test to be sure your cast iron pan is hot enough. To do that you take a little drop of batter and drop it in the pan. If it sizzles and starts to cook – you're good! If not – back in the oven and get it hotter. I think my oven is off a bit – I had to crank it up to 425 to get it hot enough. Once it's hot enough – pour all the batter into the pan. The oil will pool up a bit on top – but that's okay – just more goodness 😉
Twenty minutes later – you've got a pan of golden goodness with big plump blueberries! Seriously does it get any better!?!
I dove right in and cut a piece – I couldn't resist! It was perfect! And I love how nothing sticks in a cast iron pan!!! The cornbread was perfect too – it wasn't cake-like and it wasn't crumbly. Yowza – so beautiful too!
There you have it – egg-free blueberry cornbread. I absolutely loved it. It's not a really sweet cornbread either – if you want a sweeter one – I would add sugar to the dry ingredients. For me – the blueberries provide all the sweet you need. I took it to work all week for breakfast (along with some butter) – it was delicious! And you could always swap out the blueberries for cheese or jalapenos to make the recipe more chili-worthy. 🙂 I hope you enjoy it!
Egg-Free Blueberry Cornbread

Ingredients

1 cup




yellow cornmeal

1 cup




all-purpose flour

1 Tbsp




baking powder

1 1/2 tsp




salt

1 cup




buttermilk

1/3 cup




vegetable oil

1 old




banana, mashed

1/4 cup




vegetable oil (for pan)

1 container




blueberries

Cooking Directions
Preheat oven to 400 degrees.
Pour 1/4 cup vegetable oil in cast iron pan (8-9″ish – bigger size) put cast iron skillet in oven & preheat to 400 (i had to go up to 425)
While that's preheating – in one bowl mix together cornmeal, flour, baking powder & salt.
In another bowl whisk together buttermilk & oil – then add mashed banana – you don't have to get rid of all the lumps just do the best you can.
Add the buttermilk mix to the dry ingredients and fold until mixed well. then lightly fold in blueberries.
When the pan/oven are preheated – drop a drop or two of the batter in the oil in the pan – if the batter starts to fry – the pan is hot enough – if not – heat it up more! (that's why i had to go to 425)
Pour batter in the hot pan – the oil will pool up a bit on top – but that's ok – it adds to the goodness (haha)
Bake for 20-25 minutes
Possible additions:
If you want it sweeter – you could add sugar
If you want some zing – add some lemon zest
Disclosure: Thanks to Brylane Home for the cast iron cookware set. I love it!
'); script.type = 'text/javascript'; script.src = 'http://widget.crowdignite.com/widgets/31877?v=2&_ci_wid=_CI_widget_'+_CI.counter; script.async = true; ref.parentNode.insertBefore(script, ref); })();