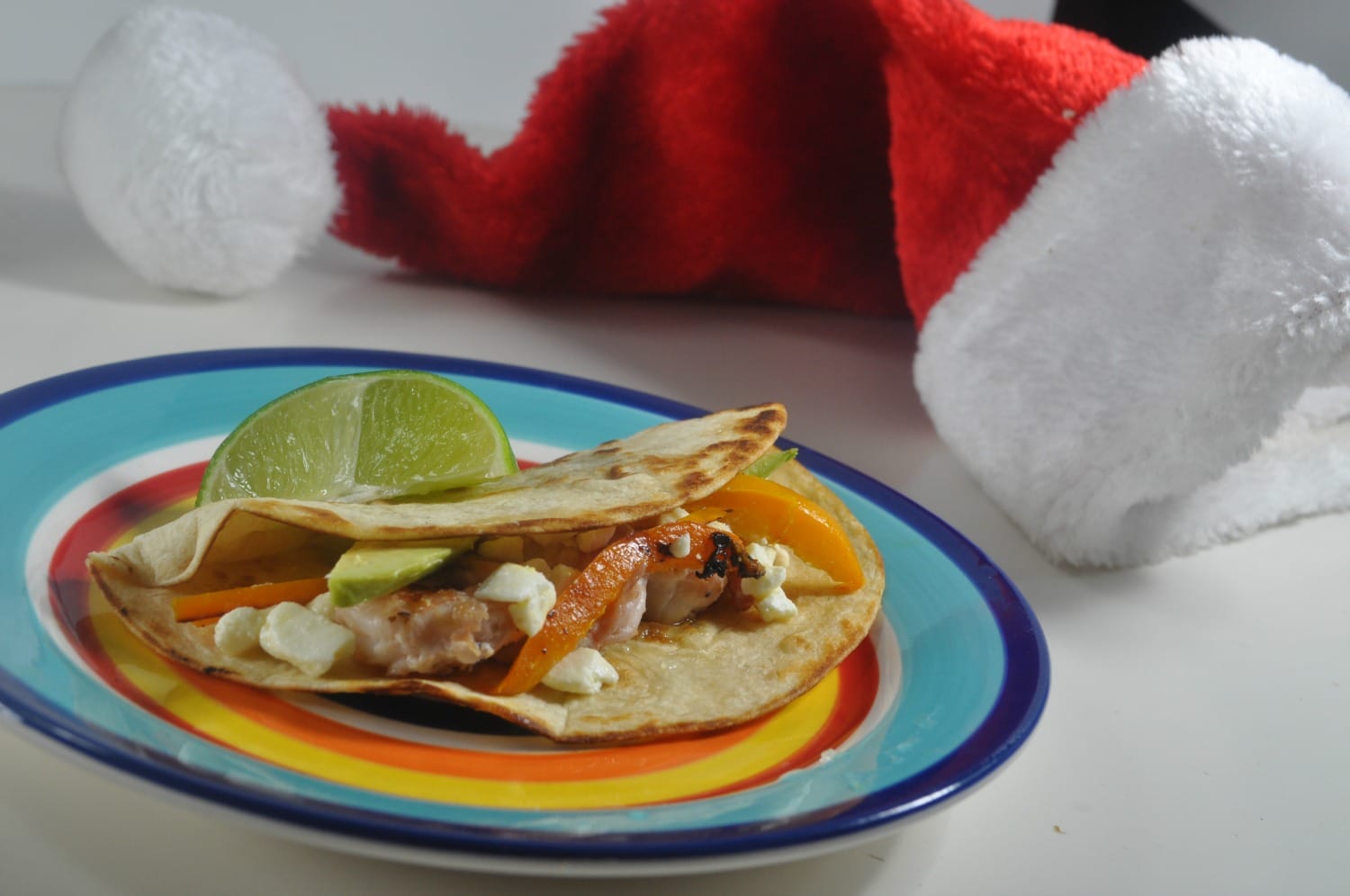 I started this year with a new twist – Litehouse Foods sent me this new Organic Raspberry Lime Vinaigrette Dressing and I knew it would be perfect with shrimp! I also got these new freeze dried red onions. It's pretty cool – they're instantly fresh when you add a little water to them – so they have a lot of flavor.
I decided this would be a great marinade combo – so I tossed a package of raw shrimp into a ziploc bag and then added the dressing and a few shakes of the red onion. Then – back in the fridge to marinate for a day.
Then I pulled out the grill pan and cooked the shrimp – remember to always use raw shrimp – much better flavor and you only need to cook them for about a minute on each side – so it's super quick.
I looked in the fridge to see what I could put with the grilled shrimp and found half of an orange pepper so I sliced it really thin and threw it on the grill pan with the shrimp. Then I grabbed a ripe avocado and a lime – oooooh this is gonna be good!
Seriously – if a plate has that much color – it has to taste good – right? It just looks fresh!
Another tip – always heat the tortillas in a fry pan – it takes 1 minute and makes such a big difference. I spray the pan with non-stick spray quick and then throw a tortilla in and flip quick. It softens the tortilla and adds a touch of flavor – so much better than bland & cold!
I topped the tortillas with shrimp, orange pepper, avocado, fresh lime juice and…
Feta cheese! I just thought the saltiness of the feta would be a good bite with the sweetness of the raspberry and orange pepper. This Simple Artisan Feta comes in a handy container already crumbled – so easy – to just pop it open and shake it on top.
So there's my masterpiece – I definitely think this is a Christmas Eve contender. I was ready to dig in – I just love all the colors – I had to put it on my most colorful plate just to be super obnoxious. 🙂
And now I'm ready to dig in! I have to say these tacos were awesome! Super light and refreshing – the raspberry & orange pepper were sweet – the avocado was creamy – the lime and feta were zingy. I inhaled these and was wishing I had more shrimp!
Raspberry Lime Shrimp Tacos
Ingredients
1 bag




Large Raw Shrimp

Litehouse Organic Raspberry Lime Vinaigrette Dressing

2 Tbsp




Litehouse Freeze Dried Red Onion

1/2




Orange Pepper – thinly sliced

4




Tortillas

1




avocado – thinly sliced

1




lime – cut into wedges

4 Tbsp




Litehouse Simply Artisan Feta Crumbles
Cooking Directions
Thaw & drain raw shrimp. Place shrimp in a ziploc bag and pour in dressing and onions. Seal and refrigerate for 2 hours or until ready to cook.
Spray grill pan with non-stick spray and turn on high. Using tongs place each shrimp on the grill pan with space between so they can sear. Sprinkle the pepper slices between the shrimp. Flip after 1 minute. Remove from heat.
In a separate skillet, spray with non-stick spray and heat on high. Add tortilla – heat for 30 seconds – flip – heat for 30 more seconds. Edges should be a little brown and tortilla may bubble up a bit.
Make your taco! To the tortilla, add the shrimp, pepper, avocado and feta. Then squeeze a lime wedge over the taco for extra zing!