I love trying new products – especially when they're affiliated with Top Chef! One of my favorite Top Chef contestants was Chef Edward Lee – who is the Chef/Owner of Louisville's own
610 Magnolia
!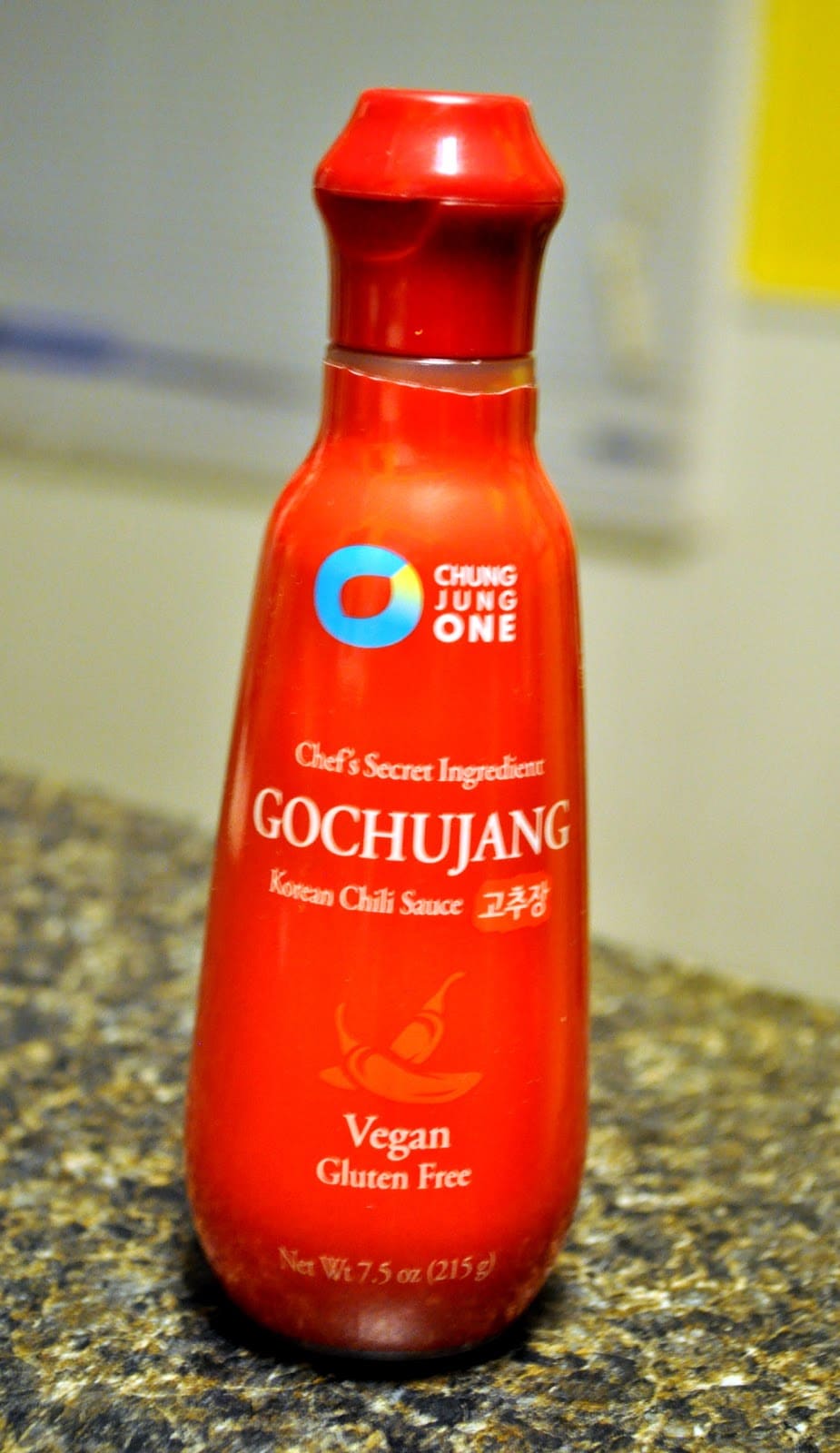 Leading Korean foods manufacturer Chung Jung One announces the arrival of its new

Gochujang Korean Chili Sauce

—the next generation of the traditional fermented hot chili paste—at Jungle Jim's International Market. In collaboration with acclaimed chef Edward Lee, Chung Jung One introduced its popular umami-rich hot sauce to America in September 2014 and is thrilled to increase its distribution to the Cincinnati and Fairfield areas.
Gochujang Korean Chili Sauce gives recipes a spicy and rich flavor, with a hint of sweetness. While the sauce can be considered a condiment that can be enjoyed on its own like sriracha, it serves to be much more versatile and is best to mix in with other ingredients in a recipe. From Smoky Gochujang Wings, to a summer Gochujang Gazpacho, to Grilled Rib-Eye Steaks with Gochujang Butter

(recipe below)

, Chef Edward Lee leads the way in using this unique version of the traditional Korean ingredient in the context of modern American cuisine.
I used the Gochujang Sauce to make a special butter to cook the ribeye with. There's honey, lemon juice, garlic and more mixed in with softened butter.
Chung Jung One Gochujang Korean Chili Sauce is available to purchase at Jungle Jim's locations in Cincinnati and Fairfield, Ohio. The sauce is also available as a pack of two 7.5 ounce bottles for $9.99 on Amazon.
I'm all about Ribeyes – so I knew it was going to be good. The butter soaked in while I was grilling the steak and left it with this sweet & spicy deliciousness.
And it tasted as good as it looked!!! And surprisingly – it wasn't too spicy – I think you can really control the spice level based on your taste because the Gochujang is very spicy (to me – I'm a wuss) – but when you mix it with all the other ingredients – it tempers it down but keeps that rich flavor.
Grilled Rib-Eye Steak with Gochujang Butter and Nori
Recipe by Chef Edward Lee
Gochujang Butter
8 tablespoons unsalted butter, softened to room temperature
2 tablespoons Chung Jung One Gochujang Korean Chili Sauce
1 clove garlic, minced
2 teaspoons toasted sesame oil
1 teaspoon fresh lemon juice
1 teaspoon organic honey
1⁄4 teaspoon sea salt
pinch of black pepper
Steak
2 8-ounce rib-eye steaks
salt and pepper
oil for grill
1 lemon, cut in half
*Nori powder
1. Make the gochujang butter ahead of time. Add butter and rest of the ingredients to a blender or food processor. Pulse until just combined and smooth. Taste and adjust salt and pepper to your liking. Refrigerate until ready to use. (It will keep for up to a month.)
2. Remove steaks from the refrigerator, season generously with salt and pepper and allow to come to room temperature for 30 minutes. Meanwhile, heat a gas or charcoal grill to high (about 450°F to 550°F). Using tongs, rub the grates with a towel dipped in vegetable oil.
3. Bring gochujang butter to room temperature and give it a few stirs with a spoon.
4. Grill steaks on high for about 2 minutes and until you have defined grill marks. Flip steaks and add a dollop of gochujang butter over the top of each one. As the butter melts, baste the tops of the steaks with the melted gochujang butter. Cook steaks to desired doneness, about another 2 minutes for medium rare.
5. Remove steaks from grill and let rest on a cutting board for 2 minutes before slicing. In the meantime, take your cut lemon halves and grill them with the cut side touching the grill. Grill until blackened and reserve.
6. Slice rib-eye steaks and transfer to a platter. Top each slice of steak with a spoonful of gochujang butter and a squeeze of the grilled lemon juice. Sprinkle with nori powder and flaky sea salt. Serve immediately.
*Nori powder can be bought at specialty Asian stores. You can also make your own by grinding nori sheets in a blender on high until they become powdery.