I absolutely love macaroni and cheese – it's my kryptonite. When I'm sick – I want mac & cheese, when I'm sad – I want mac & cheese, when I'm cranky – I want mac & cheese. So many times though – I choose the blue box – I know – I can't help it – it's so good! But I'm trying to cook more – so I found a recipe I had to try – for Ham & Cheese Bowties.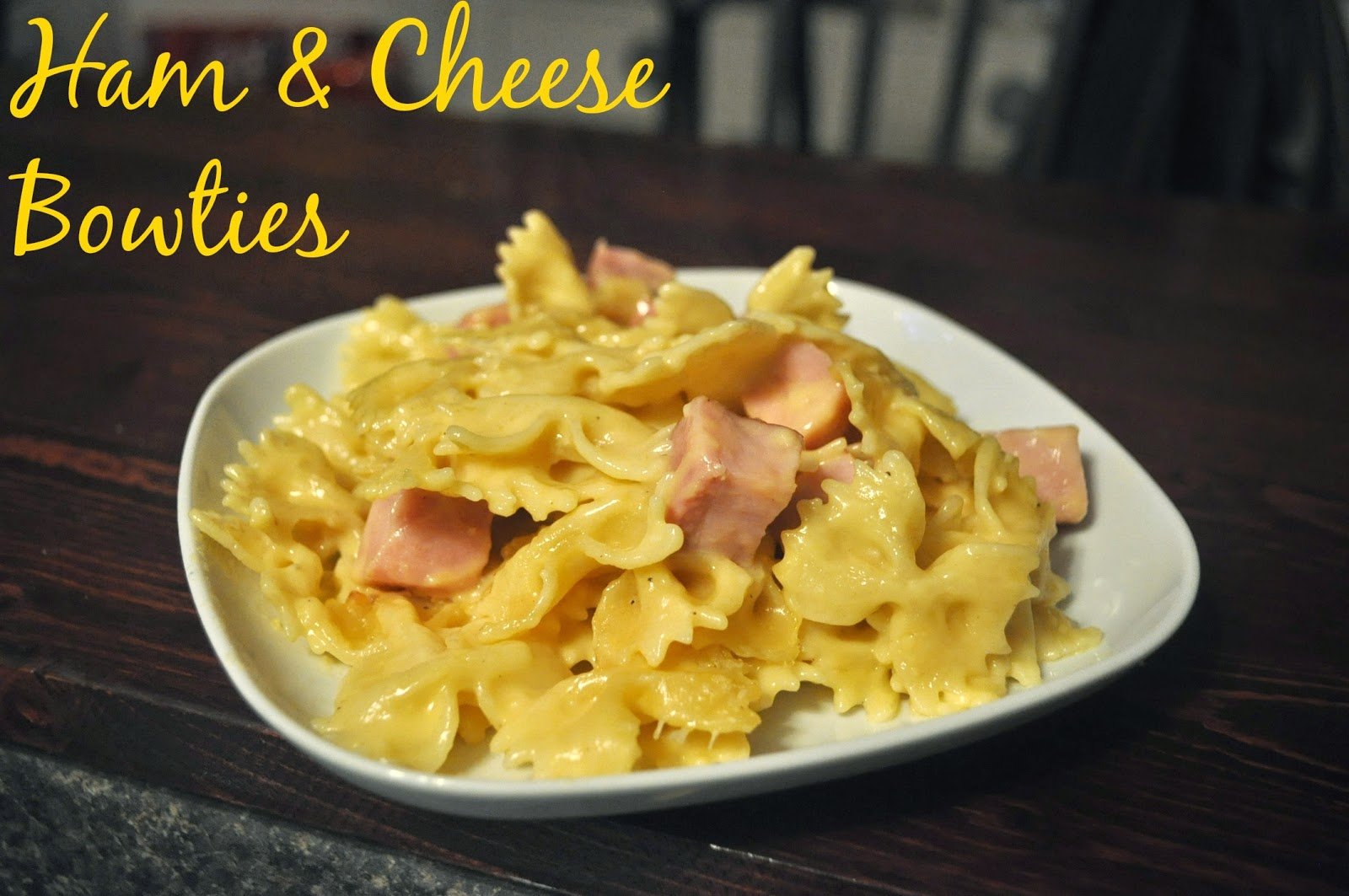 Looks good – right? And it was much simpler than I thought it would be! Not as easy as a tear open packet – but still simple and tasty!
The ingredients are pretty simple – pasta, butter, garlic, flour, milk, mustard, cheese and ham. Put it all together and cheesy goodness is sure to happen!
I cooked my noodles and tossed the ham in so that was all ready for the sauce. Then you saute the butter & garlic, add in the flour, then quickly (but slowly – if that makes sense) add in the milk. This part is key – you need to focus and you need a whisk. Taking photos is not suggested – I did it – but man it was sketchy! Once that is thick and saucy, then you whisk in the mustard & cheese – and you're ready to pour on your pasta & ham! That sauce is so creamy! Yum!
Looks great doesn't it!?! Then you just grate a little Parmesan or Romano over the top and bake. It doesn't need to bake long – just enough to bring it all together.
I couldn't help but dig right in – the sauce was so creamy and cheesy – and the ham was a wonderful compliment! Plus I had leftovers for work all week! This was enough for an 8×8 baking dish.
Ingredients
8 oz farfalle pasta
1/8 c. butter
1 clove garlic, minced
1/8 c. all-purpose flour
1/4 tsp salt
1/8 tsp ground black pepper
1 c. milk
1/4 tsp prepared mustard
1.5 c. shredded Colby cheese
1 c. cooked ham, cubed
1/8 c. grated Parmesan cheese
Instructions
Preheat oven to 350 degrees.
Bring a large pot of lightly salted water to a boil. Add pasta & cook 8-10 minutes or until al dente, drain.
In a large saucepan over medium heat, melt butter. Saute garlic for 30 seconds. Whisk in flour, salt & pepper. Cook & stir until smooth. Pour in milk, a little at a time, stirring constantly. Bring to a boil for 1 minute. Stir in mustard & Colby. Continue to cook stirring occasionally until cheese is melted. Remove from heat & stir in ham & pasta. Pour into a baking dish. Sprinkle Parmesan cheese on top.
Bake 25 minutes or until bubbly & golden.