The holidays are upon us – and even when we're not making the "big meal" – we end up with extra people at our dinner table or the need to make quick meals as we run from work to gatherings and engagements. One thing I HAVE to have on hand is a big bottle of Pompeian Olive Oil – I use it all the time! Thankfully the generous folks at Pompeian sent me a bottle and sponsored me to create a recipe to share with all of you!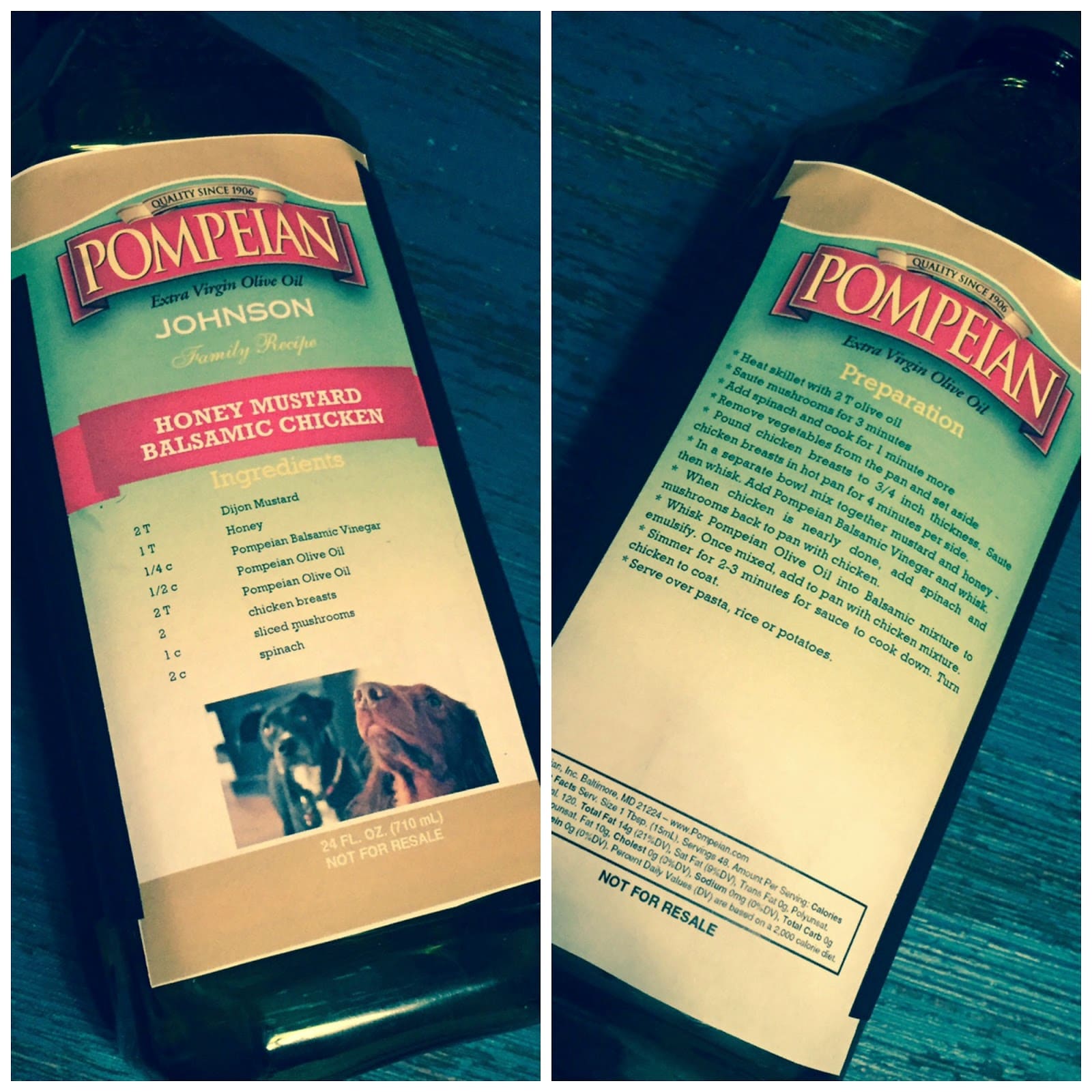 Pompeian has something fun going on this holiday season – you can
create a personalized bottle
of Pompeian Extra Virgin Olive Oil with a family photo and a family recipe. If your Mom always made you a special dish – give her a bottle with her recipe and a smiling picture of you on it! How fun is that for a stocking stuffer?!
On the
Facebook page
, it's super easy to do (5 minutes or less)! You just enter your recipe (that's the most time-consuming part – the typing), upload a photo and you're done! Print & attach – voila! My very own personalized Pompeian Olive Oil! For my family photo, I chose the dogs – they crack me up – like they're looking up at the recipe!
Now Pompeian isn't just about olive oil – they also have Balsamic & Red Wine Vinegars – thankfully because I made a delicious Honey Mustard Balsamic Glazed Chicken with Pompeian Olive Oil & Balsamic Vinegar (I'm obsessed!).
Honey Mustard Balsamic Glazed Chicken
Ingredients
2 T Dijon Mustard
1 T Honey
1/4 cup Pompeian Balsamic Vinegar
1/2 cup Pompeian Olive Oil
2 T Pompeian Olive Oil
2 chicken breasts
1 cup sliced mushrooms
2 cups spinach
Instructions
Heat skillet with 2 T olive oil
Saute mushrooms for 3 minutes
Add spinach and cook for 1 minute more
Remove vegetables from the pan and set aside
Pound chicken breasts to 3/4 inch thickness. Saute chicken breasts in hot pan for 4 minutes per side.
In a separate bowl mix together mustard and honey – then whisk. Add Pompeian Balsamic Vinegar and whisk.
When chicken is nearly done, add spinach and mushrooms back to pan with chicken.
Whisk Pompeian Olive Oil into Balsamic mixture to emulsify. Once mixed, add to pan with chicken mixture.
Simmer for 2-3 minutes for sauce to cook down. Turn chicken to coat.
Serve over pasta, rice or potatoes
For more recipe ideas, visit Pompeian.com.
This is a sponsored post written by me on behalf of Pompeian.