My husband could literally eat his own weight in Rice Krispy Treats. He's eaten a box in record time – in one sitting. It's a talent. That said – I've been meaning to make some myself – just to see if I could.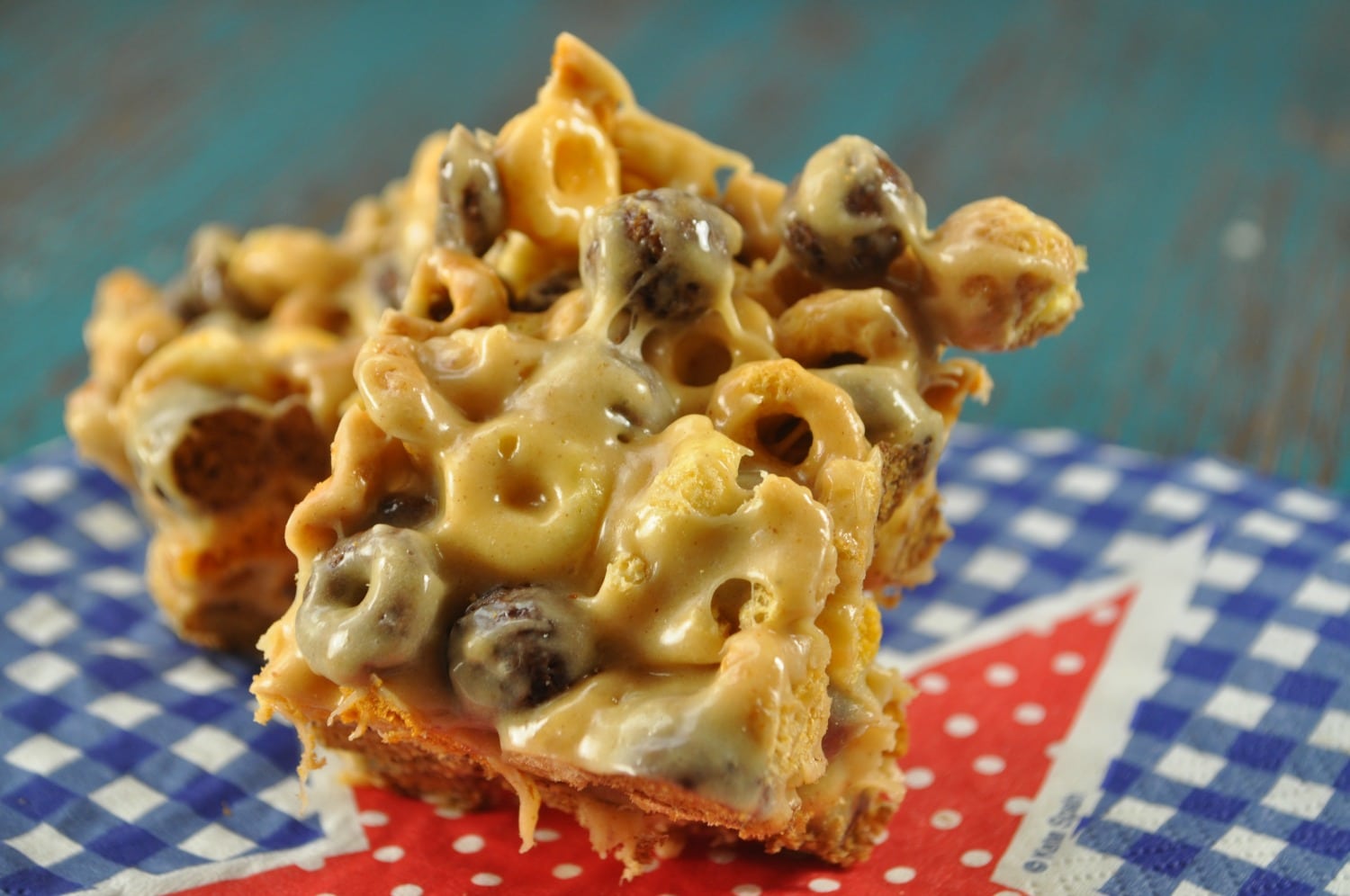 Cuz yeah – cereal bars are difficult! haha – Okay they're not hard to make – but they are tricky. I decided to mix it up and clean out the cereal cabinet – more on that in a minute.
You start with marshmallows – some of the "fluff" brands have eggs – so I just bought a bag of them.
They melt quick – in 60 seconds or so – and they are STICKY. Sticky sticky and sticky.
So then – let's add some peanut butter – cuz yeah – that's not sticky.
Now for the cereal. My husband eats cereal a lot – but he also eats ALMOST the whole box. There's always a shake in the bottom. So I wanted to clean out the cupboards and I just dumped them all together.
They were all chocolate and peanut butter – so that works!
Here's comes the tricky, tricky, tricky, TRICKY! It's trick to stir in puffs – to stir in puffs that's right on time – it's TRICKY! Okay – seriously – it's not easy. I have no idea how you could do this with tiny little rice krispies?! That marshmallow is SOOOOO sticky! I would make sure you are ready to go with it and do it immediately out of the microwave!
Once you "stir" it – if that's what you want to call it – move it to the greased dish and mush it in. You'll need some Lava Soap when you get done to get all that marshmallow off your hands.
Leave it sit for a bit and you can cut and eat.
It was harder than I thought – but I did it! I think Larry still prefers Rice Krispie Treats – so I'll try that next time. But he took them to work and they were devoured on Day 1 – so I'll consider that success!
6 Cups Leftover Cereal – clean the cabinets!
2 Tablespoons Butter
10 Ounces Marshmallows
1/3 Cup Peanut Butter
In a microwave safe bowl – melt the marshmallows & butter for 60 seconds. Remove and stir – you might need another 15-20 depending on your microwave & your 'mallows. Stir in the peanut butter. Then (good luck) mix in the cereal. Spread in a greased 8×8 dish. Let set up for a couple of hours and eat!