My boyfriend is in prison and that means I know how to make prison recipes. This jailhouse fudge is a staple that they all love and I have to admit – it's tasty!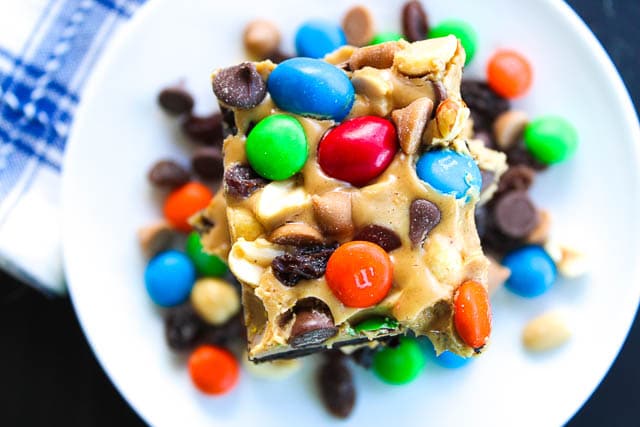 We have deemed this "Felon Fudge". He said it's more a cookie bar than actual fudge – but it's what they call it. I have to say – you're going to love it!!!
I mean seriously – you know you want to dive in?! It's perfect to make this Valentine's day! It's definitely rich – but I love that you can cut the pieces up pretty small and make it last. I keep mine in the fridge because I like the peanut butter layer nice and cold!
How do you make Jailhouse Fudge?
For the base of the fudge – I splurged and used Oreos – but my friend actually uses Duplex cookies because they can buy a full package for much cheaper at their store.


Next – mix that with creamer – again I used liquid creamer – but they only have access to the powdered creamer and mix it with hot water. Then you add the peanut butter/creme filling layer and top it with trail mix. I used my favorite Monster Mix from Target.
So now – you can make an authentic prison recipe in the comfort of your own home! Make a batch of this and watch Love After Lockup on Friday nights – it's so good!!! (This is not a sponsored post – I just freakin love this show!)




Yield: 16
Love After Lockup Felon Fudge
My latest favorite reality show is Love After Lockup – it is THE BEST! And I happen to know someone who knows someone who knows someone that's in prison. And I got an authentic recipe that they make in the big house! This is ingenuity at its finest. And the thing is – you are going to love it! It's so delicious!!!! You will love this fudge – maybe more than I love the show!
prep time: 10 mins
cook time:
total time: 10 mins
ingredients
1 Family Size Pack (48 cookies) Oreos
1/4 cup Vanilla Caramel Creamer (liquid)
1/3 cup peanut butter
3/4 cup trail mix
1/4 cup peanut m&ms
instructions
Separate Oreos cookies from cream center – scrape the cream filling into a separate bowl and put the cookies into a gallon bag
Add creamer to the cookies and break up cookies and mix with creamer until it gets to a thick consistency that could be patted down
Spray 8×8 pan with very light coating of non-stick spray
Pat cookie/creamer into the bottom of the pan
Add peanut butter to cream centers and microwave for 1 minute (stir at 30 seconds)
Pour peanut butter mixture over top of cookie bottom
Top with trail mix and m&ms
Refrigerate for one hour
NOTES:
Authentic Ingredients: 
Duplo cookies with vanilla & chocolate cookie
Powdered creamer mixed with hot water

Substitutions
Use your favorite flavored creamer 
Add pretzels into the trail mix
Make it holiday with colored m&ms: red/white for Valentines Day, green/red for Christmas!