I'm a huge fan of bread pudding and it seems like such a mysterious and fancy dessert. But then I realized – it's sort of like french toast in a bowl – I can make that!!!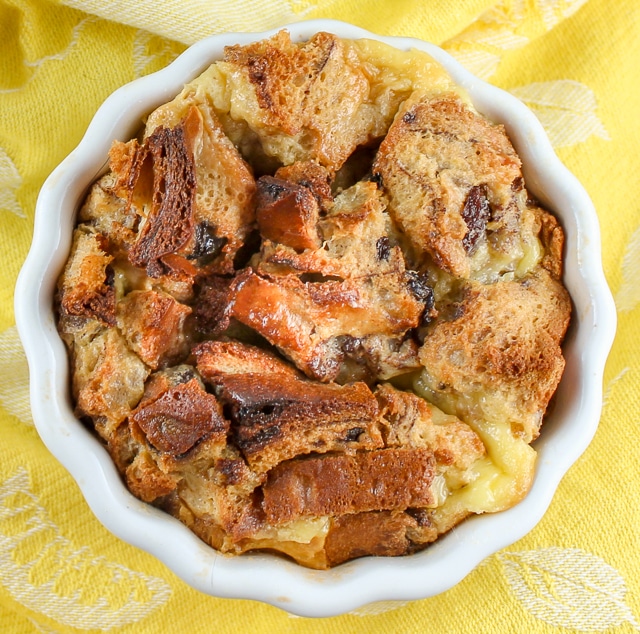 I decided to start with a basic bread pudding – but what bread should I use? Let's go for a cinnamon raisin bread! Why? (Cuz it was in my cupboard!)
This bread pudding is sweet and savory, moist and fluffy – it's perfect!
How to make Bread Pudding Easy?
Well – my first step to making it easy is to use Cinnamon Raisin Swirl Bread – I don't worry about drying it or having it stale – just use it right out of the bag and dice it up!


From there – all you need to do is make the egg mixture! It's very similar to what you'd dip french toast in. You put your bread cubes in little ramekins and pour the egg mixture over the top – that's it!
How to make Bread Pudding For Two?
This recipe makes four ramekins worth of bread pudding – now you might still want to make four – because you're going to want seconds! But just cut this in half and you have bread pudding for two!
Can Cinnamon Roll Bread Pudding be made ahead of time?
Yes! You could definitely make it the day before. You can go about it two ways – either dice your bread and make the egg mixture and have them both ready to go. Or you can put them together – if you do that – I would bake it once you put the egg mixture with the bread. Then refrigerate them and reheat in the oven or microwave and add the frosting when you serve them.
Mini Cinnamon Roll Bread Pudding
prep time: 5 M
cook time: 60 M
total time: 65 M
Bread Pudding is one of my favorite desserts! I found a shortcut for making them using Cinnamon Raisin Bread! I like to make them individual mini bread puddings so we can all enjoy our own. They are sweet and delicious – you will love them! #breadpudding #cinnamonrollbreadpudding
ingredients:
10 slices Cinnamon Swirl bread, cubed
1 cup half and half
1 cup heavy cream
½ teaspoon vanilla extract
3 eggs
½ cup sugar
1 tablespoon lemon juice
Vanilla frosting
instructions:
Preheat oven to 350°F. Divide cubed bread between 4 greased ramekins and set aside.
In a medium bowl, whisk together half and half, heavy cream, vanilla, eggs, sugar and lemon juice.
Pour over bread cubes, careful to leave ¼ inch at the top of each dish.
Bake for 50-60 minutes or until a knife inserted comes out clean.
Drizzle vanilla frosting over each bread pudding and enjoy!