This post is sponsored by Curly's. All opinions are my own.
Here's the deal – my Mom isn't the best cook – she's a helluva baker – but her cooking is just meh. There are a couple of things she makes that will knock your socks off – and baked beans is one of them. Now I'll tell you right now – she cheats – at least a little – but they're so good none of us care! These are the go-to in Johnson house when we've got a crowd coming over to watch all those tournament games coming up!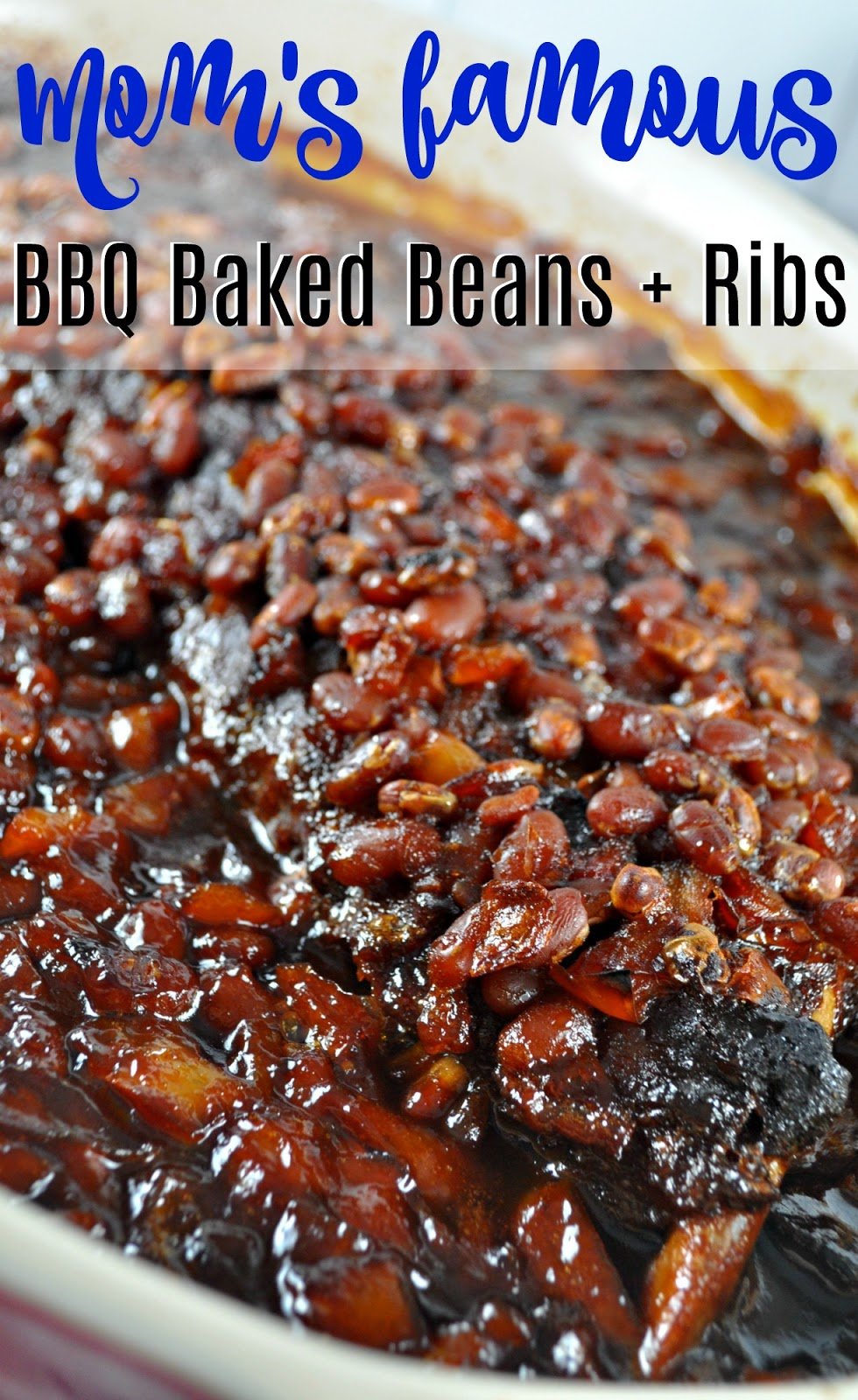 Mom loves baked beans but they take forever and a day to get them sticky and thick – until now! The only thing she loves more than beans are fall of the bone ribs – so she found a way to put the two together – with a whole lot of "semi-homemade" on the way there. My friends love when she makes this dish! We stock up on wet wipes before the party. 😉


We'll start with the ribs – she's not good at making her own ribs – so she leaves that to the experts! Curly's Baby Back Pork Ribs are her favorite and they're smoked for hours and ready in minutes – or today – a little longer. They have such a deep rich flavor – they're perfect for her "famous" dish! You can find Curly's in the refrigerated meat case at your grocery store.


The beans are where her actual cooking comes in – she starts off with a can of baked beans – we like the green can with the onions. Then she doctors them all up! She adds in onion, pepper, ketchup, molasses, brown sugar, cider vinegar and mustard! The original recipe she had called for "dry mustard" but she didn't have that – so she reached into the fridge and gave the yellow bottle a squirt and we loved it!


She let's that simmer for a hot minute and puts the Curly's ribs in the baking dish – then pours the beans on top. Bake them low and slow for about 90 minutes. They come out super thick and sweet and sticky! This is definitely "stick-to-your-ribs" food. You don't need all that time to cook the ribs – but the smokiness of the ribs gets all up in the beans! Then when you take the ribs out – they just fall of the bone and into your belly!


The best part about this dish is how quick it comes together! When you've got a crowd coming – you don't want to be fussing in the kitchen all day! It only takes about 15-20 minutes to get this dish from fridge to oven – then you let the oven do all the work! It's perfect for a rowdy crowd like mine!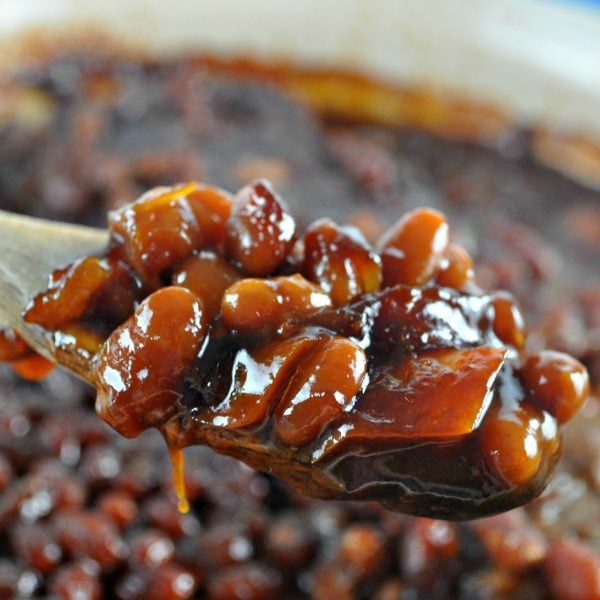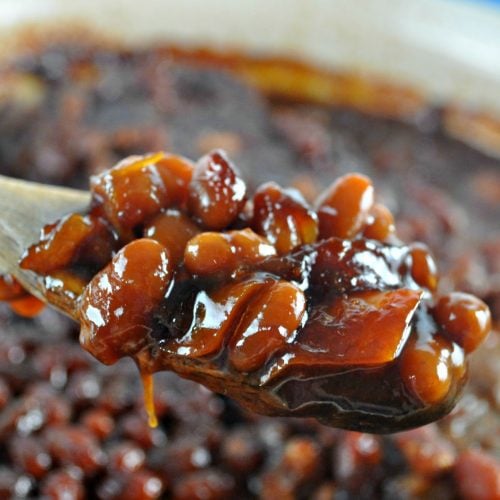 MOM'S FAMOUS BBQ BAKED BEANS + RIBS
MY MOM'S FAMOUS BBQ BAKED BEANS RECIPE AND HER SECRET RIB TRICK!
Ingredients
1

yellow onion

diced

1

bell pepper

diced

28

oz

can of baked beans

2

tbsp

ketchup

3

tbsp

molasses

1/2

cup

brown sugar

3

tbsp

cider vinegar

2

tsp

mustard
Instructions
PREHEAT OVEN TO 325 DEGREES AND SET RACK TO THE LOWER-MIDDLE RACK POSITION.

IN A DEEP SKILLET, HEAT ABOUT OLIVE OIL OVER MED HEAT. ADD DICED ONION AND PEPPER AND SAUTE ABOUT 5 MINUTES, UNTIL SOFTENED.

ADD REMAINING INGREDIENTS AND STIR TO COMBINE WELL. LET MIXTURE SIMMER FOR A MINUTE OR SO.

WHILE THE MIXTURE IS SIMMERING, SPRAY A 13X9 BAKING DISH WITH NON-STICK SPRAY

PUT CURLY'S RIBS INTO BAKING DISH 

POUR BEAN MIXTURE ON TOP OF THE RIBS