My grandmother could NEVER make a good beef roast – it was always dry dry DRY. It's been sort of a culinary goal of mine to figure out how to make a beef roast that didn't suck. I've tried the crock pot but don't like the texture of the beef. I finally came across a recipe for beef tips that brought me success!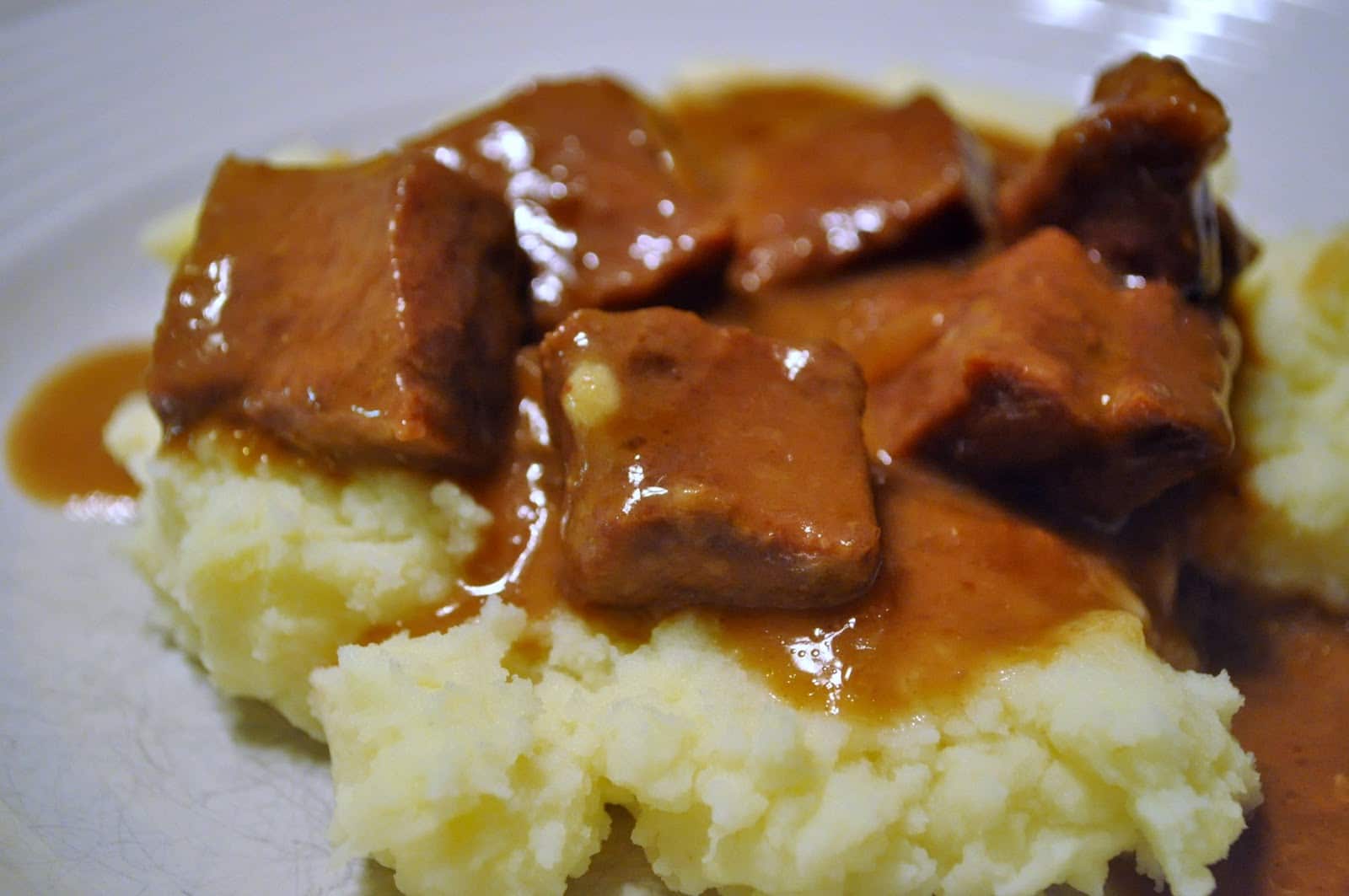 Looks good – right? It definitely was good! Now – for how I made it!
The ingredients are few – which is great – cream of mushroom soup, can of mushrooms, packet of onion soup mix, a packet of brown gravy mix, water and…
…beef tips of course! I went to Meijer because they carry Certified Angus Beef and I wanted to make sure I got this right. I asked if they had a small chuck roast at the meat counter and it turns out they did – but it was prepackaged and called ChuckEye Steak. The lady came out from behind the counter to find it for me and said that it's the same as the roast just smaller and – in her opinion – better! Side note: I have really found that Meijer's meat counter folks are REALLY helpful (unsolicited opinion here) – so if you're ever unsure on a cut of meat – go there and ask – they have never steered me wrong.
This recipe is SO simple – I chopped up the roast into bite size pieces and then put them in a sprayed 9×9 baking dish. Then mix all the gravy ingredients together and pour on top. That's it! Super easy right?????
Then in the oven for – three hours! Yes – it's one of those recipes you have to do on a weekend – but trust me – it's worth it. And as the name of the recipe says – NO PEEKING! It bakes at a low temperature – so just low and slow makes it go!
These No Peek Beef Tips were delicious! The gravy was so delicious and full of mushroomy goodness. We ate ours over mashed potatoes and had plenty for leftovers during the week! Definitely one I'll make again.
Ingredients
1 lb your choice beef: tenderloin tips, stew meat, chuck roast or chuck eye, cubed
1 (10.5 oz) can cream of mushroom soup
1 packet brown gravy mix
1 packet dry onion soup mix
1 (4 oz) can mushrooms, optional
1 cup water
Instructions


Preheat oven to
300°.
Spray a 9 x 9 inch baking dish with non-stick cooking spray.
In a large bowl mix together all of the ingredients except the meat. Add the meat and stir to coat. Pour meat mixture into sprayed baking dish.
Cover the dish with foil, and bake for 3 hours. Do not remove foil until done.
Serve over mashed potatoes.