A few years back I made a One Pot Cheesy Sausage Pasta dish and it was a big hit in our house and online! I decided to remake the dish but use chicken and guess what? It's just as delicious!!!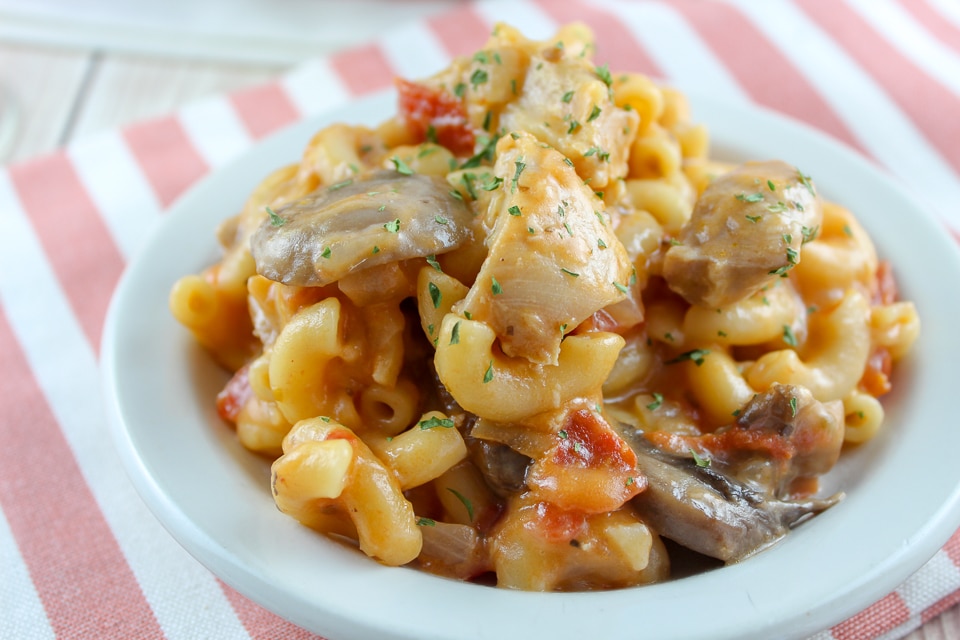 This is definitely cheesy and comforting! It's got chicken, mushrooms, tomatoes, macaroni and CHEESE!
The other thing I love about this one pot meal is that it is cheesy – but not overly cheesy – not too indulgent. You can even sprinkle a little more on top – just for the fun of it! 😉
Cheesy Chicken Pasta ingredients
I used chicken thighs in this dish – but you can easily swap out chicken breasts instead if that's what you prefer. For the veggies – I used mushrooms and onions – but if you like green peppers or even broccoli – feel free to swap out to your favorites!
Can you freeze this One Pot Cheesy Chicken Pasta?
Obviously you can't freeze this one pot meal before you cook it! 😉 But the leftovers – most definitely! I'll often times make this cheesy chicken pasta skillet dish and then freeze the leftovers into single size servings and that way I have lunch in a pinch when I need it!
What are some of the best one pot meals?
One Pot Cheesy Chicken Pasta
prep time: 5 M
cook time: 20 M
total time: 25 M
My One Pot Cheesy Sausage Pasta has been so popular – I thought it might be just as delicious with chicken! It goes together so quick and all in one pot – so easy! Perfect for any weeknight!
Cheesy Chicken Pasta ingredients:
2 Tbsp olive oil
3/4 pound boneless skinless chicken thighs (3-4), diced into bite-sized pieces
1/2 small yellow onion, diced
1 Tbsp minced garlic
1 – 14.5 oz can chicken broth
1 – 14.5 oz can diced tomatoes, Italian
4-6 oz fresh mushrooms, sliced
1/2 cup milk
8 oz macaroni
1/2 tsp salt & pepper, each
1 cup shredded cojack cheese
instructions:
How to cook One Pot Cheesy Chicken Pasta
Add olive oil to a deep dish saute pan over medium high. Add onion, chicken, mushrooms and garlic – cook until lightly browned.
Add chicken broth, tomatoes, milk, pasta, salt and pepper. Bring the mixture to a boil, cover and reduce heat to low. Simmer for about 12 minutes or until pasta is tender.
Turn off the heat and stir in cheese.