Recently for work I needed to make pull-apart pepperoni bread (also known as monkey bread) – I thought this was a pretty easy item that would definitely get gobbled up in my house. And I have to say – it's pretty fun to make!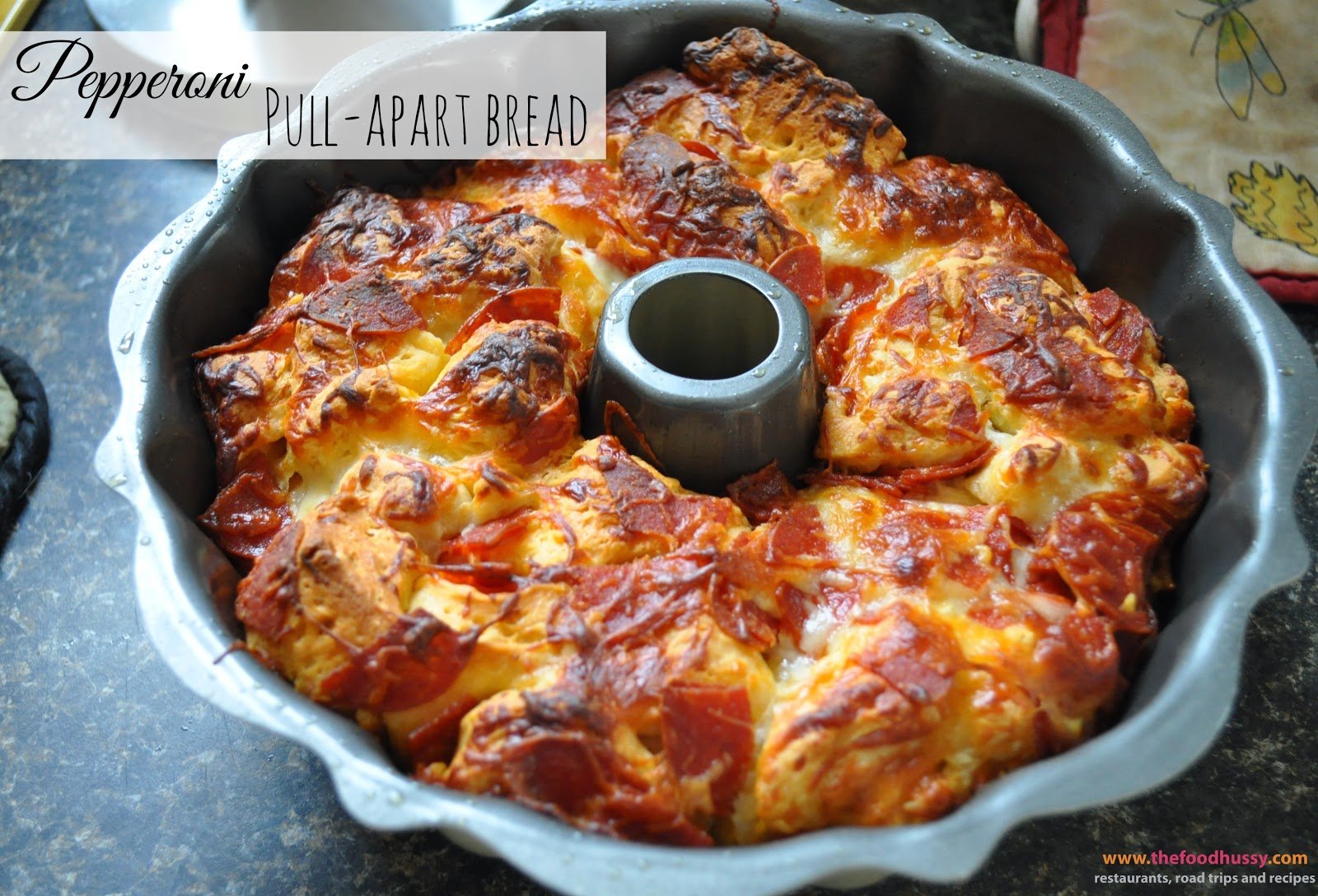 This pull apart pizza bread is a great dish to make for game day or any gathering with friends! Everybody can just grab a bite and enjoy! It's cheesy and garlicky too – it's a favorite in my house!
How to make pull apart pepperoni bread?
You need a bundt pan – well probably don't "need" but it works great with one. Then you take 2 cans of biscuits and cut them into 4 pieces. I used one large can of buttery Grands and another can of the cheap 50 cent Kroger biscuits. I just cut these up with scissors – it was really fun – and a great way to get the kids involved. I don't know what it is but the texture of the scissors going through the biscuits was like playdoh!
Then in a large bowl you put the biscuit pieces, pepperoni (cut in to 4s), garlic and a bag of shredded cheese. Stir this up real good.
Then – spoon into the greased bundt pan. If you want to make a smaller batch you could likely just cut in half and use a smaller baking dish. Bake at 350 for 30 minutes and you're done. There's no way you can look at that and not drool a little bit!
I couldn't stop myself from digging into this pepperoni bread ring and grabbing a bite. It was delicious!! I think using the butter biscuits added a lot of flavor. I actually took this for lunch for a couple of days – so it stays good in the fridge as well (you just need to heat it up quick in the microwave). This is great for a potluck or a party – it's easy hand food and delicious!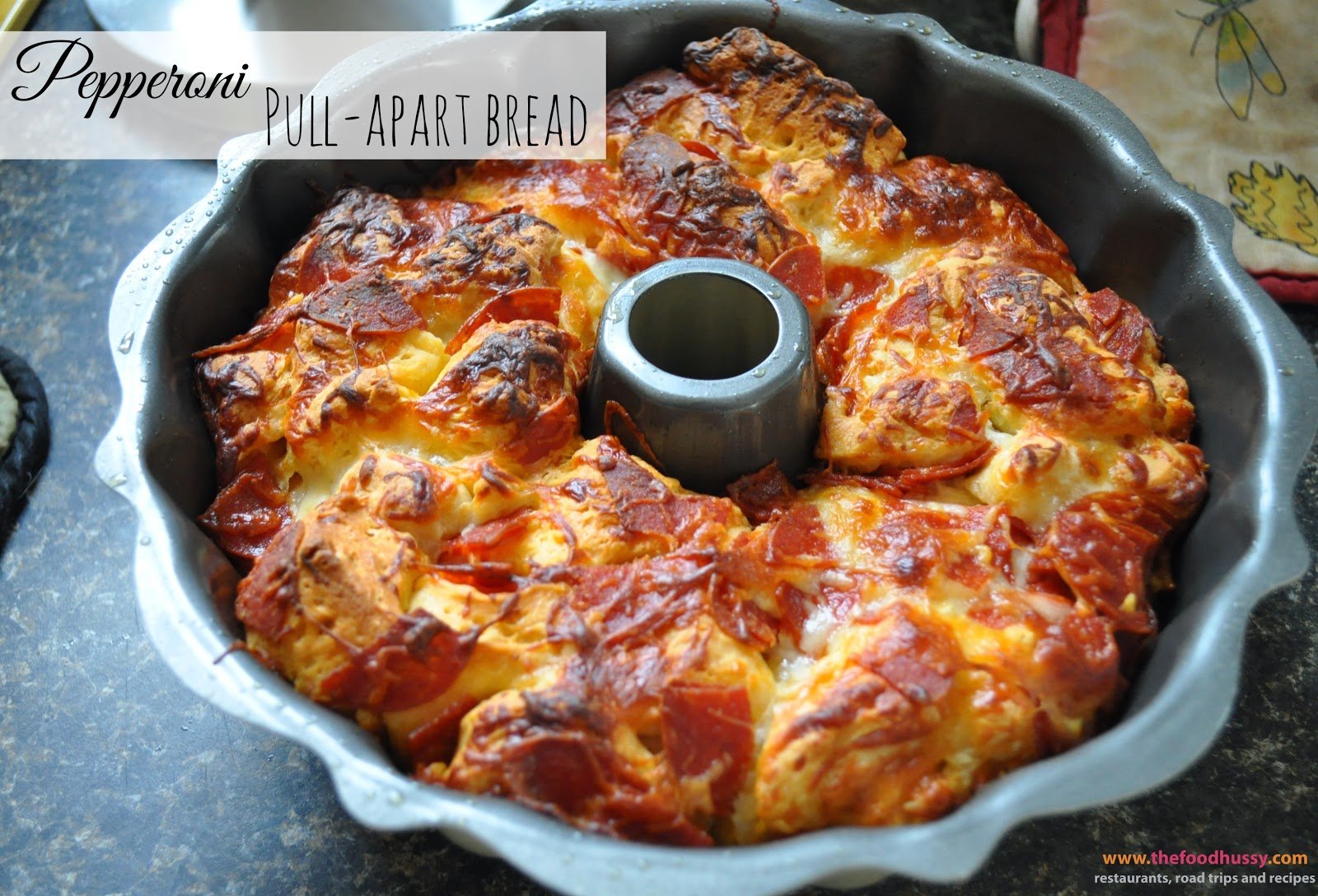 Pull Apart Pepperoni Bread
prep time: 10 M
cook time: 30 M
total time: 40 M
Monkey bread is such a fun appetizer – you can just grab a chunk and pull it apart – great for a crowd! I added pepperoni, cheese and buttery garlic biscuits to make this pull apart pepperoni bread that is a perfect appetizer for game day or family get togethers!
ingredients:
2 cans Biscuits (I used 1 buttery Grands and 1 cheap-o normal)

2 cups shredded Mozzarella cheese

1 – 8 oz pkg pepperoni – cut into quarters

2 Tbsp diced garlic
instructions:
How to cook Pull Apart Pepperoni Bread
Preheat the oven to 350 degrees

Cut pizza dough or biscuits into quarters (as shown in the photo)

Cut the pepperoni into smaller pieces

Mix all the ingredients in a bowl and toss (you can add a little olive oil if you need to – sometimes the biscuits stick together a little – but no more than a couple of tablespoons)

Bake for about 30 minutes (or until the top is brown and the center is thoroughly cooked) TIP: Be sure to check it in the middle before you pull it out. If the middle is still not cooked thoroughly be sure to leave it in another 5 minutes at a time until it's done.

Flip over on to a plate while it's still hot.

Serve with a bowl of pizza sauce and enjoy!
Recommended Products:
Did you make this recipe?
Tag @foodhussy on instagram and hashtag it #foodhussyrecipe