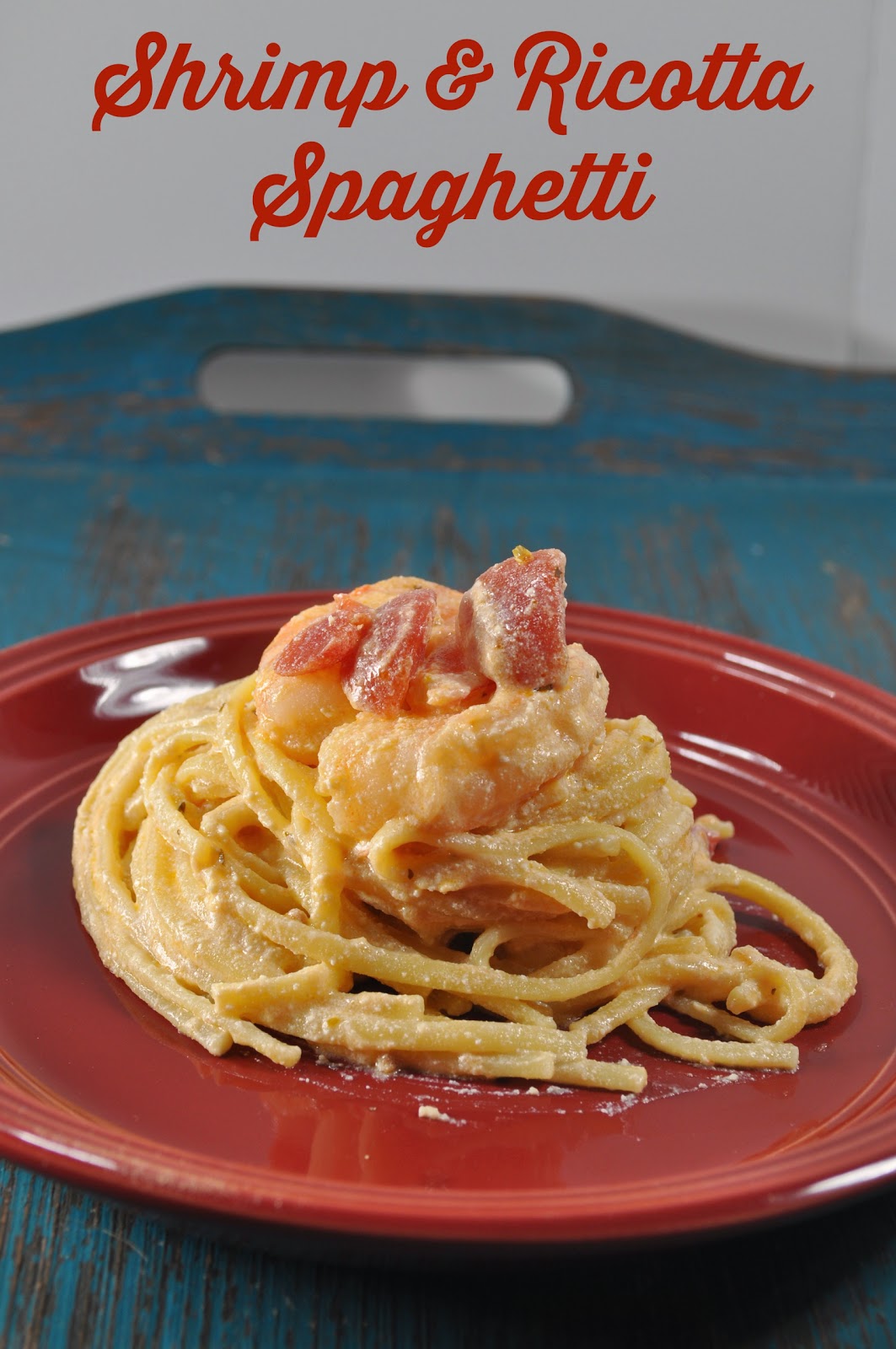 I'm a sucker for ricotta cheese so when I saw a recipe for pasta with tomatoes and ricotta – I had to try it. The original recipe called for sausage but Larry doesn't like sausage – so I grabbed some shrimp out of the freezer and went to town.
The recipe is simple enough – saute zucchini, then add tomatoes, then add shrimp, then add the cooked pasta, then add the ricotta and stir. It was hard not to stop along the way and just start eating. I could have just added some lemon zest and stopped before the ricotta – but hey – everything is better with cheese – right?!



It's a simple dish – but it's tasty – and that is always a good combination. You could add any vegetable or protein you want and it would still be delish – whether it's sausage & mushrooms or chicken & broccoli – this is a great base to a great dinner!

Shrimp & Ricotta Spaghetti


Ingredients
7 oz ricotta cheese
6 oz spaghetti, or other long cut pasta
1 Tbs olive oil
1 medium size zucchini, halved lengthwise and sliced
1 cloves garlic, minced
1 cup diced tomatoes (or 1 can diced tomatoes, drained)
½ tsp crushed red pepper flakes
1 tsp salt
½ tsp black pepper
Bring a large pot of water to boil, and cook pasta according to package directions. Reserve 1 cup of cooking liquid.

In a large skillet, over medium-high heat, heat the olive oil. Add the zucchini and saute for a couple minutes. Add garlic, and season with salt, pepper, and red pepper flakes. Saute for 2 more minutes, until zucchini is almost cooked. Add tomatoes, and stir until warmed.

In a large bowl combine cooked pasta, zucchini mixture and ricotta cheese. Stir until well combined. Add reserved cooking liquid if it needs to be thinned out.

Serve immediately.

Adapted from DinnersDishesandDesserts.com