A couple weeks ago I participated in the Tabasco Flavor Bowl with
House Party
. I'm not big on Tabasco but I thought it was worth a shot. I have to say – it opened my eyes (and my sinuses).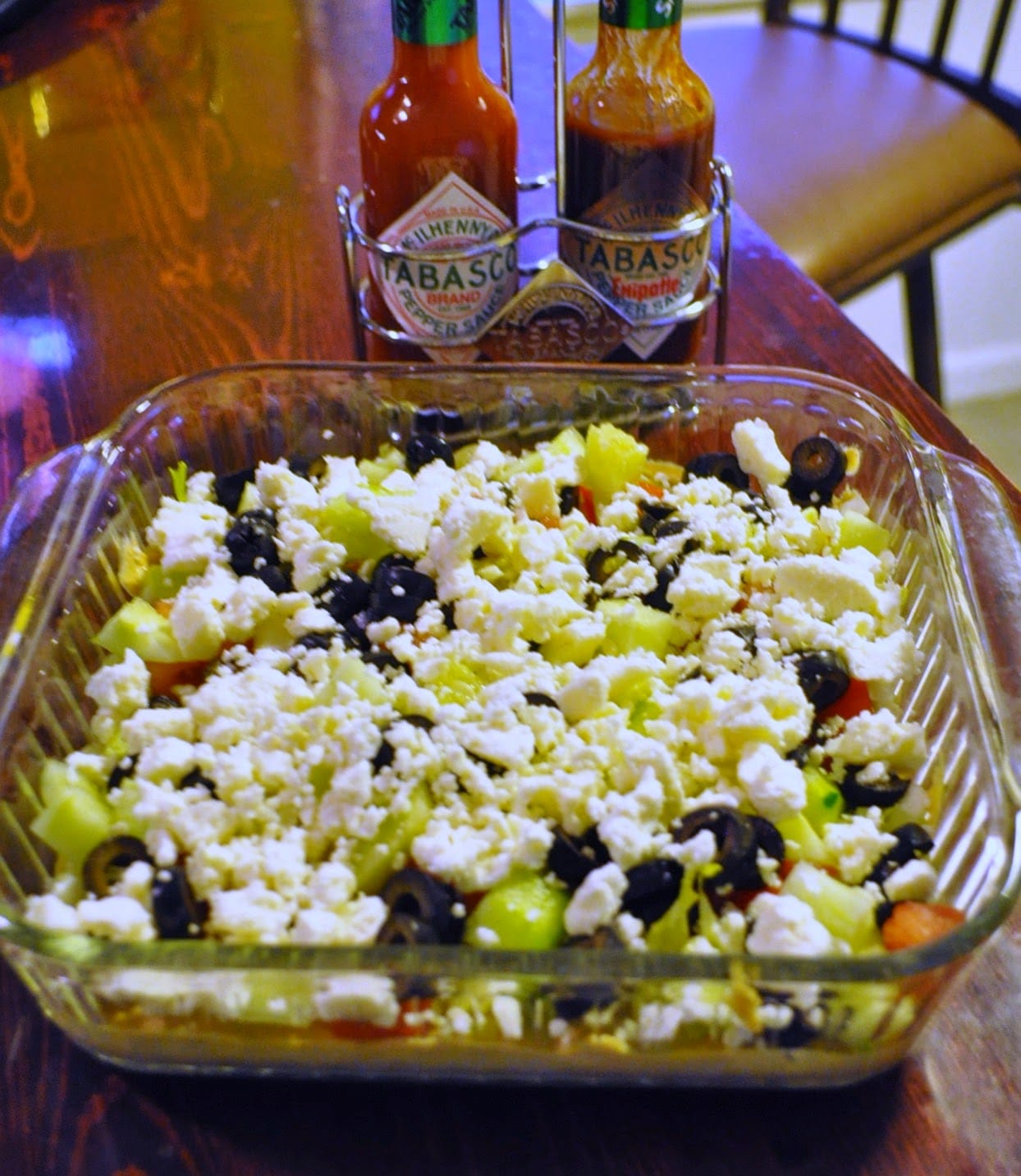 If you haven't heard of House Party – it's sponsored by different brands. You apply to host a party – then you invite your friends – and you have a party and there are usually some small party favors and activities to do while you try whatever product they're sponsoring. I enjoy them but the only negative is they don't provide much for the actual party – so all the food, etc. is on you. This was more fun than most – we had a good time with the props and there was a trivia contest as well.
The dip was really simple – it's sort of the "semi-homemade" route – which is great when I had 3 recipes to put together. It made me look at Tabasco in a whole new way! The Chipotle tabasco was my favorite of the two and really added a new flavor without taking away from the hummus.
SMOKY LAYERED MEDITERRANEAN DIP
INGREDIENTS
For amount shown in photo – recipe was doubled.
1 (16-ounce) container store-bought hummus (about 2 cups)
2 tablespoons

TABASCO

®

brand Chipotle Pepper Sauce
1 1/2 cups shredded iceberg lettuce
1/2 cup chopped tomato
1/2 cup diced seedless cucumber
1/4 cup diced black olives
1/4 cup crumbled feta cheese
3 tablespoons chopped green onions
Pita chips
PREPARATION
Mix together hummus and
TABASCO
®
Chipotle Sauce until well combined. Spread hummus mixture in the bottom of a 9-inch deep-dish pie pan or 8×8-inch baking dish. Layer with lettuce, tomato, cucumber, olives and feta. Garnish with chopped green onions. Refrigerate until ready to serve.
Disclosure: House Party provided this party pack to me. All opinions are my own.