I participated in an Influencer Activation on behalf of Influence Central for
Rubbermaid
. I received product samples to facilitate my review as well as a promotional item to thank me for my participation.
I love tailgating – it's so much fun to get together with friends and watch my FAVORITE sport! I don't care if its high school, college or pro – football can be on any time and I'm watching it!
Now I know that tailgate food is typically fattening, fried and far from healthy – so I decided to bring something a little more refreshing and light to the party!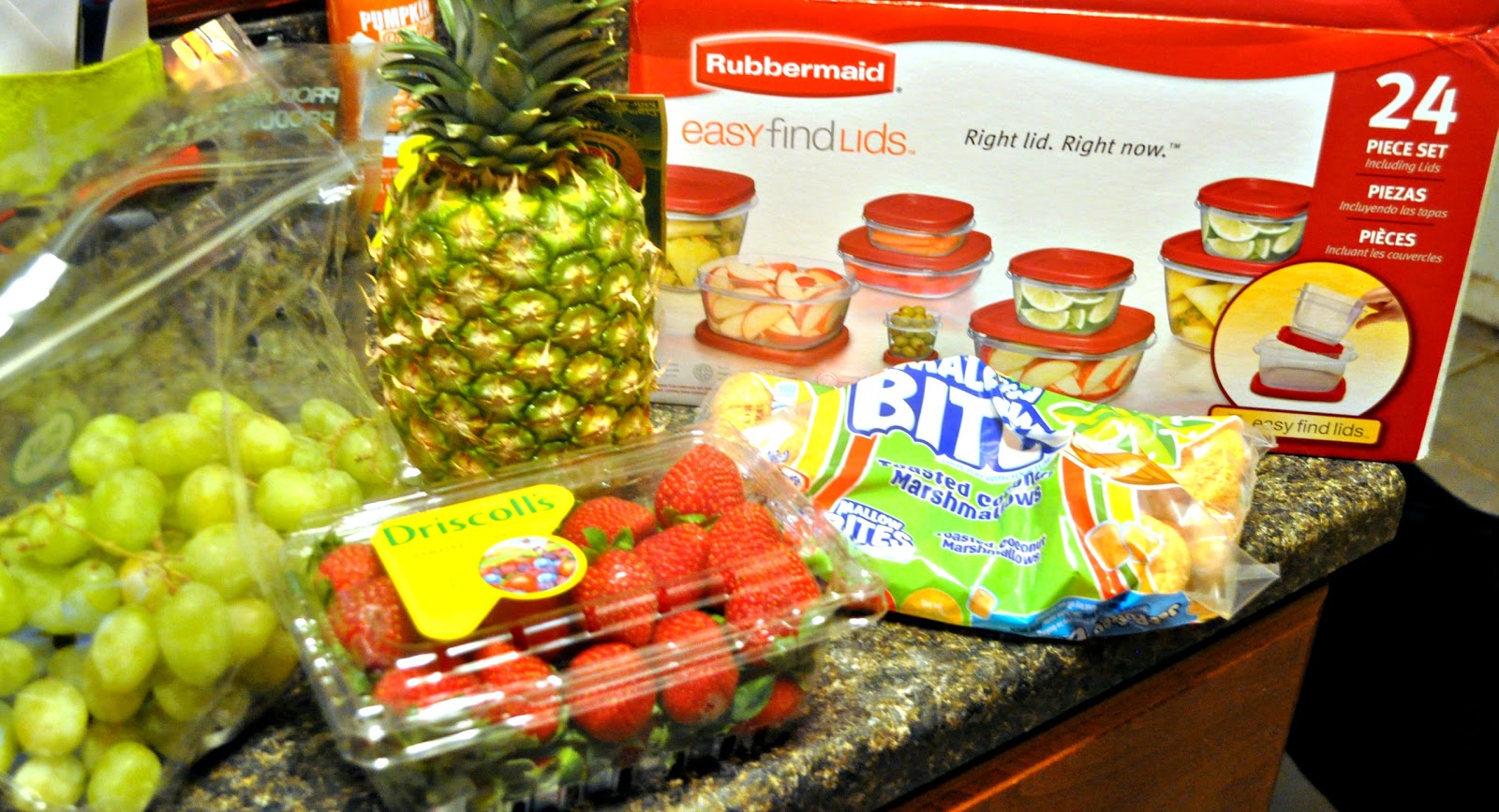 Even though summer is in the rear view mirror – there are still plenty of fruits that are ripe and juicy and delicious – plus they'll be a great cool down to those spicy wings my friend is always bringing!
I got this new Rubbermaid Party Platter which makes it so much easier because it's got all the compartments separated and a removable dip container and lid built right in! It's pretty slick and no wonder that it's made well – it's Rubbermaid!
I started with grapes – thank goodness all I had to do was wash those off – the dip container comes out and has a screw on lid – so you know your dip isn't going to leak out onto your fruit before the game gets going! These guys have thought of everything – super simple and super helpful!
I also found these awesome coconut covered marshmallows – I hadn't seen these before. They're really tasty and add another layer of fun to a fruit tray. Nobody ever eats that weird green melon anyway – right?!
And of course – some ripe strawberries! I also got this great Rubbermaid set of bowls and easy find lids so I prepped everything the night before and stored them separately so the juices weren't mingling. I love this set because the same size lid fits different size containers – so I'm not stressing out trying to match everything up.
And finally it was Tailgate Time! Everybody has their favorites – but at least we can all watch together and enjoy some good eats – whether our teams win or lose.
Here's those easy find lids – this was an accidental shot – I picked up the container of strawberries and didn't realize it was locked onto the pineapple container! So the lids lock to each other and to the containers! No more spilling! Love this! And they won't be falling all over my cabinet because they're hooked together – oh Rubbermaid where have you been all my life?
The Bengals are having a pretty awesome season – so it's fun to watch them with our last of summer fruit tray ad some super simple fruit dip! Isn't that party platter handy? And it's 100% BPA free so it's dishwasher, microwave and freezer safe.
The fruit dip was amazingly simple – I mixed strawberry yogurt with whipped topping – stir stir stir and you're done! I let mine set up the night before so the flavors could meld together.
Thankfully my teams won (yeah I have a few teams – sue me!) and there was a bit of fruit left for me to take home. The Party Platter was great since it has a lid – I just popped it on and headed out the door. Fruit for the hubby – poor guy had to work – so I gotta have something for him! 🙂
Be sure to check out Rubbermaid on social media as well:


Facebook
And now – that recipe!
Super Simple Fruit Dip!
Ingredients
1/2 container




whipped topping

8 oz




strawberry yogurt
Cooking Directions
Stir the yogurt into the whipped topping and refrigerate!
(I told you it was simple!)