I like to dip everything in ranch – but sometimes I want to be a little fancier – so I tried my hand at making a Zingy Avocado Aioli to dip my shrimp in!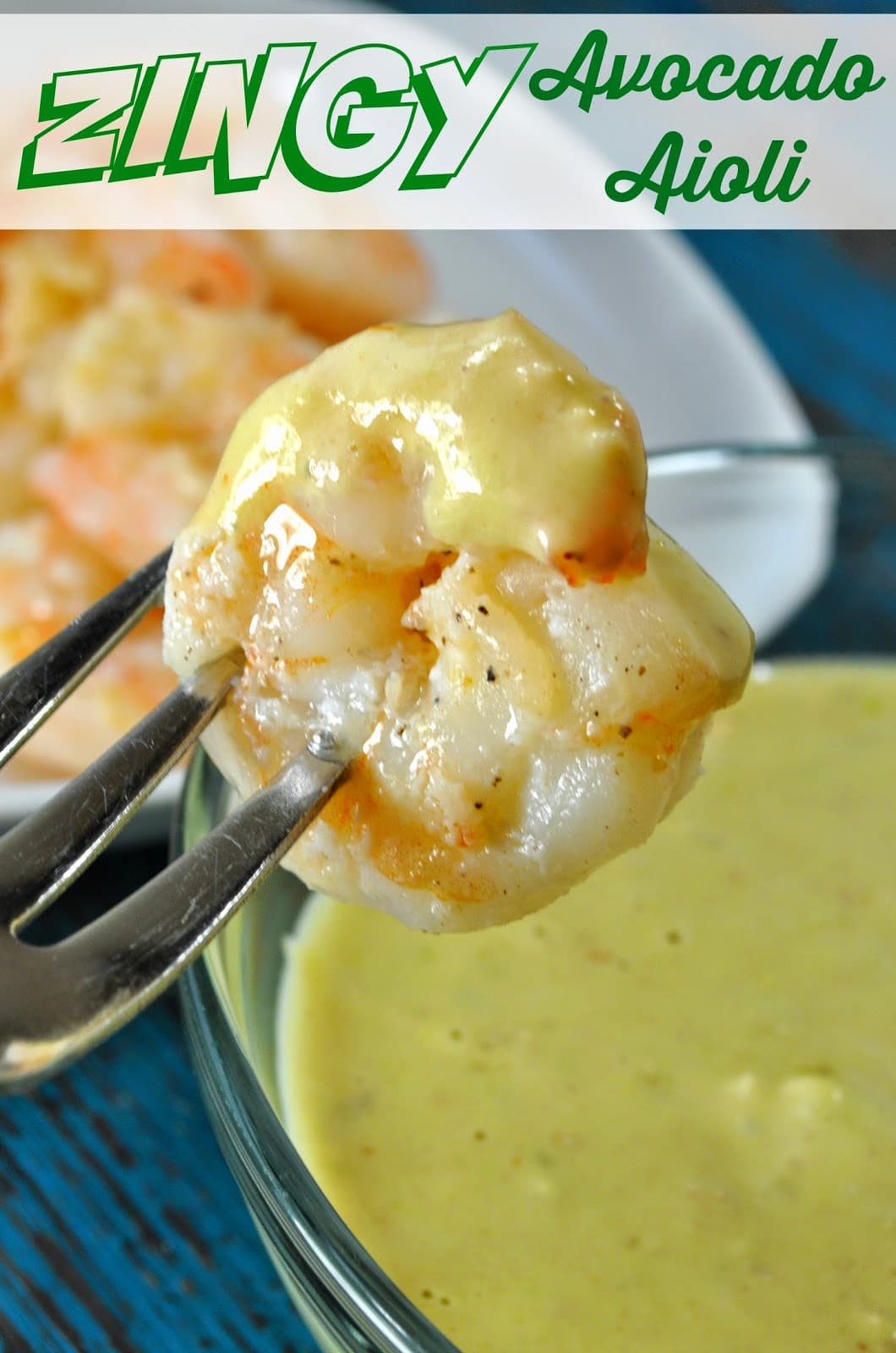 I love shrimp – it's practically its own food group in our house. Just the other day – my husband called me on my way home from work and told me to just bring home shrimp because that's what he wanted for dinner. Um – ok – shrimp you will have!
This dip is also great for entertaining! Suddenly a shrimp appetizer becomes super fancy when served with Avocado Aioli!
I love using raw shrimp rather than cooked shrimp. It cooks up in just a couple of minutes and has a better flavor. I dropped a tablespoon of butter in a hot skillet and then added the shrimp. Cracked a little salt & pepper on top and we're good to go!


Freshly sauteed shrimp – good enough to devour right then & there! But wait – I have a zingy aioli to make!!!


The ingredients are simple – probably things you already have in your fridge. I got some horseradish from home for Christmas and have been looking for an excuse to use it! Horseradish is one of those things that can be a little scary – but in small doses it adds SO much flavor! It's a perfect complement to the KRAFT MIRACLE WHIP.


Throw it all in bowl and mix it together. I used one of those hand-held stick mixers. I don't have a big fancy food processor. It was nice and creamy but you could still see little pieces of avocado. I'm already hungry!




I encourage you to taste as you're mixing up your aioli. I had it all together, took a taste and found it needed something else – so I threw in some taco sauce (not salsa) and a little more horseradish – perfection! Make it how YOU like it!
Zingy Avocado Aioli


1 avocado, slightly mashed
1/2 teaspoon minced garlic or 1 clove
1/2 lemon, juiced
1/4 cup KRAFT MIRACLE WHIP Salad Dressing
1/2 teaspoon salt
1 Tablespoon Horseradish
1 Tablespoon Taco Sauce (not salsa)


Combine all ingredients in a bowl – blend on low speed with mixer (or blender/food processor). Serve chilled with shrimp or as a dressing for a sandwich!



Looking for something else to do with KRAFT MIRACLE WHIP – check out this tasty recipe for Easy Banana Bread!