Buffalo Wings & Rings provided me a gift card in exchange for this post. All opinions are my own.
It seems like wing places are popping up everywhere – but my favorite in Cinci will always be
Buffalo Wings & Rings
! And not just because they invited me in for free dinner – their buffalo chicken nachos are my favorite!!!!!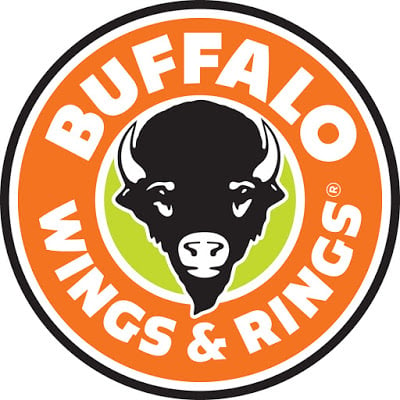 They have regular wings, boneless wings, sandwiches, salads and entrees. The nice thing is that they really pride themselves on FRESH ingredients! I learned that when I met with Chef Jablonsky and he showed me how they make their new open-faced cheese sticks and how to blacken salmon.
We went to the location at Eastgate Mall – it's got an entrance on the outside of the mall but is also accessible from the Food Court. It's a very wide open concept.
I had to try their new Not Your Mama's Buffalo Chicken Dip! It was served with pink chips in honor of Breast Cancer Awareness Month. The dip has a mayo-base (none for Larry) along with chicken, bleu cheese crumbles, scallions, celery and a medley of cheeses mixed with their Buffalo Hot sauce.
This dip was sooooooo good! It was spicy – but not too spicy and there was enough for me to have some before my dinner and some for the next day for lunch! If you don't want to go to the work of making it at home – just stop in and try theirs!
Larry got Boneless Wings – with the Mild Sauce – it's his standard order. He's not very adventurous and he loves boneless wings. I did try a bite and they were juicy chunks of chicken breast with a zippy sauce – obviously being mild – it wasn't spicy but it did have some seasoning. The nuggets are nice and crispy too – which we like.
I decided to branch out and try something with some fresh! I went for the Tuscan Chicken Sandwich and I added the Parmesan Garlic Aioli to the fries – cuz duh – garlic + cheese!
The sandwich is great because it's got juicy grilled chicken tenders and is topped with grilled Panela cheese (same cheese in the open faced cheese sticks), basil peso, garlic aioli, greens and tomatoes on a brioche bun.
I really liked the sandwich – the veggies and pesto were very fresh and the Panela cheese is a thick, grilled mozzarella-like cheese – it's a nice change from Swiss or American.
Why Should You Go?
I love Wings & Rings – the food is fresh and because I've met their Executive Chef – I feel like I know how much they really care about their food. They're always pushing the boundaries too – not just hanging out as a "wing place". They've added burgers, sandwiches and more. (That blackened salmon was so good!) I will definitely be back!
And I've got a giveaway that'll be happening on
Facebook
– so head over and be sure to LIKE and FOLLOW the page so you don't miss it!