In our new neighborhood there are plenty of new restaurants and one that we've already been to a couple of times is
Butterbee's American Grille
. There are two others besides the Milford location – one on Beechmont and the original in Mt. Orab.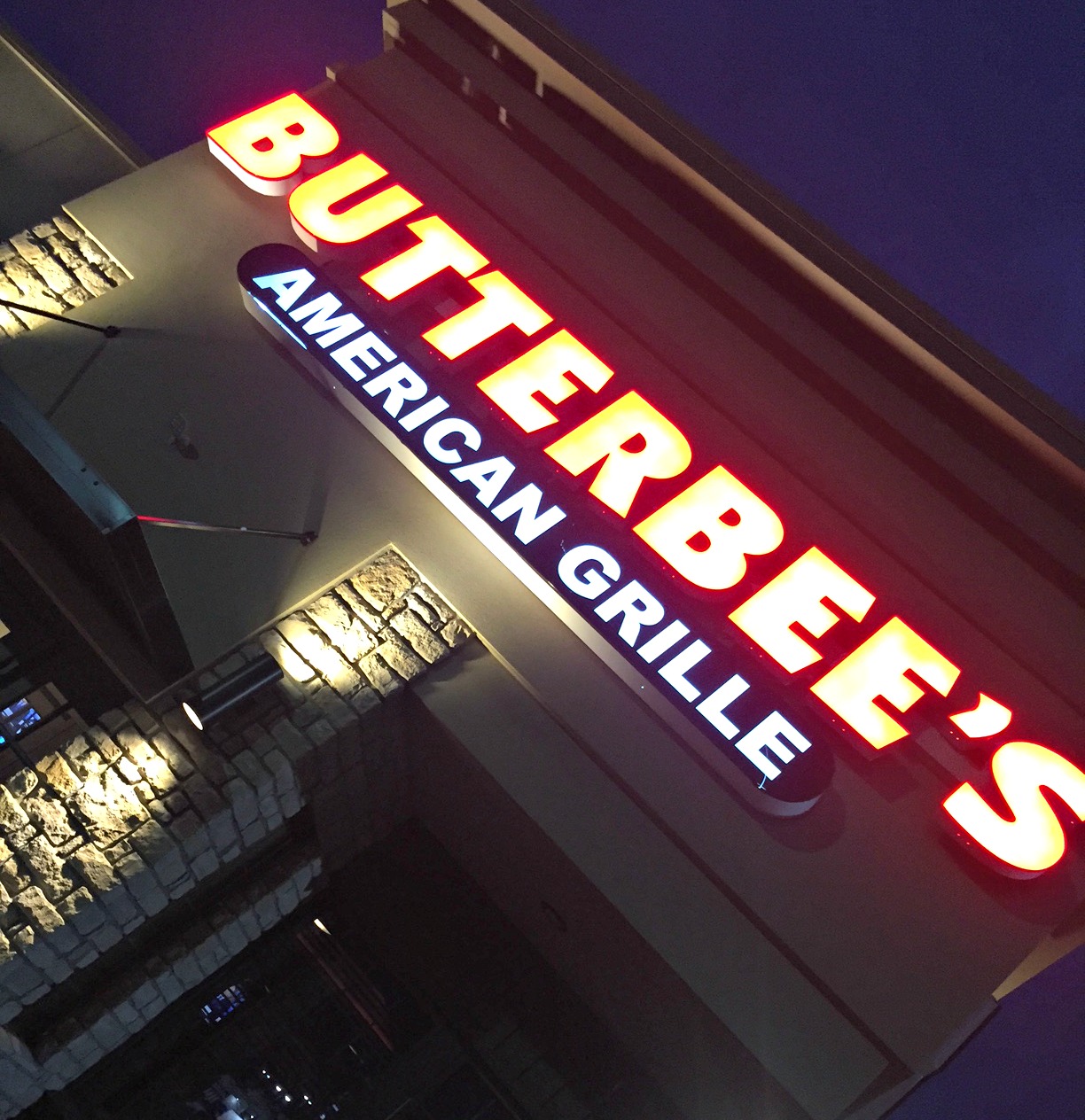 I remember when the original opened in Mt. Orab – it was always PACKED!!!! Which if you've been to Mt. Orab – is a sight to see. Mt. Orab is in the sticks – and I absolutely love the sticks – so it's all good with me – but it's out there. So when you're driving in the country and suddenly there's a big restaurant with neon lights and a full parking lot – you know it's got some good stuff inside!
We were happy to see that they have a lot of Craft Beers on draft – Larry didn't hesitate – even though he's now obsessed with IPAs – and went for the Kentucky Bourbon Ale. It's his favorite on tap – hands down. He said that when it's on draft – it has much more of a caramel flavor.
We started off with Pretzel Bites ($6.99) – these soft mini pretzels are soft and buttery with big pieces of pretzel salt and served with a side of cheese. We really liked them – I'm a sucker for salty soft pretzels so it's no surprise what we liked them a lot.
A friend was with us and got the Old School Burger with bacon & american ($9.25). It comes with great big waffle fries and the bacon looked great.
Larry got the Smokehouse BBQ Chicken ($13.99) – grilled
chicken smothered in homemade BBQ sauce, jack 'n
cheddar cheese, and topped off with onion straws. I'm not sure what there is not to like when you've got chicken, cheese, bbq sauce and onion straws – so it's no surprise that Larry liked it.
Hand-Breaded Cod Dinner ($14.99) – hand-breaded and lightly fried cod with
homemade tartar sauce served on the side. The cod was fine – I'm more of a fan of battered rather than breaded. The tartar sauce and sides were good. The portions were very large as well – I only ate one piece and took the other one home.
After this visit to Butterbee's – I've recently started Weight Watchers which means I have to pay attention to what I eat (booo). So on our second visit – fried fish and tartar sauce was not an option.
Pecan Tender Salad ($9.69) – Grilled chicken served
over a bed of greens, crumbled bleu cheese, mandarin
oranges, craisins, and pecans. This traditionally comes with fried chicken and balsamic vinaigrette. I switched to grilled chicken and swapped out for fat free raspberry vinaigrette.
I estimated this to be a 15 point salad – which was fine for dinner. I also really enjoyed it – I don't normally like bleu cheese that much – but with all the sweet aspects of this salad – it was nice to have the bite of the bleu cheese. I would definitely get this again.
Half of the battle for me is just not ordering the worst thing on the menu – in my brain: bad for me = delicious – which I need to work on. But I am learning that I feel better after I eat salads – so readers – you're going to be seeing more healthy in my future. But the fun part is – you can take the journey with me and find out how to eat out and still make good choices that DON'T involve boiled chicken and rice! 🙂
Why Should You Go?
Butterbee's is a great sports bar & restaurant – the menu is large and the staff is very friendly. We've liked everything we've had so far and will definitely be back.