You never know who you're going to meet and what their past is – it's one of the things that makes life fun! I was at a cooking class and met a woman who was asking me about my favorite places in the city – then she shared hers with me.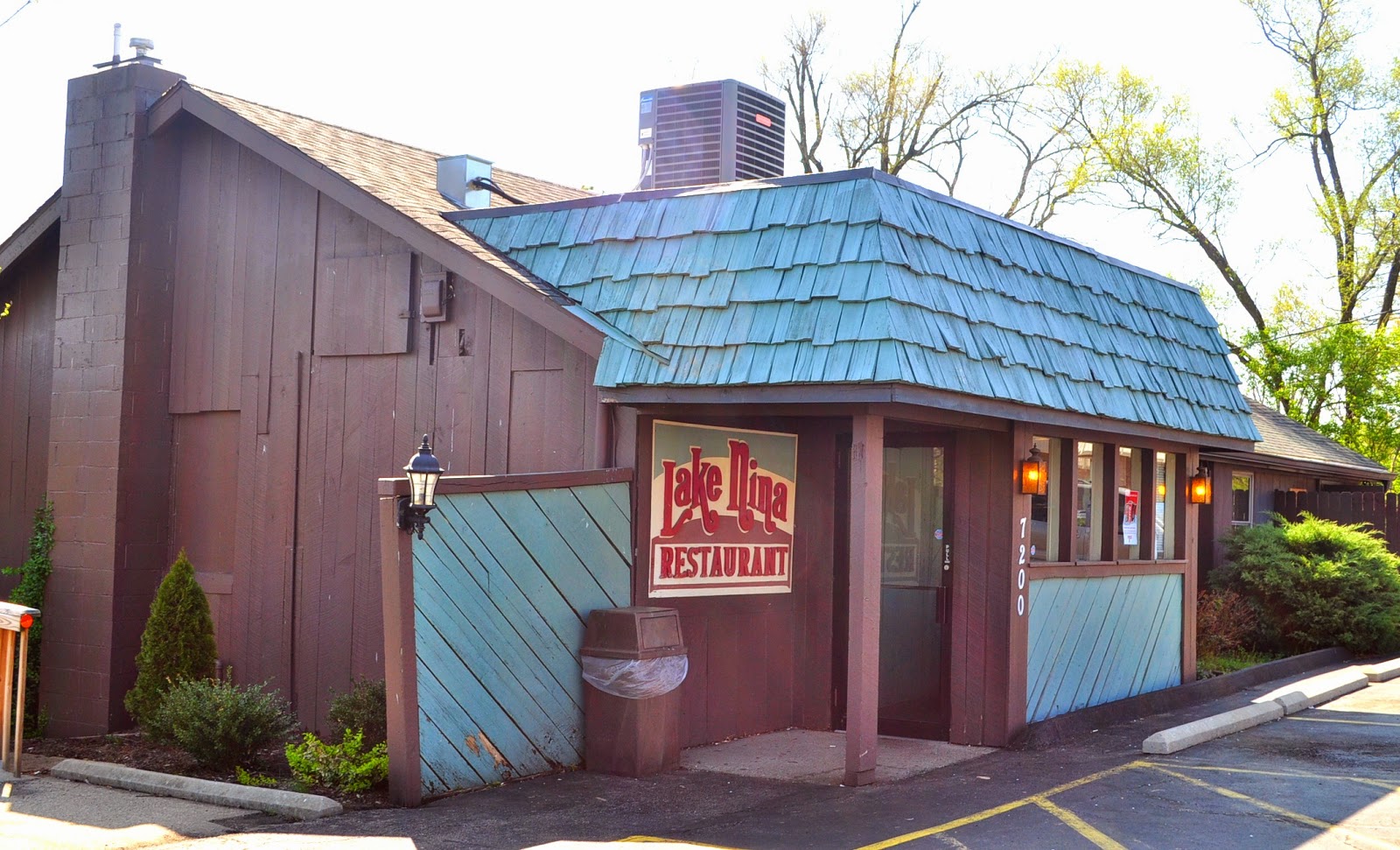 That's when she told me about Lake Nina (she pronounced "Nine-Uh") and said that she used to ice skate there and that I had to try their Fish Log. (What the heck is a fish log?) Turns out I drive by it every day on my way to work!
Here's the lake in the back – it's really pretty. They have a large room that overlooks the lake.
They started us out with rye bread and butter packets. I was trying to be healthy – so I skipped the bread. My husband enjoyed it. The server was friendly – we were there when they opened (actually stalking them in the lot for a few minutes) – and attentive as well.
I had heard about the hot slaw so I was sure to order that as a side for my fish log. The hot slaw is cabbage and hot vinegar topped with bacon (and probably spices). It was pretty good – not the best I've had – but the best was probably some German lady serving it at a potluck in middle school.
Larry was hungry for mozzarella sticks and they were standard but good. Big portion size though!
Larry went for a bacon cheeseburger with a big ol' onion ring on top. He reluctantly let me steal a bite and it was a GOOD burger! He had – as usual – made a good selection. I wasn't sure if I had. Oh yes – time for THE FISH LOG!
So, as it turns out, a fish log is just fried fish! It seems like they take a couple of pieces and put them together to get the log shape. This is a CHILD'S size portion since I was trying to be as healthy as possible.
I really liked the fish – there was not one drop of oil on my plate or on the fish! Come on – that is a definite rarity! The fish was clean and light – I barely even touched the tartar sauce (unheard of!).
Why Should You Go? All in all – my fish log adventure was a success! The burger was good too. They also have tvs and a bar in the front part of the restaurant if you're wanting to watch a Reds game.