I'm definitely a barbecue fan – I really love that it is so good yet each place tastes so different from the last. I feel like you can have a favorite item at each place – and still go to all of them – for those favorites! I love Eli's for their hot dogs, Midwest Best for the wings, etc.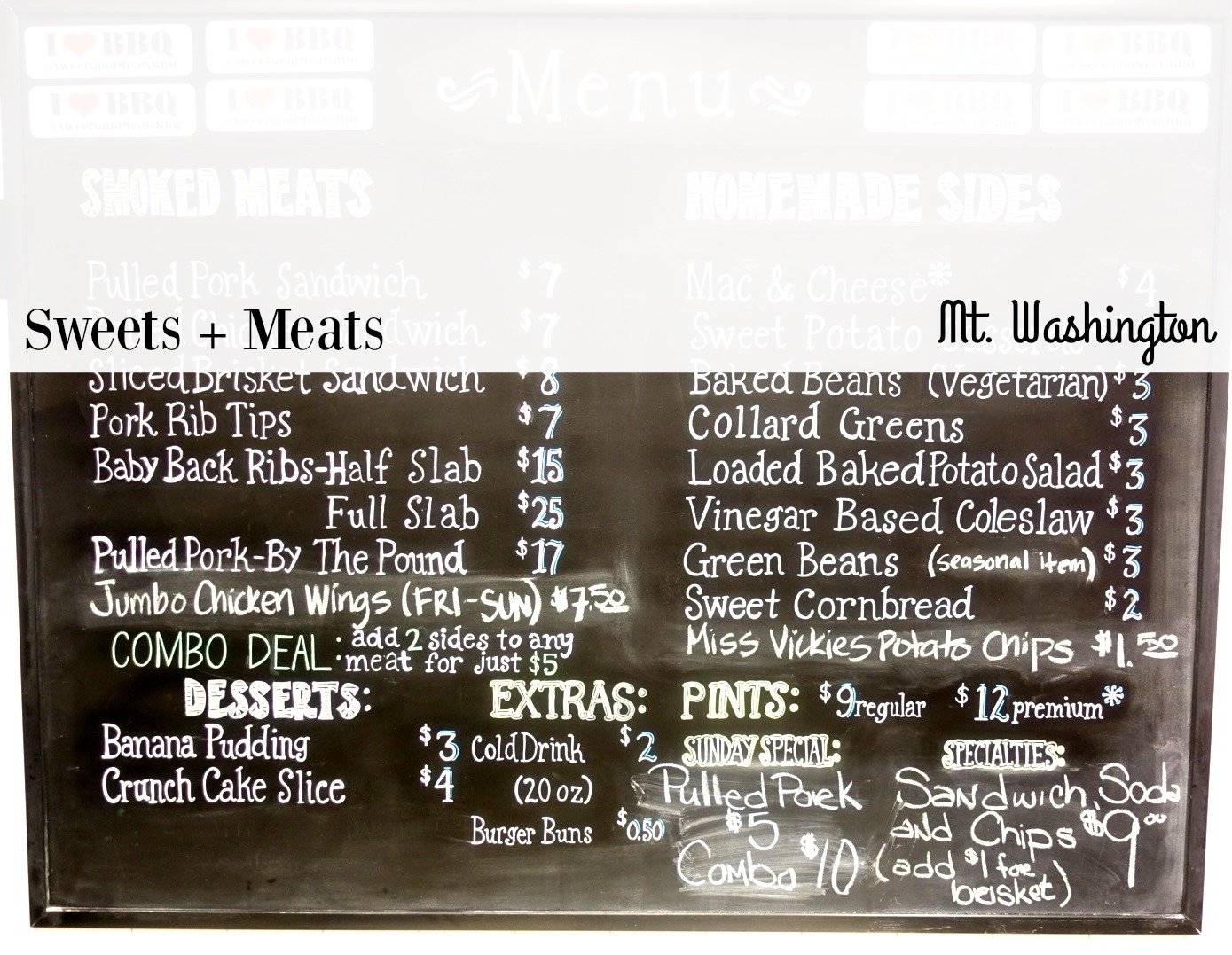 Recently, I was invited to try Sweets & Meats…and now – I have more favorites!!!! Sweets & Meats started as offering food at local places like Mt Carmel Brewing, then expanded to a food truck/catering and finally a brick and mortar location in Mt. Washington!
They run the gambit for barbecue options and the owner Kristin made sure to show of their best stuff for me and my friends. We had a little bit of everything! Here's the rundown from this photo:
– Ribs – delicious! Juicy and teeeeeeender!
– Greens – nearly the best I've had! Second only to a place I tried just TONIGHT in Birmingham Alabama!
– Coleslaw – vinegar based and just ok
– Potato Salad – outstanding! It's more sour cream than mayo and I loved it! It was very refreshing!
– Strawberry Crunch Cake – excuse me???? YES!
But the one thing not in that mix was actually my favorite! It's their Sweet Potato Casserole. This plate of delicious came out and was swimming in butter – definitely a good sign. And it did not disappoint – I was raving about this for days!!! Hell I just told my Alabama friends about it!!! I'll be making a copycat version of this a little closer to Easter! OMG – so good!!!!
We also got to try:
– Brisket – pretty good with a nice smoky flavor
– Cornbread – not my favorite but I love the more sweet kind
– Mac & cheese – I don't love homemade mac but this was among the best I've had
– Sweet Potato Casserole – ORANGE GOLD!!!
Back to that cake?! Remember the Strawberry Crunch Ice Cream Bars – it's that but in a cake. Oh man it was tasty!!!! The center is a bit like cream cheese and the outer cakes are moist and yummy! How I made this last two days – I'll never know!!!
What Should You Get? Not pictured is their pulled chicken and it is the best in town. So if I were to choose – I would get pulled chicken and double up on the sweet potato casserole – seriously it's that good!!!!
The next time you're looking for catering or just some food to bring home – think of Sweets & Meats – their carryout location is on Beechmont in Mt Washington (near the Wendys). I've met Kristen many a times at the Lunch Lobby pop up shop in my building downtown and she is wonderful!