Recently I went to
Seasons 52
in Rookwood to sample their
Mini Indulgence desserts
and got great dessert and a lot more! Seasons 52 has a great concept – FRESH food that changes frequently based on the seasons and each dish is less than 475 calories. That's right – fresh AND healthy! Sign me up!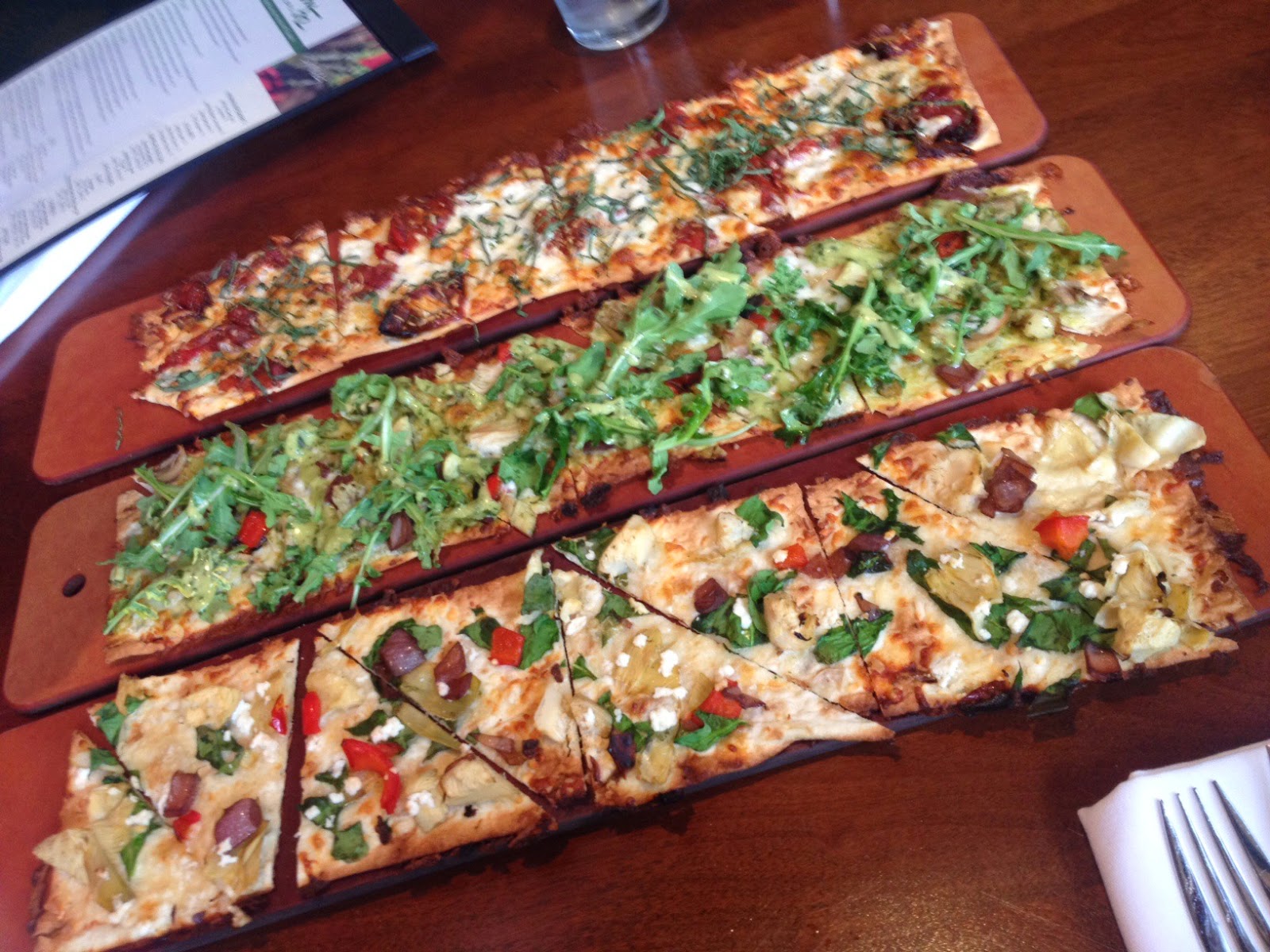 We started out with Flatbreads (top to bottom): Roasted Roma Tomato, Grilled Garlic Pesto Chicken and Artichoke & Goat Cheese. By far the best was the Roasted Roma – it had ample toppings and a ton of flavor. We gobbled that one down QUICK! The chicken was pretty good – but the artichoke was the least favorite of the bunch – there was little (if any) goat cheese and it was dry and lacking in toppings.
Kelly wanted to try the Honey & Herb Roasted Chicken – with spring vegetables, Yukon Gold mashed potatoes and a roasted chicken au jus. We were lucky they had 1 left so she could. And it looked amazing! She was sweet enough to let me sneak a bite and it was tasty. I think I liked it more than what I ordered!
Nathan went for the Plainville Farm Turkey Skewer served atop vegetable farro pilaf with a Zinfandel BBQ glaze. He was ecstatic with this choice! He was honestly a little shocked at how much he liked it – but I can fairly say he LOVED it.
I chose the Plainville Farms All Natural Turkey burger with a bbq glaze and Monterey Jack cheese. It was good for a turkey burger and I liked it – but was admittedly jealous of Kelly and her amazing chicken! 😉
Then we moved onto the Mini Indulgence desserts – the real reason we were there! These are little shot glasses of delight. I labeled the ones I could remember…I can honestly say they were ALL delicious. We each picked out our favorite and were kind enough to share – but then gobbled it all up ourselves.
I confiscated that Pecan Pie right off the bat – and lucky for me they saw the drool and just let me have it. Delicious – amazing – Pecan Pie Perfection. I also tried a couple bites of the Lemon Curd & Blueberries – good stuff there too!
We decided to use the fruit one to dip into all the chocolate mousse ones- hehe. And I can't exactly remember the back one – but we devoured it.
Kelly killed the Carrot Cake one while Nathan took on the Chocolate Peanut Butter on the left – wowza. We were all delightfully in sugar comas the entire afternoon. Each of these less than $3 which is perfect after dinner for that little bite of sweetness you need without being overwhelming! It's all about the portion control!
Why Should You Go? The Mini Indulgence desserts are definitely worth a trip – these aren't just cake and whipped cream shoved in a glass – these are artfully created, fully baked decadent desserts! The rest of the menu is great too – I love the "under 475 calorie" concept as well – it's a welcome change in the restaurant world!
Disclosure: Seasons 52 provided this tasting free of charge but the opinions are all my own.